This 31-Year-Old Sold All of His Furniture to Start a Coffee Business. Now It's Pulling in $1 Million a Year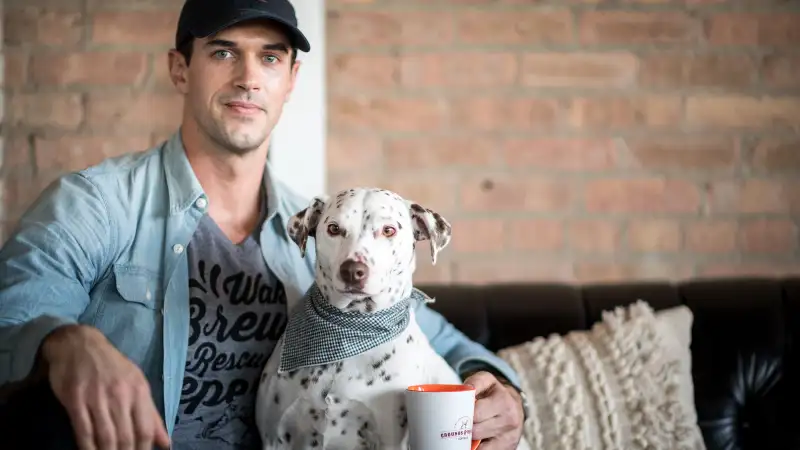 Kelly Allison Photography
Jordan Karcher saves dogs and sells coffee at the same time. Not exactly intuitive, but the entrepreneur has built his niche company into millions of dollars in sales and attracted top-level investors. And he owes much of it to his Craigslist couch-selling skills.
Karcher, 31, found the inspiration for his Grounds & Hounds coffee brand in an adorable pooch on the side of the road. While living in Los Angeles in his mid-20s and working in the wine and spirits world after a college baseball career that ended with injury, he was headed to breakfast in the Santa Monica neighborhood. An animal adoption pop-up caught his eye, and within minutes, "a little brown and white Dalmatian came up on my lap and tucked her nose in my jacket," he says. "Little did I know she would soon be my best friend."
Molly is also the "cofounder" and face of Grounds and Hounds, beaming proudly from its smart-looking, houndstooth-patterned packaging. (Karcher has a "bad habit" of vaguely referring to "we" when talking, referring to him and his pet.)
$1.2 Million in Coffee
Officially started in 2014, Grounds & Hounds sells fair-trade, organic coffee, and then diverts 20% of initial profits to no-kill animal rescue organizations and related projects. There's no physical stores; it's direct to consumer for now. It's also become a surprisingly booming business: Dog owners, of course, drink coffee, but over the past four years, they've come out in droves for Karcher's business. According to numbers he supplied to Money, Grounds & Hounds sales have regularly doubled and tripled from year to year. It brought in $100,000 in 2015, its first full year, then $400,000 the following year, $700,000 in 2017, and it's on track to make $1.2 million in 2018.
Grounds & Hounds got another jolt of good news in July in the form of major equity investment from Sterling Partners in Chicago, which is highly influential in the direct-to-consumer space. "It's been a crazy year for us," says Karcher, who won't disclose the size of the funding, but adds that it will allow for bringing on more people and revving up growth targets. "It's in line with taking the company from over $1 million to 4 times that."
Meanwhile, Grounds & Hounds' commitment to saving dogs hasn't wavered. "I really made this as challenging as possible, lopping off a good chunk of profits to put back into animal organizations while still making sure there's enough cash [to keep things going]," Karcher says. He adds that the company, which now counts three human employees in Chicago, has sometimes "scrambled to figure out how we can weather the worst times." It puts the lion's share of its profits, however, back into developing the brand further.
Selling Clothes and Furniture for a Startup Vision
Karcher has learned a lot on the job. Along with his background in beverages, including sales and analytical stints at the Korbel winery and Scotch whisky producer William Grant & Sons in his 20s, the Grounds & Hounds founder and CEO developed a keen interest in coffee. He learned as much as he could and had a revelation while taking care of Molly.
"I realized that every morning, the first two things that greeted me were my dog wagging her tail, and then I'd make a cup of coffee." He thought he might be able to tap into shared sentiments among other animal lovers.
While studying for his MBA at Notre Dame from 2013 to 2015, he continued brainstorming the concept. While he wanted to help his four-legged friends, he was also curious about how to break out of the grants on which nonprofits tend to rely and harness a for-profit model for a social cause. After looking closely at the e-commerce successes of Warby Parker and Toms, he finally felt like he had a viable idea, but as a grad student, he was short on dollar bills.
"I looked at my bank account in the second semester and I had maybe $200 extra" to spend on the project, he says. So he turned to an unlikely funding strategy: hawking everything in his two-bedroom house in South Bend, Indiana. He sold much of his furniture, clothing, and shoes on Craigslist and eBay in order to pay for his startup.
"I think I made $7,500," Karcher says. "It got to the point where I was down to just the essentials. It was a very empty house. I had one couch and a table and my bed."
That helped him get a start, but he needed another push. He started talking with one of his professors, Chris Stevens, who worked at Procter & Gamble and was on the founding team of Keurig. Stevens threw in a critical extra $20,000 in return for a stake, which paid for Grounds & Hounds' initial website, photography, and other necessities.
Coffee Meets Dogs
Ultimately, it's the cup of joe that makes Grounds & Hounds distinctive, and no doubt why it has persisted. That was the plan from the start. "The first thing is our product. A lot of times in social companies, they don't think thoroughly enough about the space they're in. People might love dogs and coffee, but there are lots of other coffees you can drink," Karcher says. He'd put his coffee, which is roasted in small batches, "up against any other coffee in terms of quality," and he emphasizes customer satisfaction and engagement, making sure his beans and grounds get to people as quickly and easily as possible. "It's important that it's experientially as good as Starbucks, or else you'll go back to Starbucks."
Not that the dogs don't matter. Starting with the simple mission of tackling the problem of more than 2 million pups who get euthanized in the country every year, Grounds & Hounds has become more targeted in its approach to helping. It now works with over 300 partners to support animals, focusing on local efforts, but in addition to rescues, it has put money toward programs such as spaying, neutering, and microchipping, which correlate with lower intakes. The overall goal "is to prevent dogs from getting into the shelter system in the first place," Karcher says.
Naturally, the business side has gotten bumpy. At Grounds & Hounds' first event, at the La Brea Tar Pits in L.A., Karcher realized he and his team were woefully unprepared and in over their heads. He had people running out to Trader Joe's to ground bags of coffee because they didn't have enough supply. "It was a complete disaster in terms of proper operations," he says. Now, every time he funnels cash into a new growth effort, the risk is still in the back of his mind.
"You just need to be willing to take hits," he says. "You need to have to take the stress and those tough days." He resorts to a baseball metaphor to explain the process. "If you get three out of 10 right, you're in the Hall of Fame. You don't need 100% accuracy."