One of the World's Highest-Paid CEOs Worked His Way Up From Meat Factory Employee to a $291 Million Pay Package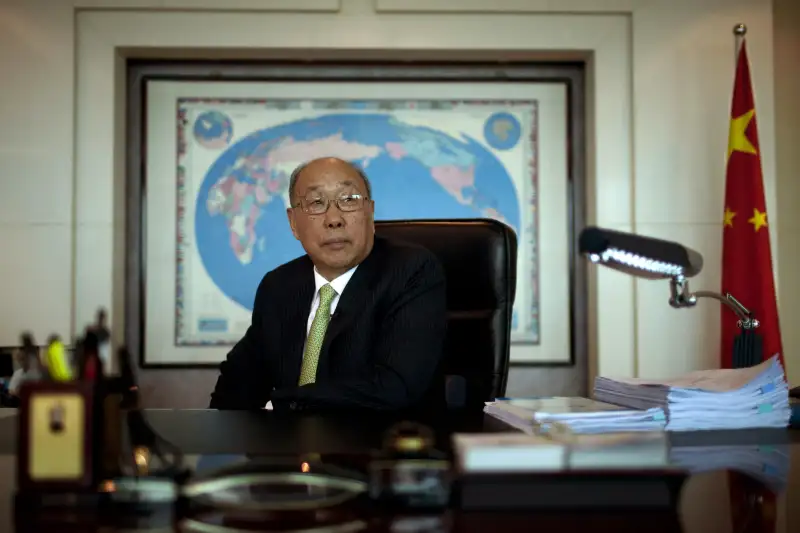 Alexander F. Yuan—AP/REX/Shutterstock
One of the highest-earning CEOs around the world beat out tech honchos like Tim Cook, Elon Musk, and Mark Zuckerberg in 2017. Instead, he makes pork.
Wan Long, the billionaire head of WH Group Ltd., earned an astounding $291 million in salary and stock payments last year. The figure comes from the company's annual report, and makes him the the highest-paid executive of a Hong Kong-listed company, Bloomberg reports.
That gives Wan the bragging rights of having leaped over the salaries of nearly all American chief executives, including the likes of Amazon's Jeff Bezos and JPMorgan Chase's Jamie Dimon. (Though it should be noted that in some cases like Bezos, he's paid a low salary — but makes a ton based off the amount of stock he owns). The Bloomberg Pay Index found that among American CEOs, Wan fell only behind Snap Inc.'s Evan Spiegel, who made about $500 million. It should be noted that even though Wan's s
In general, CEOs saw a significant pay boost in 2017 as stocks soared, with most executives of S&P 500 firms seeing raises of 9.7% or better. A recent Wall Street Journal analysis ranked Hock Tan as the highest earner of American CEOs in the S&P 500 with $103.2 million.
You may not have previously heard of WH Group, but there's a good chance you've chowed down on its bacon. Wan, a former factory manager, has helped turn the meat processor into the largest pork producer across the world. It runs hog farms and factories in China, the U.S., and Europe. It acquired the Virginia-based Smithfield Foods in 2013 for $4.7 billion, and sells the consumer brands Farmland and Eckrich.
It helps that Wan has a massive stake in his company. His holdings in WH shot up from about 9 percent in 2014, amid an initial public offering, to about 19 percent last year, according to filings. Meanwhile, Wan took home $759 million in salary and stock between 2013 and 2017. WH has a valuation of about $15 billion. Wan is worth $1.26 billion, according to Forbes.
While Wan's pay may seem outrageous, WH has defended it. Its director of investor relations, Luis Chein, told Bloomberg that the monetary gift was a result of Wan building business in overseeing the Smithfield acquisition, as well as increasing profits and slashing debts.
Wan, 77, is truly self-made. He started as an employee of a meat factory in China's central Henan province in 1968 and eventually became its general manager. The private WH, formerly state-owned and known as Shuanghui Group, listed in Hong Kong in 2014. It sought a purchase of Smithfield, in part, to satisfy Chinese consumers worried about domestic meat sources.
Wan will still have to stick with WH until 2019 to vest the stocks he was given. And such an outsize pay package could attract unwanted attention from China's Communist government, as it worries about the effect of income inequality on social stability, Bloomberg notes. But it's safe to say that Wan's swine fortune is secure.