This 28-Year-Old Cashed Out Her 401(k) to Buy 300 Gallons of Rosé. Now She's Running a Multimillion Dollar Wine Company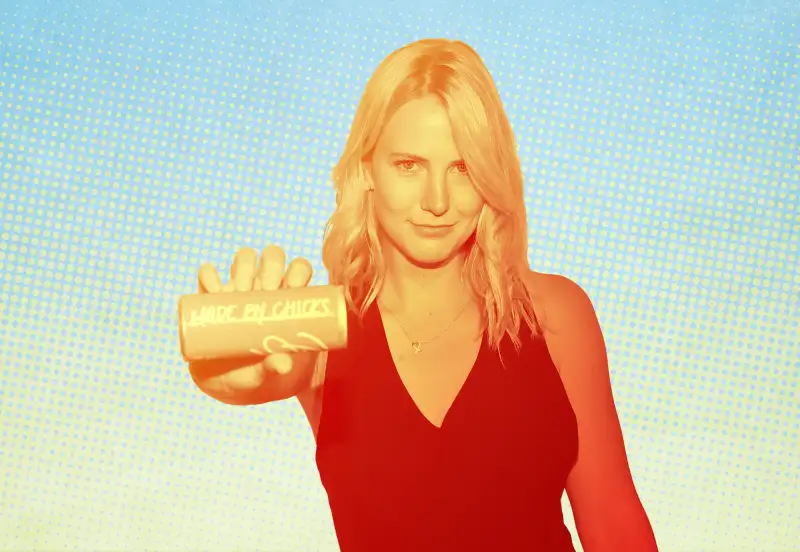 Photo illustration for Money by Sarina Finkelstein; Getty Images (3)
Alix Peabody didn't intend to start a wine company, but the millennial entrepreneur stumbled into it. Almost literally. The 28-year-old's canned rosé line Bev is social media-savvy and comes with its own feminist hashtag-ready catchphrases—"made by chicks" and "break the glass." Plus it just secured a $7 million round of investment through the high-profile firm Founders Fund.
Yet it started as a lark to pay off Peabody's escalating medical bills. After graduating from Dartmouth and working at a hedge fund in the New York City area, she moved out to San Francisco to join the tech scene, only to discover that she suffered from a rare and serious medical condition: ovarian torsion, in which an ovary twists, cutting off blood flow.
"I was walking to work one day and just kind of toppled and was in the E.R.," Peabody says. "I'd gone into reproductive organ failure and my right ovary was dying and I had to have six surgeries over the course of 18 months.
In and out of the hospital, Peabody didn't just face typical healthcare costs. Doctors recommended that if she one day hoped to have children, which she did, she should freeze her eggs, especially since her left ovary was also in danger. But egg freezing, which typically costs more than $10,000, wasn't covered by her insurance.
She took an unconventional approach to solve the dilemma: She threw parties. The ticketed daytime events at her uncle and aunt's house in the wine country of Sonoma, California, ended up bringing in a few thousand dollars to help pay off her expenses. (Her parents helped out on the costs of egg freezing.)
"That was when I really realized that there was a different way that we could build more female-dominated social spaces. The energy of those parties was so much different than the frat life [of Dartmouth] or even the New York City finance life or the tech life that I'd been a part of. If the women are having fun, everybody's having fun."
Peabody, who had long been interested in changing cultural norms around gender relations, saw a business opportunity. She first enrolled in film school at USC to learn how to create message-driven media, but dropped out to switch gears and focus on "products that people interact with on a regular basis." With her Sonoma past, wine was a natural fit.
Don't Try This at Home
A bank notification gave Peabody a (risky) plan in 2017. "I realized that I had a bit of money saved up from a 401(k) so I cashed it out and bought 300 gallons of rosé." The approximately $30,000 whittled down to $20,000 given the tax penalties associated with withdrawing retirement savings. "I definitely put myself in a situation that I wouldn't recommend to most people." (She also notes that the process "gave my family a little heart attack, but we're good.")
Still, it gave her the initial funds for what would become Bev. To get the startup off the ground, she contacted a previous date who worked in the wine industry. "I told him what I was up to and tried to convince him to help me out and put me in touch with a supplier. Turns out his roommate was one of the largest wine producers in California," she says.
Bev is now approaching availability in 300 stores in California and beyond, with sights set on beverages aside from its signature retro-styled rosé. Ultimately it comes down to Peabody's core mission, which she describes as creating "a voice for women" in a traditionally male-dominated environment (alcohol marketing tends to be heavily targeted at men). Bev's social media presence is unapologetically, energetically female-driven, and full of bright colors and bold statements that have clearly resonated with almost 10,000 followers on Instagram. The brand has also been helped by the ability to sell wine (as opposed to other alcoholic products) directly to consumers online, wherever they may be.
Peabody, while acknowledging she has a long way to go, has a few more nuggets of wisdom: Don't sell something you don't personally have conviction for. Another: "I always keep a book of mistakes," she says, to make sure she's getting sharper all the time.