The Man Behind Silicon Valley's Next Big IPO Grew Up on a Commune Without Running Water or Electricity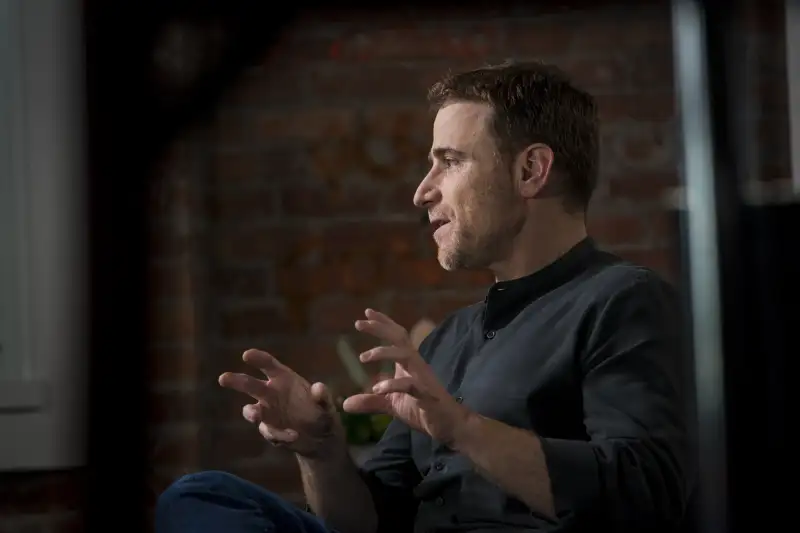 David Paul Morris—Bloomberg via Getty Images
Slack may be one of Silicon Valley's least sexy apps—a workplace communication tool—but the story of its cofounder and CEO Stewart Butterfield is packed with colorful detail.
Butterfield has shepherded Slack into becoming a surprisingly lucrative venture since its inception in 2013. The company recently announced that it has confidentially filed to go public. Slack has been reportedly seeking a valuation of more than $10 billion. (It was valued at $7.1 billion amid a fresh round of funding last year.) Thus, it's poised to become one of the biggest tech IPOs of 2019.
The software genius behind Slack, Butterfield isn't entirely new to this kind of leaping trajectory. He was a founder of Flickr, the photo-sharing service, which sold to Yahoo for a reported $35 million in 2005. (Butterfield has pegged the number at "somewhere between $22 million and $25 million.") Flickr actually found its origins in a game called Game Neverending, a dream project that never quite took off, and had certain features that were then savvily spun off into a new entity. Slack has followed a similar path: Features from yet another ailing game, Glitch, proved fruitful for the chat venture.
The cash-in Butterfield, 46, and his team got from Yahoo in a much different Silicon Valley era is chump change compared to what they could make out with in the stock launch of their newest effort. (Butterfield's own net worth has been estimated at anywhere from $650 million to $2.14 billion.) But very little about Butterfield's upbringing suggested that this is where he would land.
From Domain Squatting to the 'Next Microsoft'
Before he was the new golden child of the San Francisco set, Butterfield grew up in a log cabin on a Canadian commune with no running water, no electricity, and no phone, as he remembered in a Wired profile. His father was a Vietnam War deserter who one night instead of driving to his base in the U.S. went across the northern border and eventually settled in Lund, British Columbia, building a home with a Canadian woman he had fallen in love with.
Butterfield was born in the commune, delivered by psychiatrists also living on the commune. His birth name is Dharma Jeremy Butterfield. The commune life didn't last long, though: the family moved to Victoria largely to give their son more opportunity, and he changed his name to Stewart when he was 12. After having already built and renovated houses, his parents turned it into a successful career. Stewart was playing with his own computer by the time he was just 7.
But he still wasn't sold on computers as a career, much less vying to move to San Francisco. Butterfield, who still primarily lives in British Columbia, instead became a philosophy geek while studying at Canada's University of Victoria. He then sought out a Ph.D. in philosophy at the University of Cambridge in England, but only made it as far as a master's degree. He fell in love with the then-emerging World Wide Web, finding his tribe as a fan of jam bands in the newsgroup rec.music.phish, devoted to the group Phish.
Butterfield's first real job was at a dotcom business based on domain squatting. While it didn't propel him far, he found footing in a new world. After marrying Caterina Fake, now his ex-wife, they along with a programmer founded Ludicorp, the company that would turn into Flickr.
Though he is now living far beyond the unplugged lifestyle of his earliest years, his commune living has apparently had some effect on Butterfield's inspiration in his tech products. Flickr was a Web 2.0 leader in opening the gates to innovative concepts like open API that allowed users more power over websites' databases. "I related to the whole hippie, acid-test confluence of the early Internet," Stewart told Wired. "The idea that we should be open and interoperate with our data resonated with me."
Still, in Slack, Butterfield has hit on something genuinely, even somewhat dully useful. It's beloved and bemoaned in equal measures in any number of offices, which pay a substantial $12.50 per user per month for its nifty capabilities. It has also undoubtedly made teams more productive and collaboration among individuals or large staffs much more seamless. It ultimately aims to replace, or at least outdo, email. Butterfield has called most work output in office environments "wasted."
Responding to the needs and desires of customers is a bedrock principle for Slack. "We will take user feedback any way we can get it," Butterfield told First Round Review in 2015. "In the app, we include a command that people can use to send us feedback. We have a help button that people can use to submit support tickets... We probably get 8,000 Zendesk help tickets and 10,000 tweets per month, and we respond to all of them."
When asked by Wired what his next ambition was, Butterfield said, "Be the next Microsoft." Again, not so sexy, but in the next year he might just get that much closer to the goal.