Meet America's Highest-Paid CEO, a 66-Year-Old Immigrant From Malaysia Who Calls Himself a 'Frugal Guy'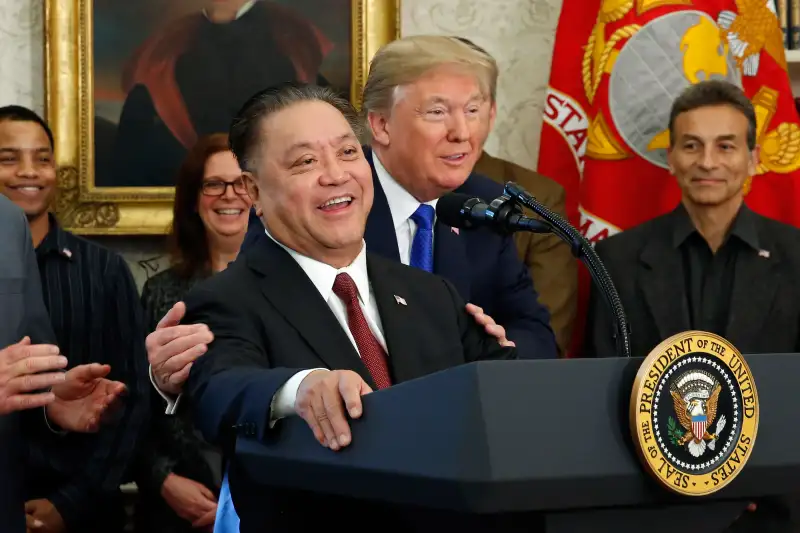 Martin H. Simon—Bloomberg via Getty Images
The average CEO among the biggest companies in the U.S. made $12.1 million in 2017, according to a new analysis by The Wall Street Journal. But the highest-paid person with that title brought in a whopping $103.2 million.
That's Hock Tan, the head of Broadcom, a global supplier of semiconductor technologies. The company saw its returns to shareholders increase 58% in the past year, while Tan's salary jumped an astounding 318%, from $24.7 million in 2016.
Generally, executives got a pay boost over the last year. The median income for CEOs of S&P 500 companies reached a new post-recession high, driven by soaring profits and stock prices. Most of that group saw raises of 9.7% or higher, according to the Journal.
Tan's nine-figure salary is still a bit of an outlier, with the second-highest-paid CEO, Les Moonves of CBS, coming out at $69.3 million in 2017. CEOs at pharmaceutical, media, technology and financial firms pervaded the upper echelon of earnings, taking 16 of the 25 top spots in the Journal's ranking.
The $103.2 million breakdown
While Tan's base, cash salary of $1.1 million in 2017 is deceptively low, the lion's share of his money came from shares that Broadcom awarded to Tan, which held a value of $98.3 million, according to regulatory filings. Tan also took home a performance bonus of $3.7 million for exceeding revenue and operating margin targets. And his windfall includes $23,234 in travel expenses, $16,200 in 401(k) employer matching contribution, and $36,386 for car service.
All told, Tan made approximately 2,039 times more than the average U.S. worker, who earned $50,620, based on Bureau of Labor Statistics figures. That's a staggering gap. It should be noted, however, that those awarded shares won't be immediately to Tan. Instead, they'll vest in 2020 and 2021, and what Tan ultimately gets will depend on how Broadcom continues to perform.
Tan's rise from Asia to the U.S.
So far, he has little to worry about. In addition to outpacing its 2016 performance, Broadcom last month announced that it had completed its move from Singapore back to the U.S. President Donald Trump previously hosted an event with Tan to hail the growth of American jobs as a result of the chip manufacturer's relocation, which Tan said would bring in $20 billion in revenue for the country. But Trump recently shut down Broadcom's bid to overtake American rival Qualcomm, and the tech giant's shares have dropped this year.
Tan, 66, came from modest roots in Malaysia to the U.S. through a scholarship at MIT, before making his name in the tech sector. He owns several homes across the East and West Coast, though he's called himself "kind of a frugal guy." Two of his three children have autism, and his family has donated $30 million to autism research.
Whatever the future for his company holds, it's clear Tan seems to be doing just fine.