Meet the First Hijab-Wearing Runway Model, Who Started Making Money at 10 and Loves Paying Taxes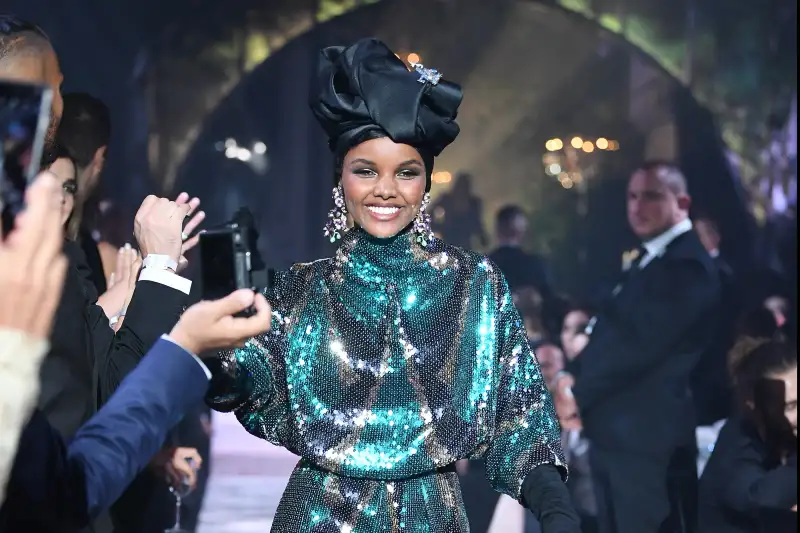 Pascal Le Segretain/amfAR—Getty Images
In the age of Kendall Jenner and Gigi Hadid, being born into wealth feels like a prerequisite to working in the fashion industry. But that's not true for the world's first hijab-wearing international runway model, 20-year-old Halima Aden, who grew up in a Kenyan refugee camp and arrived in the U.S. with no money to her name.
The Somali model hustled her entire life to get to where she is now — and it's paying off. At age 10, she braided hair to fund her school trips. At 16, she picked up two jobs, working before and after school. And at just 19, she made national headlines as the first Miss Minnesota USA contestant to wear a hijab and burkini.
In a conversation with Money, Aden discussed her admirable work ethic, revealed some unexpected attitudes towards money (she loves paying her taxes!), and shared advice on how to hustle while being true to yourself.
---
Aden started her first business when she was only 10.
After escaping the Somali Civil War, Aden's family relocated to Kakuma, a Kenyan refugee camp. During her early childhood in the camp, she remembers hating getting her hair braided by other refugee women because it hurt — to the point where she asked them to teach her how to do it herself.
The braid-induced pain paid off big time. When she and her family moved to Minnesota, Aden used the skills she picked up in the refugee camp to make her own little business. She charged $10 to braid kids' hair and $20 for adults, using the money to fund school trips and pay for Eid clothes (which can sometimes be pricey).
"It wasn't a bad gig for a 10-year-old," she says now.
Aden says her mom inspired her hustle. As a child, Aden watched her mom perform numerous duties in her refugee camp, from selling incense to running a tomato stand. According to Aden, Somali culture encourages children to pick up the work that adults can't get to.
"A lot of cultures are like that, where you're encouraged to take after your family, especially those who need it," says Aden. "It's just kind of expected."
---
She worked two jobs while still in high school.
Like many young people, Aden couldn't wait to turn 16. But unlike other teenagers, it wasn't so she could throw herself a sweet 16 party — it was because she could finally legally work in the state of Minnesota.
The teenager took on two jobs at St. Cloud Hospital, working with environmental services and doing housekeeping for patients. She says she worked one shift from 5 a.m. to 7 a.m., headed to high school at 8:30 a.m., then followed that up with another work shift from 3 p.m. to 11:30 p.m.
And yet, she somehow also made time for extracurricular activities: mock-trial, oratory club, and she was even voted homecoming queen in her senior year, according to Teen Vogue.
But this hectic schedule came with plenty of sacrifices. "Recently my friend was like, 'I remember those days you'd come in [to school] with red eyes because you didn't sleep,'" Aden says.
Her work ethic, in part, comes from a sense of patriotism and gratitude. Coming from both a war-torn country and an impoverished refugee camp, Aden says she appreciated how the United States gives teenagers as young as 16 the opportunity to "clock in and clock out," become financially independent, and help support their families.
"Yes, I never went to any of the dances, I missed a lot of the other activities because I was working so much, but I also wouldn't change it for anything," she says.
---
Now, she's an advocate and ambassador (and loves paying taxes!).
Despite the heavy workweek, Aden often only broke even during her high school days. The young model sent much of the money she earned to her extended family in Somalia, helped her mom pay for their house, and saved up to buy a car.
Aden hasn't stopped giving since becoming a model. The trailblazer acts as a UNICEF Ambassador, traveling with the organization back to her Kakuma refugee camp and advocating for underprivileged children around the world. She also recently joined Gigi Hadid to promote UNICEF on the cover of CR Fashion Book.
Today, Aden has a different relationship with money. She loves paying her taxes and proudly told the story of marching to the tax office and asking the accountant to take her money: "I've saved, I'm prepared, take it," she says now. Aden says she relied on government aid when she first immigrated to the U.S., and is now happy to contribute her tax dollars to social programs that help others in need.
Now, she keeps a careful eye on her own future by investing in her career, saving for herself, and purchasing high-quality luxury goods sparingly. One favorite splurge? Sushi, which she loves so much she'll buy it even if it's from an airport or gas station.
---
She's a smart negotiator — and dreams of opening her own hijab line.
IMG Models, the nation's top agency which represents the Hadid sisters, Hailey Baldwin and Cara Delevingne, contacted Aden a few weeks after her Miss Minnesota USA pageant appearance. But she didn't just say "yes" to the first contract the company threw her way.
Instead, before signing, she sat down with the agency for four hours to discuss her wardrobe requirements and her place as a Somali Muslim woman in the modeling industry, which has repeatedly been called out for being too monolithic. Her one goal was to remain true to her identity — and herself. "You have to ask for what you want," says Aden. "Had I never spoken up, I don't know if my career would be going the way it's going."
Although only 20 years old, Aden doesn't shy away from being a role model to young girls who look like her or share her background. Aden says she wants to run a business one day where customers know her story, and other people can see themselves in her products.
"How did it all start?" Aden says, tracing her path back to her beginnings. "It started off by me wearing a hijab. So how beautiful would it be if I had my own scarf line?"