Meet the College That Doesn't Want to See Your SAT Score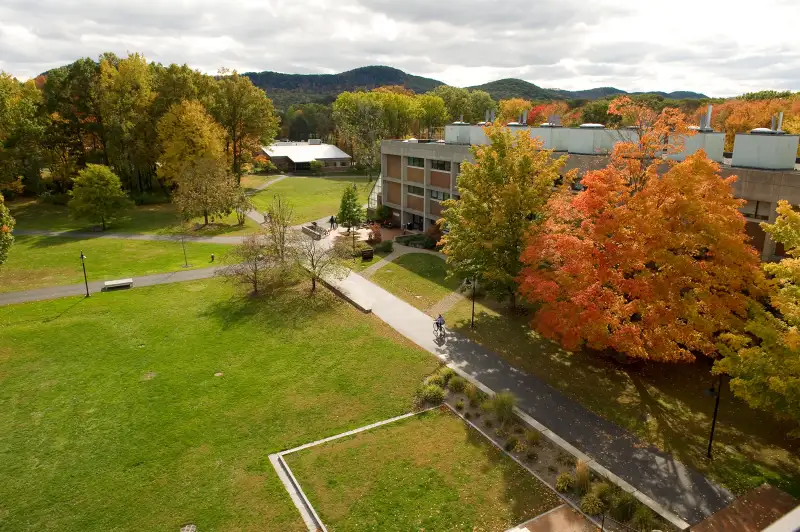 The power of one test on one day to predict a student's likelihood of success in college has plenty of critics. Among them, the leaders of Hampshire College, a small liberal arts school in Amherst, Mass.
When the college announced last year that it would no longer accept ACT or SAT scores, it was flooded with positive feedback. High school guidance counselors thought standardized test scores were a poor indicator of who their students were, and parents felt the obsessive focus on testing detracted from their kids' education.
After filling its first freshman class with this new "test blind" policy, Hampshire College has gone on a media tour of sorts in recent weeks to announce that as far as it's concerned, the move was a soaring success.
Why?
Applicants were better qualified and more diverse, with a larger share of first-generation students and minorities, Hampshire says. The overall number of applicants fell (likely because Hampshire asked for more essays). But the yield rate—or the share of admitted students who enrolled—climbed from 18% to 26%. In fact, the freshman class was actually over-enrolled, said Meredith Twombly, dean of enrollment and retention.

NEWSLETTER: COLLEGE_PLANNERSign up for COLLEGE_PLANNER and more View Sample
Hundreds of colleges are test optional, meaning applicants aren't required to submit their scores but the college will consider scores if the student wants to provide them. And while the size of the test optional group continues to grow, Hampshire's move to a test blind policy is far more rare.
It's also an unusually bold step in the world of higher education, where it's difficult for colleges to act unilaterally, in part for fear they may lose applicants or tuition revenue.
Hampshire College officials felt the entrance exams were biased against low-income students. (There is a correlation between SAT scores and family income level.) And when they looked at the students they admitted, they found that essays and recommendation letters were most helpful in getting to know a student. SAT scores, on the other hand, had no predictive power on who was successful at the school.
"We can look at the whole student instead of just scores and grades," Hampshire College President Jonathan Lash told Money. "Ultimately, we hope that begins to create a little less pressure in high schools, to say to students that everything isn't about testing, testing, testing."
Lash says the college is now sharing its results for practical reasons. After all, he wants prospective students and their families to see Hampshire's test policy as a symbol its uniqueness. But Hampshire also wants to influence the broader conversation about entrance exams.
Only time will tell if the trend of test optional spreads to wider variety of colleges—and whether test blind admissions catches on at all. But in the meantime, students who believe their SAT or ACT scores are poor indicators of their actual ability should check out these 10 great colleges that don't care about your test scores.
Have you used the Money College Planner? It includes our list of Best Colleges, a Find Your Fit tool to search and sort colleges based on what's important to you, and advice on applying to and paying for college.