Hannah B. Is the New Bachelorette. Here Are All the Ways She'll Get Paid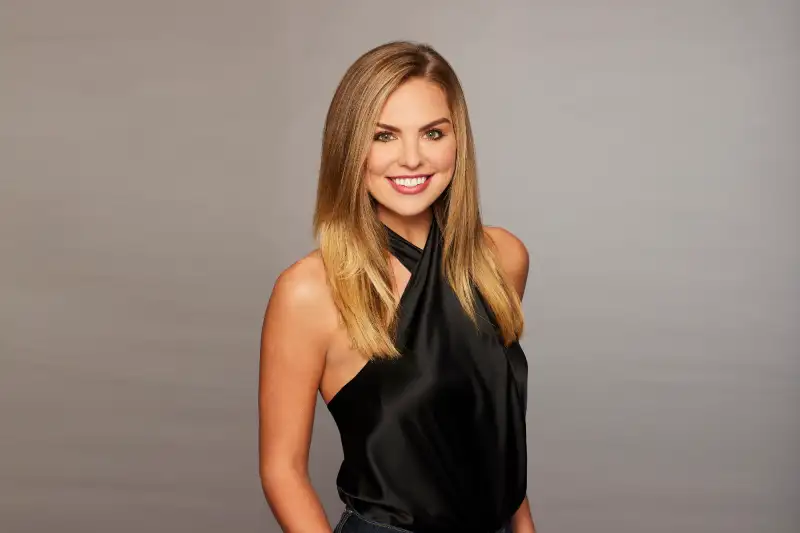 Hannah Brown's season of The Bachelorette may end this week, but she's just getting started making money from her newfound stardom.
The 2019 Bachelorette has had a rollercoaster of a journey to find love on the reality TV show. Brown canceled cocktail parties, refereed petty arguments, rollerskated, stared at walls, got tipsy on whiskey, made out in a sauna, spent a night in a windmill, moved a podium and more. It's been ridiculously fun to watch, but now it's getting serious: Brown is down to a handful of contestants and must choose her potential husband during a two-night finale on Monday and Tuesday.
No matter the outcome, Brown can count on a few major perks in her post-Bachelorette life. The gig comes with instant fame, a big payout and a wealth of career opportunities.
Here are all the ways Brown stands to profit from The Bachelorette.
The Bachelorette Paycheck
How much money does the Bachelorette make? According to Amy Kaufman's book Bachelor Nation, stars get a salary that depends on the pay they'd normally earn at their job.
But the sums have fluctuated drastically over the years. The second-ever star of The Bachelorette, Meredith Phillips, has said she took home $10,000 for her appearance. Nowadays, Kaufman writes, it'd be "incredibly rare for someone to make less than six figures."
It's unclear what this means for Brown, whose time pre-Bachelor appears to have been dominated by Miss Alabama USA duties. (The Tuscaloosa News reports she did work at one point as an interior decorator, a job that typically comes with a $51,500 salary.)
If you're wondering whether the contestants on The Bachelor and The Bachelorette get paid, the answer is no. They have to cover all their own costs, and those can snowball: One contestant-turned-star, Jillian Harris, wrote on her blog that she spent "something like $8,000" on clothes and makeup when she was on The Bachelor.
The Free Clothes
So, next question: Does the Bachelorette pay for her own clothes? No.
The show buys the star a wardrobe, and it spends big bucks: Stylist Cary Fetman revealed a few years ago that Bachelorette Emily Maynard's season in 2012 had a clothing budget of $350,000. More recently, last year's Becca Kufrin wore a $22,000 Randi Rahm gown on limo night and a $6,000 Tom Ford sequin number for her promotional photos.
Fetman does include some affordable brands for more casual dates, though.
"So much of the clothes — the day to day clothes — I try to make that reachable," Fetman told The Hollywood Reporter in 2016. "Sometimes it's Bloomingdale's, sometimes it's Neiman Marcus. Sometimes I go to Old Navy for tanks. For example, the coat will be designer, but the tank top she's wearing underneath it is Zara or H&M."
According to Kaufman's book, Bachelorettes get to keep the clothes at the end of the show.
The Instagram #Ads
Social media fame is another cool side effect of being on The Bachelor or The Bachelorette. Stars and contestants gain hundreds of thousands of followers throughout a season — and that makes their Instagram accounts valuable for advertisers.
Just how much money do Bachelor contestants make on Instagram? MediaKix calculated that the average reality TV star posts about seven ads a month. If each brought in $5,000, that's more than $400,000 a year. That may be on the low end. Sarah Boyd, who represents a handful of Bachelor Nation influencers, told Refinery29 that posting an ad to more than a million followers can typically net someone $10,000.
"America loves them because they are real people," Boyd said. "They can relate to them, which brands love because it translates to sales."
Bachelor celebrities are notorious for their partnerships with FabFitFun, HelloFresh, DIFF Eyewear and SugarBearHair, but they've also scored deals with better-known companies like Vaseline, Vera Bradley, Olive Garden and Dunkin. Ex-Bachelor Nick Viall was even in a Halo Top commercial.
The Podcast (Probably)
Everyone seems to have a podcast these days: Viall, Kaitlyn Bristowe, Ashley Iaconetti, Ben Higgins, Olivia Caridi, Dean Unglert, Vanessa Grimaldi, Jared Haibon... the list goes on. And the people who don't host podcasts go on podcasts, so really, it's inevitable that Brown will end up on a podcast eventually.
The majority of podcast cash is in ad spending, which is on track to exceed $500 million this year, so the state of the Bachelor podcast nation is strong.
The Other Shows
Producers will swarm all over Brown the moment she gives out the final rose. Like Melissa Rycroft, Joe Amabile and others, she'll be courted for Dancing With the Stars, which Gawker reported pays $125,000 plus bonuses depending on how far a person gets in the competition.
Marriage Boot Camp, too, has a reputation for casting Bachelor couples, like Desiree Hartstock and Chris Siegfried. It's not clear how much Marriage Boot Camp pays, but the stipend was enough to snag Bachelor Sean Lowe and his wife, Catherine Giudici.
"I'll admit it: I did it for the money," Lowe later wrote on his blog. "That sounds really ugly and cheap, but it's true ... I wish money wasn't a factor in our lives, but it is. This money made a difference."
Lowe also took advantage of perhaps the most lucrative post-Bachelor opportunity: a televised wedding. ABC paid the original Bachelorette, Trista Rehn, and her husband, Ryan Sutter, $1 million to air their union in 2003. These days, couples only get six-figure sums — but that's still a pretty good deal.
This story has been updated for the season finale of The Bachelorette.