Harvey Weinstein Is One of the Richest Men in Hollywood. Here's What We Know About His Money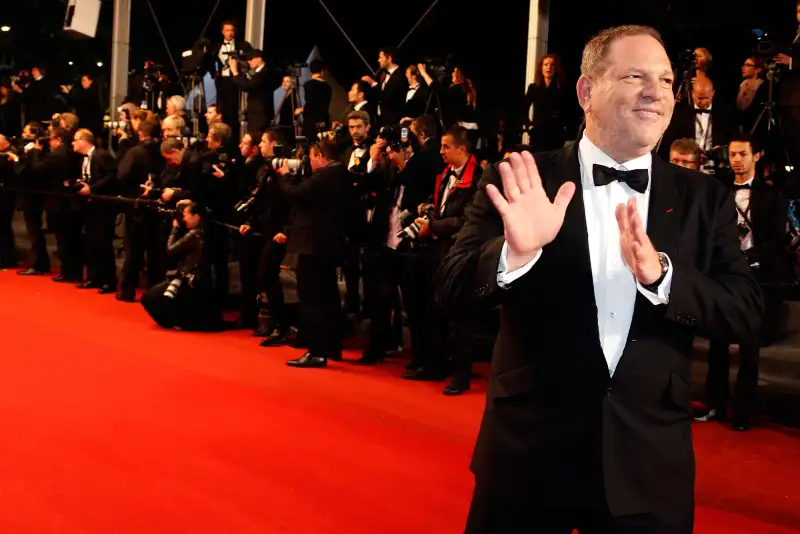 For decades, movie mogul Harvey Weinstein was one of the richest and most powerful men in Hollywood—a VIP status that helped insulate him from sexual harassment allegations, according to some of his recent accusers. But he may soon be brought to justice: On Friday, May 25, Weinstein turned himself to New York City authorities. He was arrested and now faces charges of rape, criminal sex act, sex abuse, and sexual misconduct.
Weinstein's net worth has been estimated to be between $240 million and $300 million. He and his ex-wife Georgina Chapman—who announced their divorce in early 2018—owned multimillion-dollar homes across the country, including a waterfront Connecticut mansion where they hosted a fundraiser for Barack Obama. Since 2000, Weinstein has donated an estimated $2.3 million to Democrat politicians and millions more to charitable organizations, further spreading his personal influence.
"I am a 28 year old woman trying to make a living and a career. Harvey Weinstein is a 64-year-old world famous man…The balance of power is me: 0, Harvey Weinstein: 10," Lauren O'Connor, a former employee of Weinstein's movie production company, wrote in a 2015 memo, according to The New York Times.
After that bombshell story and another published in the New Yorker last fall, it appears Weinstein, now 65, has lost a good deal of the power he has amassed over the years.
In the stories, more than a dozen actresses, models, and employees who worked with Weinstein accuse him of sexual harassment, in episodes that stretch over 30 years. The list of accusers includes famous actresses such as Ashley Judd, Rose McGowan, Gwyneth Paltrow, and Angelina Jolie, as well as lesser-known figures whose careers Weinstein allegedly promised to help in exchange for sexual favors.
Photo illustration by Sarina Finkelstein for Money; Getty Images (5); AP (1)
In response, Weinstein released a statement apologizing because the way he "behaved with colleagues in the past has caused a lot of pain," and saying that his "journey now will be to learn about myself and conquer my demons." At the same time, Weinstein's attorneys have said that the Times stories are "saturated with false and defamatory statements." What's more, according to a Weinstein spokesperson statement, "any allegations of non-consensual sex are unequivocally denied by Mr. Weinstein," and "there were never any acts of retaliation against any women for refusing his advances."
Here's what we know about Weinstein's money and power, and how he has wielded both over the years.
How Harvey Weinstein Built His Net Worth
Bob and Harvey Weinstein were raised in Queens, N.Y., and founded Miramax Pictures in 1979, when the brothers were both still in their 20s. The studio is credited with revolutionizing the film business, ushering in the birth of the independent movie scene by distributing critically-acclaimed indie hits in the late '80s and early '90s like "Sex, Lies, and Videotape," "My Left Foot," "The Crying Game," "Clerks," and "Pulp Fiction."
Bob Riha Jr.—Getty Images
In 1993 the Weinsteins sold Miramax to the Walt Disney Company for an estimated $60 million to $70 million and continued to work for the studio. Harvey worked on movies under the Miramax brand, serving as a producer of award-winning films like "Good Will Hunting," "Emma," "Shakespeare in Love," "The English Patient," and "Chicago," while Bob focused on movies like the "Scream" and parody "Scary Movie" series under the company's sister label, Dimension Films.
Bob and Harvey eventually broke away from Miramax and Disney and in 2005 founded the Weinstein Company, winning back-to-back Best Picture Oscars for "The King's Speech" (2011) and "The Artist" (2012), and expanding into TV with series like "Project Runway." Despite the company's successes, a 2015 Forbes report explained that the Weinstein brothers weren't among "Hollywood's Richest Power Brokers" because of several poor business moves made in the preceding years, including doomed investments in fashion labels and a home video distribution firm.
After the reports of Harvey Weinstein's sexual misconduct surfaced in the Times, the board of the Weinstein Company fired him, releasing a statement saying they were "shocked and dismayed" by the allegations.
Harvey Weinstein's Homes and Real Estate
Harvey Weinstein and his now ex-wife, Georgina Chapman, owned multiple homes and tens of millions of dollars worth of real estate around the country. Just days before the sexual misconduct scandal broke, the couple sold a home in Westport, Conn., for $1.65 million. They also owned two other oceanfront homes in Connecticut, assessed for $7 million to $8.5 million apiece, where the Weinsteins hosted a memorable $38,500-per-person fundraiser for Barack Obama in 2012.
SmartMLS Inc.—courtesy of Realtor.com
Meanwhile, another home owned by Weinstein and Chapman—a 9,000-square-foot, waterfront home in Amagansett in the Hamptons—was relisted on the market in August 2017 for $12.4 million, after it had failed to sell with previous asking prices of $12.8 million and $13.5 million.
Variety reports that Weinstein and Chapman also own a townhouse in New York City's West Village purchased for $15 million in 2007, and that Weinstein paid $1.55 million for a home in Los Angeles's Beverly Grove area for one of his children.
Harvey Weinstein's Causes & Political Donations
Harvey Weinstein has long been a big supporter of Democratic politicians and progressive causes. This past April, he spoke to the Hollywood Reporter about plans to partner with Jay Z in the making of a film about the Trayvon Martin story, and his creation of a private foundation named after Weinstein's mother to support everything "from LGBT to women's rights, more women directors, the National Endowment of the Arts."
Business Insider estimates that since the 2000 election cycle Weinstein is responsible for roughly $2.3 million in direct and bundled donations to Democratic committees and political candidates. Several of the politicians who have received Weinstein donations, including U.S. Senators Elizabeth Warren, Cory Booker, Chuck Schumer, and Patrick Leahy, have recently announced that they will be passing along the campaign contributions to charities supporting women.
Photo illustration by Sarina Finkelstein for Money; Getty Images (6); Reuters (2)
Weinstein has been a high-profile donor to the campaigns of Hillary Clinton and Barack Obama, and both released statements this week condemning him and praising the courage of the women who went public with their accusations.
Weinstein had promised a $5 million endowment to fund scholarships for women directors at USC's School of Cinematic Arts, but the school rejected the pledge. On the other hand, New Jersey's Rutgers University said it has no plans to return the $100,000 donation a Weinstein foundation made to help advance women's equality.
How Harvey Weinstein Wielded His Influence
For decades, people in Hollywood and the media have apparently been terrified of getting on Weinstein's bad side. "Weinstein is a man people are strikingly reluctant to discuss, even off the record," a 2012 profile in the Guardian stated.
But after the sexual misconduct allegations were aired, many journalists felt emboldened to share their insider Weinstein stories—which in turn have helped reveal how Weinstein may have used power, wealth, and intimidation to get away with allegedly preying on countless women for so long.
New York writer Rebecca Traister shared a tale from 2000, when she says Weinstein called her a "c***" and knocked down fellow reporter and her then-boyfriend Andrew Goldman, before dragging him down the sidewalk in a headlock. "Back then, Harvey could spin — or suppress — anything; there were so many journalists on his payroll, working as consultants on movie projects, or as screenwriters, or for his magazine," Traister wrote.
Loic Venance—AFP/Getty Images
"It was startling — and professionally mortifying — to discover how many hacks writing gossip columns or entertainment coverage were on the Miramax payroll with a 'consultancy' or a 'development deal' (one even at The New York Times)," Tina Brown, who was the editor of the New Yorker and founded Talk magazine with Miramax in 1999, wrote.
Former New York Daily News gossip columnist Marianne Garvey recalled Weinstein trying to bully his way into her favor, screaming over the phone one day, schmoozing her with introductions to celebrities like Oprah Winfrey and Jennifer Lopez the next.
In her piece, Garvey described Weinstein as a controlling "bully" and a "pest" who was "litigious over nonsense." He certainly seems eager to resort to legal maneuvers to protect himself. Weinstein representatives said that he planned on suing the New York Times, and Ronan Farrow, who wrote the New Yorker exposé, says he was personally threatened with a lawsuit by Weinstein while reporting the piece.
Harvey Weinstein's Potentially Costly Lawsuits — and Divorce
Another way that Weinstein seems to have gotten away with the alleged harassment and assault is by paying off accusers. The New York Times reported that Weinstein reached a settlement with the actress Rose McGowan for $100,000 in 1997, when she was 23, after an incident at hotel during the Sundance Film Festival. Over the decades, several other women reportedly reached similar settlements, and "most of the women involved in the Weinstein agreements collected between roughly $80,000 and $150,000," the Times noted.
According to the Los Angeles Times, the mounting claims "could have severe legal consequences" for Weinstein, with the possibility of civil and even criminal suits being brought against him. Because many of the accusations against Weinstein refer to events that occurred years ago, the statute of limitations may have expired in some cases, and it's unclear if and how costly any civil suits might be for Weinstein.
Still, as Laurie Levenson, a professor at Loyola Law School told the LA Times, "I expect a flood of lawsuits to be headed his way if they are timely and he hasn't already bought off the victims."
Then there's Weinstein's divorce from wife Georgina Chapman, which appears to be costing him millions.