Here's How Much It Costs to Buy a Super Bowl Ring — and How Vladimir Putin Got One for Free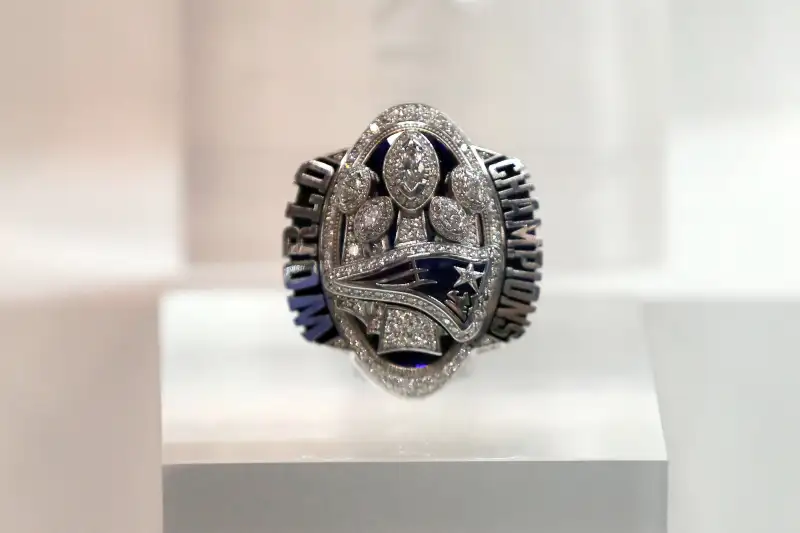 Gregory Payan—AP/REX/Shutterstock
Super Bowl Rings are a rare bit of sports memorabilia — realistically, most of us will never have a chance to get our hands on that bling.
And it's not just because they only produce a few dozen every year. The coveted championship rings are prohibitively expensive — unless you happen to work for the winning organization, in which case you get one for free (the winning team and the NFL share the cost of producing the ring). While the teams and jeweler never reveal how much the rings cost, the Patriots' Super Bowl in 2015 ring was valued at around $36,500, according to ESPN.
Rick Harrison, star of the reality TV series Pawn Stars and co-owner of the World Famous Gold & Silver Pawn Shop in Las Vegas, told Money last year that Super Bowl rings from popular teams like the Patriots can sell for anywhere from $40,000-$50,0000 on the secondary market, sometimes more depending on the team's record and the player. He estimates a Tom Brady Super Bowl ring could sell for as much as $250,000.
But $36,000 is a lot of money to spend on just one ring if you don't own an NFL team, and you can get a lot more bang for your buck with other purchases, if you ask us. We've rounded up a list of things you could buy instead of a Super Bowl ring if you're looking to treat yourself — whether you won a championship game or not.
A Trip to Russia to Get Back The Patriots 2005 Super Bowl Ring From Vladimir Putin
Another way to snag yourself a ring is to bring a conspicuously missing one home. Super Bowls don't usually involve international relations, but the 2005 game did. The Patriots won (of course) and the team's owner, Robert Kraft, was on a business trip to Russia when he showed the ring to President Putin, who, rather than giving the ring back after trying it on, decided to slip it into his pocket and keep it for himself. Kraft was reportedly asked by the White House to let Putin keep it as a gift "in best interest of US-Soviet relations." Supposedly, the ring is on display in the Kremlin library. First class flights to Moscow can cost as much as $30,000 so start planning ahead.
One or Two Years of College Tuition
If you aren't getting a free ride to college because of your athletic skills, you could use $40,000 to pay for your education instead. College Board estimates the average cost of one year of tuition is $35,720 at a private school and $10, 230 at a public university. The most expensive colleges can cost almost double that though, with Harvey Mudd College in California costing $69, 717 a year, according to Business Insider.
Other Bling
If you like diamonds more than degrees, commission a custom-made jewel encrusted medallion of your favorite brand's logo like Stefon Diggs, a wide receiver for the Minnesota Vikings (who previously played for the Seattle Seahawks) did. Diggs reportedly spent $15,000 on his custom Starbucks medallion — you can buy three for the cost of just one Super Bowl ring —which has more than 1,000 diamonds and emeralds. In addition to the medallion, he also had custom cleats designed bearing the coffee brand's signature green and white colors. Aside from being a loyal Starbucks customers, Diggs supposedly says, that, like Starbucks, he is "always open."
A Tesla
You may not be able to afford the kinds of cars Super Bowl champs buy themselves, but you can still add some luxury to your commute by investing in a Tesla. The Mercedes-Benz stadium in Atlanta where the Super Bowl is being held is brand new, and it introduced electric car chargers for its parking lots. The stadium can charge 48 electric cars at a time, making it the most EV (electric vehicle) friendly arena around — the FedEx field in Washington, D.C. has 10 charging stations and the Solider Field stadium in Chicago has three EV charging stations. The most inexpensive Tesla you can buy is the Model 3, which starts at $35,000 and was the highest-selling luxury car in the U.S. in 2018. Other major automotive companies are jumping on the electric card trend, so you'll be ahead of the curve (and you don't have to root for the Falcons).
Other Sports Memorabilia
While it's common to hear about Super Bowl rings being auctioned offline or sold on e-Bay, there are plenty of other expensive and extraordinary items to invest in if a Super Bowl ring isn't your thing or in your budget. Take Olympic memorabilia. You can bid on one-of-kind items like Olympic torches with a little bit of Googling. Collectors have been buying Olympic torches for decades, at prices ranging anywhere from $1,500-$70,000. The most expensive torch ever bought was from the 1952 Helsinki Olympic Games and it sold for $880,000. Olympic pins are a popular and inexpensive, albeit less impressive, item you can find on e-Bay, sometimes selling for just $5.95.