Here's What You Need to Know About Insuring Yourself with Uber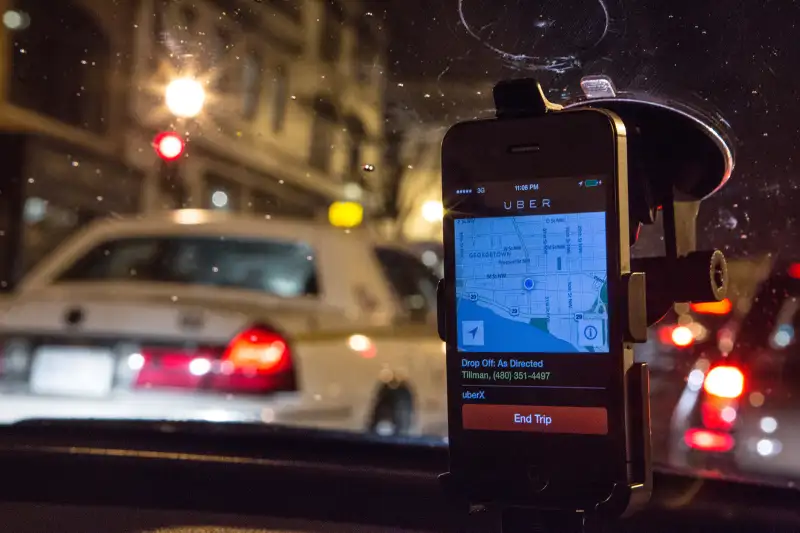 Washington Post/Getty Images
In 2014, Uber and Lyft rolled out expanded liability insurance for a rapidly growing fleet of independent drivers.
For riders, the implication was clear: if you're injured during a trip with a ride hailing service, the damages will be covered — up to $1 million. If you're a civilian driver who has collided with an Uber or Lyft, you'll navigate the claims process as you normally would.
But if you're a ride share driver, things aren't that simple. The two companies' collision insurance comes with a steep deductible and doesn't cover every situation. Worse, if your personal insurer learns you work for a car-hailing app, they can drop you from your plan.
Confused? You're not the only one. If you're a ride share driver, or thinking of becoming one, here's what you need to know about insurance.
Uber's and Lyft's Contribution
Ride sharing was uncharted territory just a few years ago, remember, so Uber and Lyft came onto the scene with little regulation or insurance liability. In 2014, that changed.
On New Year's Eve, a six-year-old girl was struck and killed by an Uber driver in San Francisco, and the company tried to distance itself from the incident. The driver wasn't carrying a passenger, and wasn't en route to one, so Uber claimed no responsibility. The family sued, and lawmakers pushed for greater insurance requirements for ride sharing companies. Shortly after, Uber and its competitors expanded their policies to include between-ride accidents.
It's a positive step, but the expanded policies don't give drivers full coverage. Today, there are three tiers that Uber and Lyft use for determining liability:
Period 1: Driver has the app "on" and is waiting for a request. The companies provide no collision coverage during this stage, and limited liability coverage — up to $50,00 for bodily injury with a total of $100,000 per accident.
Period 2: Driver has app "on" and has accepted a request or is on the way to a pick up a passenger. Uber and Lyft provide both liability and collision coverage during this stage. Collision insurance comes with a $1,000 deductible for Uber, and a $2,500 deductible for Lyft.
Period 3: Driver has a passenger in the car. Uber and Lyft assume the same liability and collision coverage as period 2.
Uber's and Lyft's insurance usually kicks in when a driver's personal auto insurance fails to cover the damages. A driver's insurer is likely to fight the charges, so this happens often -- and can end with the driver losing his or her personal policy, says Harry Campbell, an L.A.-based ride share driver and the blogger behind "The Rideshare Guy."
"If you get into an accident in California, one of the first questions your insurer asks you is 'Are you an Uber or Lyft driver?'" Campbell says. "If you say yes, they can drop you, and if you say no, you're lying to your insurer."
Ride Share Insurance
Uber and Lyft drivers can purchase commercial insurance, but those policies are prohibitively expensive for most people. Conservative estimates range from $3,000 to $5,000 a year, Campbell says.
As a result, major insurance carriers have begun offering ride share insurance, which are personal plans that cover drivers during between-trip accidents. Ride share policies are more affordable than their commercial counterparts (most run between $100 and $200 a month) and are available from nearly every major carrier.
"A number of insurers are selling this as an endorsement, or a rider, to a policy," says Peter Kochenburger, associate clinical professor of law at the University of Connecticut and a specialist in insurance and consumer law. "The idea is to close the gap between a personal policy and Uber's policy. If you drive and you don't have one of those endorsements, your personal policy won't be sufficient in an accident."
This sliver of the insurance industry is still very new, so there's little competition. Drivers in most states have only one insurance option, and some drivers—those in Hawaii, Oregon and Idaho, for instance—don't have access to ride share insurance at all.
Kochenburger is optimistic that states will soon iron out those wrinkles.
"It's really about coordinating coverage," he says. "States are figuring out their ride sharing laws, and setting the appropriate parameters. Once every state figures out what they're going to allow, the ability to obtain sufficient insurance as a driver will be much easier."
The Takeaway
For drivers whose livelihood depends on Uber and Lyft, particularly those in states without access to third-party insurance, even a fender bender can spell disaster.
"If your car is your money maker, and an accident isn't covered, you lose both your money and your ability to make it back," Campbell says. "It's a tough position to be in."
As ride sharing continues to evolve, so will its insurance options. Survey your options before getting in too deep.