World's Tallest Observation Wheel Prices Come Down to Earth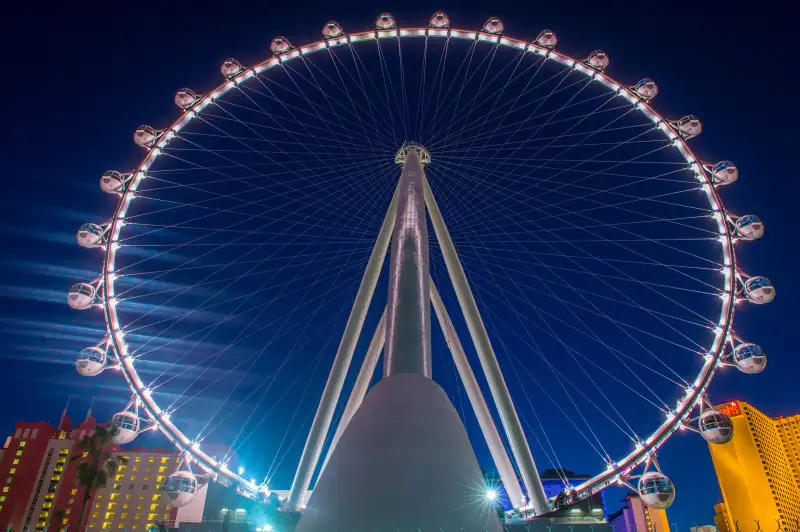 The High Roller opened this past spring as the focal point of the LINQ, an open-air shopping and dining district. The Ferris wheel-like attraction—an observation wheel that holds 40 passengers in each of 28 pods, modeled on the London Eye—launched to much fanfare in April. It is not a thrill ride per se, moving at only one foot per second and requiring a half-hour to complete a full circle, but the idea is that the views from 55 stories will prove thrilling. One man reportedly waited six hours to be among the first passengers to board a High Roller pod on opening day to the public.
Fast-forward a few weeks, and the idea of such a wait is especially laughable. From the beginning, many complained that the price of a High Roller ride was just too expensive. A basic daytime ticket originally cost $24.95, and a ride after 6 p.m. runs $10 more. (By comparison, a ride to take in the view at the 869-foot-high Stratosphere observation deck, usually costs $18 for adults, $12 for hotel guests, locals, and seniors, and $10 for kids ages 4 to 12.) The Las Vegas Sun reported that many High Roller ticketing options have quietly gotten cheaper, however, apparently to juice sales during the slow summer season.
The daytime adult ticket was dropped to $19.95 at least through Labor Day, and youth rates for kids ages 13 to 18 were reduced permanently to $14.95 during the day and $24.95 at night. (Kids 12 and under are free with a paying adult.) Family packs have also been introduced, with two adults and two youth tickets selling for $50 during the day and $80 at night.
The new pricing structure is hardly the only way Caesars is trying to fill empty High Roller pods. An ongoing Tuesday special cuts prices in half for locals (anyone with Nevada ID), and locals get $5 off on rides every other day. A Groupon for a $65 VIP High Roller package for two (valued at $109.90), with two rides, two souvenir photos, and two drinks, was introduced in mid-June and still hasn't sold out. (It probably hasn't helped sales that a water main burst in mid-June, flooding the LINQ pedestrian areas directly below the High Roller.)
Sure, everything goes on sale eventually in Las Vegas, where wheeling and dealing are ingrained in the culture. But it's not a good sign for the future success of the High Roller that it appears to be forced to resort to deals and discounts within a few scant months of being the hot new thing on the Strip.
Meanwhile, plans for a second Sin City observation wheel, the 500-foot-high SkyVue, across the street from the airport and Mandalay Bay, seem to have been put on hold. While ground was broken for the SkyVue three years ago, last month the Las Vegas Sun put the crane and scaffolding on the site—the only physical progress on display—into the category of "eyesores to tourists and commuters" in the city.
Oh, and even as one High Roller competitor seems to have faded away in Las Vegas, forthcoming rides in other locations are poised to steal its thunder as the World's Largest Observation Wheel. A 625-foot-high Ferris wheel-like attraction is in the works for New York City's Staten Island, offering views of the Statue of Liberty and the Manhattan skyline. Not to be outdone, a 689-foot-high Dubai Eye observation wheel is planned as the centerpiece of manmade island in Dubai with a five-star hotel and a cluster of tourist and shopping facilities.