The Highest Paid Players in Football and Baseball Came from the Same High School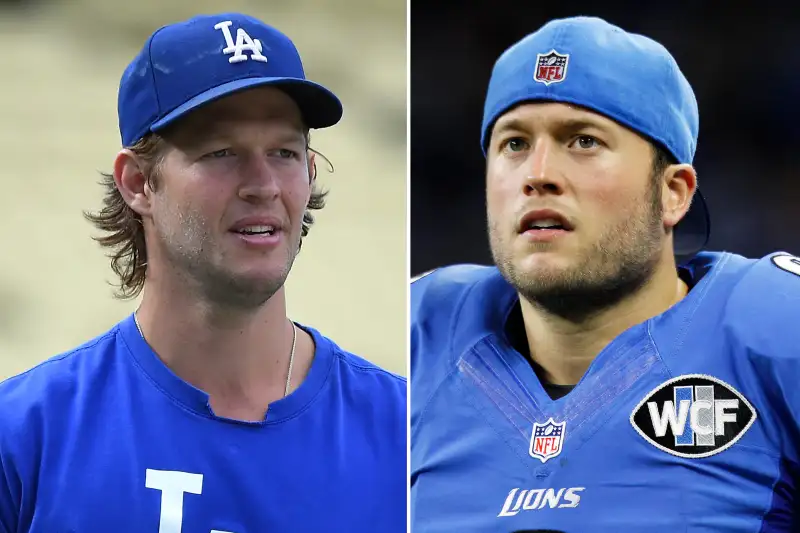 Jayne Kamin-Oncea & Jorge Lemus/NurPhoto via Getty Images
On Monday, the Detroit Lions made quarterback Matthew Stafford the highest-paid player in NFL history, signing him to a five-year, $135 million deal, according to multiple reports.
For Stafford's fellow alums at Highland Park High in Dallas though, that may not impress much.
For one thing, they've been used to having the highest-paid player in baseball of the past few years. As ESPN noted, Los Angeles Dodgers pitcher Clayton Kershaw, a two-time Cy Young Award winner and former high school teammate of Stafford's, stands to make $33 million this year as part of a league-high $215 million deal he signed in 2014.
Highland Park High is consistently voted one of the top public schools in the country, including an A+ rating on schools and neighborhoods site Niche.com. It's produced multiple Olympic gold medalists, NFL Hall of Famers, and PGA Tour champs over the years. That's alongside three Pulitzer Prize winners, a Nobel Prize-winning physicist, an astronaut, and the founder of Teach for America. And alums Trevor Rees-Jones of Chief Oil and George Seay are two of Texas's richest men.
As of 2014, the school also boasted America's fifth-highest-paid TV actress, Angie Harmon, as an alumna.
The school is located in a suburb of Dallas known as Park Cities, which happens to be one of the wealthiest areas in the entire country. Yet according to a Bleacher Report story, both Stafford and Kershaw come from more modest backgrounds; they are both the products of divorce, and Kershaw's mother reportedly "worked multiple jobs to make ends meet."
Stafford's father worked selling insurance and advertising. "Stafford grew up in comfortable circumstances but nothing like the opulence of some of his classmates," the Athens (Ga.) Banner-Herald reported.
The two athletes, both 29, played freshman football together, as well as two years of varsity baseball as teammates. Stafford played for football coach Randy Allen, one of the all-time winningest coaches in Texas.
"Playing at Highland Park was great preparation for him," Allen told the Banner-Herald. "There's tremendous pressure and [Stafford's] already experienced the pressure of preseason rankings and the expectations of the community since he was a seventh grader that when they got to high school that they'd win it."
Stafford and Kershaw keep in touch to this day.
"We both have busy schedules but we try to shoot each other a text every once in awhile," Stafford told the Los Angeles Times. "I try to catch most of the games I can when he's throwing."