Usain Bolt Is Retiring. Here's How He Made Over $100 Million in 10 Years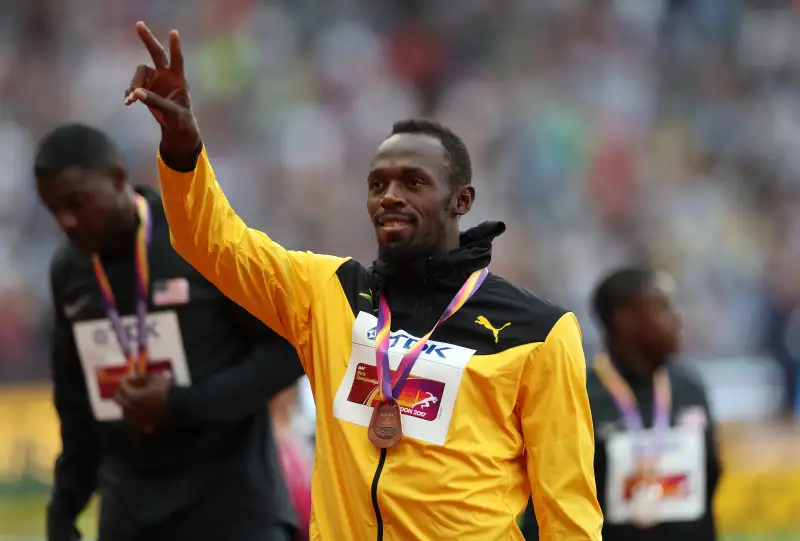 Ian MacNicol—Getty Images
Usain Bolt, the greatest sprinter in modern times, said he plans on retiring after running his final races this week at the world championships in London.
Last Saturday, in what everyone expects was his final individual race, Bolt had a bad start in the 100m and had to settle for a bronze medal. On Saturday, August 12, Bolt is slated to run in his last race overall, representing Jamaica in the 4x100m relay finals.
Bolt has easily been the most celebrated and highest-earning track star for a decade. So how much has he earned during his career?
The 30-year-old Bolt will pull in $34.2 million this year, according to Forbes, making him the 23rd-highest-paid athlete in the world. His latest ranking puts him ahead of any baseball player, and just behind golfer Jordan Spieth and basketball player Derrick Rose. There is no other track star in the top 100.
Almost all of Bolt's money comes from endorsements, including deals with Puma, Sprint, and Advil, Forbes says. Only $2.5 million of his earnings in the past 12 months are reportedly from race winnings and appearance fees at track events.
The $34.2 million for 2017 tracks slightly higher than 2016, when Forbes pegged Bolt's earnings at $32.5 million.
According to CNBC, Bolt has been with Puma since 2002, when the sprinter was just 16. Prior to the 2016 Olympics, the deal was paying him $10 million a year. It's not clear how much the deal is worth now. Before his $10 million contract, Puma was said to be paying him $1.5 million a year, according to the Financial Times.
Bolt took home gold medals in all three Olympics appearances during his career, starting in 2008 in Beijing, in both the 100m and 200m.
After Beijing, Bolt signed deals with Gatorade, Hublot, Virgin, and Visa.
Bolt's annual earnings have crept up steadily over the years, and increased significantly as he began piling up his collection of eight gold medals. In a 2009 RunBlogRun post, Bolt's earnings were said to be up to $3 million. His 2012 earnings were estimated at $20 million, and by 2014 he was up to $23 million, according to Forbes, good enough to make him the 63rd and 45th richest athlete in the world in those respective years.
Being fairly conservative, we can estimate that over the past decade Bolt has made more than $100 million, and perhaps even over $150 million.
There is unlikely to ever be a track star as rich as Bolt, because athletics earnings generally pay so little even to those at the top of their field. For instance, first place in the biennial World Championships is worth $60,000, and world records carry bonuses of $100,000 in that event, according to Forbes.
Many countries also pay their athletes for competing and winning at the Olympics, and Jamaica is no exception. But the medal payouts are a pittance compared to decent endorsement deals: In 2016, Jamaica paid roughly $10,000 for each gold medal an athlete brought home. So Bolt was rewarded with about $30,000 for his haul of three gold medals that year.
Bolt seems to enjoy his fame and fortune. He reportedly owns a black Nissan GT-R worth $105,000, according to Business Insider, and a large mansion near Jamaica's capital.
Bolt is also known to love a great party. But not everyone is fond of his lifestyle.
"Between the bikes, loud, horrid music, parties and screams, I honestly wish he would go back to where he came from," his neighbor-model Jodi Stewart-Henriques wrote on Facebook in 2015. "He's a horrible neighbor."