These Charts Pinpoint Exactly When You'll Find the Best Deals on Every Kind of Holiday Gift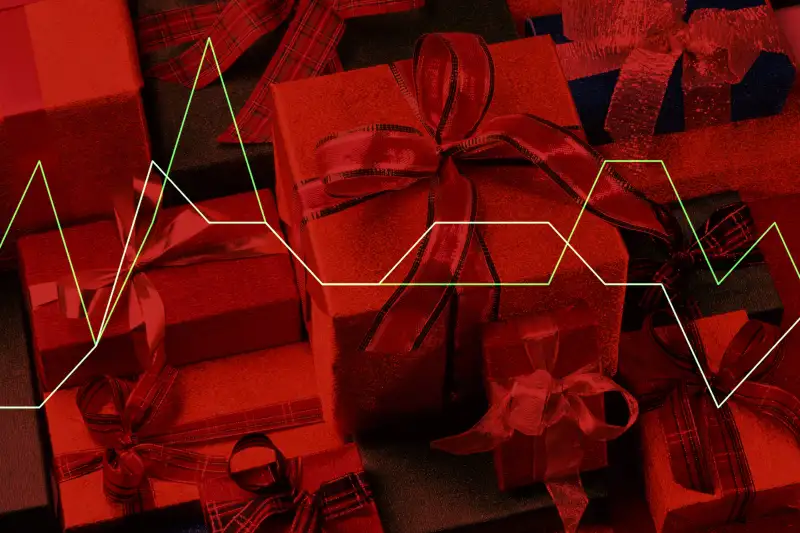 Photo illustration by Money; Rauzier Riviere—The Image Bank/Getty Images
Black Friday and Cyber Week might be over, but the deals aren't going to stop until you do.
Retailers understand that consumers will be on the prowl for the best holiday deals well into December. When those deals peak and how often they do changes from year to year, however.
"It's not about a spike for promotions on Black Friday or Cyber Monday anymore," said Rob Garf, the Vice President of Industry Strategy and Insights at Salesforce. "It's more of a steady drumbeat to engage the consumers."
Thanks to data collected by Salesforce, we can identify some patterns looking ahead into December. Consumers can count on a couple of things: prices won't go Cyber Monday-low again this month, but there will be discounts in the days leading up to Christmas and Kwanzaa.
But year-to-year variations are also bound to happen. Retailers are constantly experimenting with pricing strategies as shopping habits change, and different days (Hanukkah, school closures, weekends, etc) will inevitably fall on different dates each year. When years past show drastically different discount behaviors — like the ones you'll see for some more specific product categories — pay attention to the year that 2018 seems to be following most closely.
"In general, if the trends are similar year over year for Black Friday [and] Cyber Monday, then we expect to see similar sales in December as well," said Lindsay Sakraida, the director of content marketing for price comparison website DealNews.
Money compared average daily discount rates from Salesforce for various product categories for 2016, 2017, and 2018. For each category, we determined which of the last two years 2018 has been most similar to so far, and used that year's daily discount rates for December to predict what will happen to discounts this December. Salesforce didn't break out the discount data for electronics or toys, but accounted for both in the overall products roundup.
Retailers for overall products stuck closer to the 2017 Black Friday and Cyber Week discount strategy in 2018 than they did to the 2016 one. This holiday season, discounts for a PlayStation — which was "the most-talked-about product on social platforms during Black Friday," according to Salesforce's Garf — will probably follow the dark blue line above.
Similarly, comparing 2018's discount rate patterns for other product categories to those of 2017 and 2016, we can get an idea about how and when retailers might discount products over the next month.
Home
Discounts for home products were almost identical to those of 2017 in the last week of November. This December, use the discount trends for 2017 as a roadmap for deals.
Health & Beauty
Again, pay particular attention to the 2017 line this month, since the paths were similar last month. Even if it strays, you can expect to see prices start to dip gradually on the 19th.
General Apparel
When it comes to clothing, discount rates will look more like 2017 than 2016 this month. Don't expect prices to be lowest on Christmas Day and Christmas Eve like they've been for the rest.
Active Apparel
For activewear, like clothing from athletic brands such as lululemon, Nike, and Under Armour, expect daily discounts to look a lot more like 2016, since discounts didn't follow a traditional path in November. Similar to health and beauty products, prices will start to go down around the 18th or 19th.
Luxury Apparel
Looking at December, the paths for luxury clothing retailers seem like they just miss one another:
But aligning the paths according to day of the week reveals a fairly consistent fluctuation. If your holiday shopping includes some luxury name brands, prices will be going down for the next couple of days, but wait until Monday the 10th (and if you're patient, Thursday the 13th or Tuesday the 18th onwards) to see some real discounts.