Here's How Much Adding Solar Panels Will Boost Your Home's Value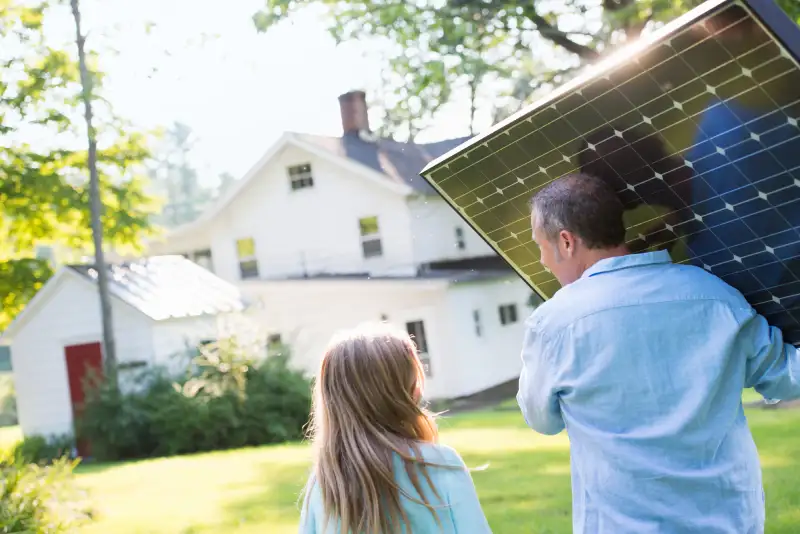 Solar panels are good for the environment, but are they good for the value of your home? A new study suggests the answer is yes — although whether it's enough to actually cover the cost of the panels depends on where you live.
Americans are investing in solar power, installing enough systems to power 12.3 million homes in 2018, according to the Solar Energy Industries Association, a trade group. But whether or not those solar panels pay off depends on a lot of factors, from the cost of electricity in your area to the shape of your roof. One of those factors: their impact on your home's value.
On average, solar panels raise a home's value by 4.1% across the U.S., according to a new Zillow analysis of homes across the country— that's a boost of $9,274 on a $226,300 home, according to the study.
The analysis compared homes "with and without solar-energy systems that were listed for sale and sold from March 1, 2018, to February 28, 2019," according to the methodology. The study controlled for the home's attributes, like bedrooms, bathrooms, square footage, age and location, to determine an area's solar panel boost.
Do solar panels increase home value everywhere?
While the average U.S. home saw a 4.1% gain in value, that boost varies from place to place.
Of the metropolitan areas included in the analysis , homeowners who stand to gain the most from solar panel installation include those New York (5.4%, or a $23,989 premium on a $440,400 home), San Francisco (4.4%, or a $41,658 premium on a $955,200 home) and Orlando, Fla., (4.6%, or a $10,994 premium on a $368,300 home), according to the study.
While the value of solar panels varies from place to place, no metropolitan area saw home values drop due to solar panels, according to Zillow.
Are solar panels worth the investment?
While $9,274 -- the payoff based on the national median home price -- is a significant amount of money, it's unlikely to offset the purchase and installation cost of solar panels entirely. But it does cover a big chunk of the cost of buying and installing home solar panels.
According to green energy marketplace EnergySage, the average home solar system costs $18,300 before tax credits and $12,810 after tax credits in 2019. That projected cost is likely to change in the future as material costs vary and the federal tax credit winds down.
When you're considering solar panels for your home, it pays to learn about all the different factors that influence whether solar panels are worth installing. Is your roof the right shape? Is your area sunny? Are energy costs cheaper, or more expensive, compared to the rest of the country? Are solar panel related incidents covered by your home warranty?
For a snapshot of how your home might fare with solar panels, check your address on Google's Project Sunroof, which estimates solar savings based on factors like weather patters, roof shape, electricity rates and more.