Homebuyers getting FHA loans too easily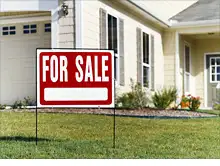 You'd think the subprime bust would mean no more mortgages for borrowers with little skin in the game. Well, it doesn't.
While most lenders have tightened standards for down payments -- usually requiring at least 10% down and 20% for the best rates -- the Federal Housing Administration has continued to offer loans to borrowers putting down as little as 3.5%. On Thursday the House Financial Services Committee is considering whether to boost the minimum down payment requirement to 5%.
I think the move is overdue, especially since FHA mortgage defaults are at a record high and the agency's reserve fund is at a record low. As a soon-to-be homebuyer myself, I appreciate how hard it is to save money for a down payment. And I recognize that increasing the down payment requirement from 3.5% to 5% will mean that some people may have to put off home ownership in order to save a bit longer. What I don't realize is what's so wrong with that. Getting a home for 5% down is still pretty good deal in my book.
On a $178,000 home (the median in the third quarter, according to the National Association of Realtors), the down payment under the new rules would increase $2,670, from $6,230 to $8,900. That's no small sum, but in the grand scheme of purchasing a home it's not wildly unrealistic, especially for first-time homebuyers (more than half of whom use FHA loans) who will get an $8,000 housewarming gift from the federal government courtesy of the first-time homebuyer tax credit.
One lesson of the foreclosure crisis is that buyers with little of their own cash invested in their homes are more likely to walk away from them, and critics are already making comparisons between the FHA and subprime lenders. Increasing down payment requirements is one way the FHA could prove them wrong.
Add More Money to your favorite RSS reader. Subscribe at http://rss.cnn.com/moneyfeatures.rss.