'Do I Put Off My Dream?' Steep Down Payments Are a Nightmare for First-Time Homebuyers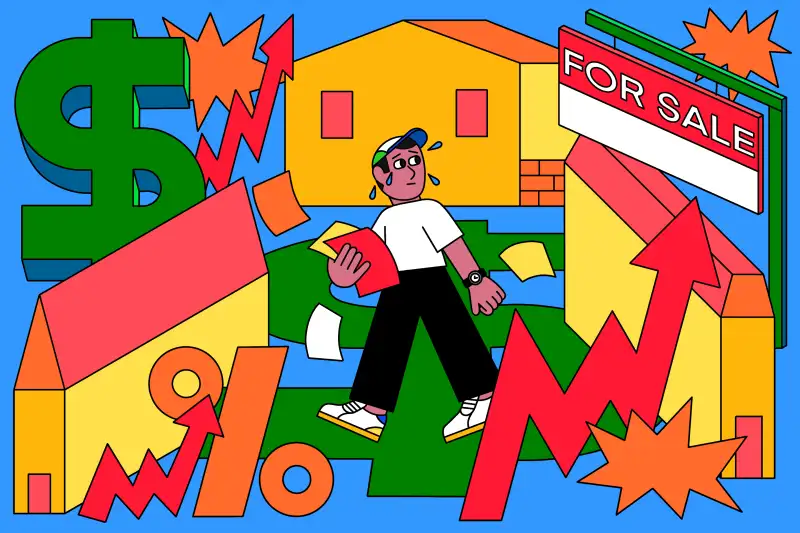 Andrea Chronopoulos for Money
Two years into the hunt for his first home, Jeffrey Bowers is feeling defeated. The 36-year-old, like many younger Americans, is learning firsthand just how difficult it is to afford a good place to live.
Even after saving up toward this moment for the past five years — setting aside income from his IT jobs and living like a "cheapskate" — real estate in his area just south of Bentonville, Arkansas, has gotten so much more expensive that only fixer-uppers and too-small homes are in his budget.
The search has been "daunting" and "demoralizing," he says. "Everything is out of your price range."
Bowers is trying to buy during one of the most excruciatingly difficult housing markets for young, first-time buyers. Interest rates are high, stock is low and typical sale prices are up more than $100,000 nationally in the past three years.
Largely as a result of higher home prices, the median down payment in the U.S. is up more than 60% from pre-pandemic levels, according to Redfin, which means buyers need to come with an extra $10,000 (or more) for down payments in today's market.
Saving for a down payment has never been easy, but that additional sum can make it feel impossible, especially at a time when high rent costs and overall inflation are straining budgets. The down payment burden is one reason the median age of a homebuyer hit an all-time high of 53 in 2022, up from 45 a year before, according to an annual report from the National Association of Realtors. Only 26% of home purchases were made by first-time buyers, a record low, and the age of the typical first-time buyer increased to a record high of 36, up from 33 the year before.
First-time buyers today face a sort of triple threat: It has become harder to save for a down payment, harder to get approved for loans and harder to afford monthly payments.
'Do I put off my dream?'
Just a few years ago, Bowers would have had a much easier time finding a home in Arkansas within his $200,000 budget with enough space for his wife, father and service dog.
He's preapproved for a government-backed FHA loan that would involve putting $7,000 down. Adding in closing costs, he's braced for the whole purchase to cost around $12,000 initially.
The mortgage payments would be more than $1,100, significantly higher than the $700 per month he pays in rent for the three-bedroom condo they're living in now.
Looking at their savings and income, Bowers says anything more than $200,000 would be nearly impossible to afford, based on the up-front and monthly costs. Unfortunately, the homes he's finding that look comfortable are around $250,000. If he wasn't paying hundreds of dollars a month for gas for his long commutes to work and spending more on everyday things like groceries, he might be able to afford that, but those financial stresses seem unlikely to go away any time soon.
Bowers says the costs are so overwhelming in today's market that it has beat him down.
"You have an idea in your head of what you want of the future, the life you're going to have, the artwork, your dogs or your kid playing, everything there," he says.
Then reality set in as he started to look at homes. Options in his budget often fell way short of his hopes, while the decent listings were at a price point where he'd need to save for a few more years and risk the possibility of home prices rising higher in the meantime.
"You're faced with that situation of, do I wait, do I put off my dream? Or do I possibly take on a situation where I'm eating ramen for the rest of my life?"
Down payments are high, but lower than last year
There is actually a small bright spot for first-time buyers: As the housing market has cooled in the past year, bidding wars have died down, and that has helped reduce down payments.
The typical down payment for a home in the U.S. remains very high at $52,500, but it's about 20% lower than the all-time high in May 2022, when buyers trying to make their offers stand out in a hotter market pushed the average above $65,000, according to Redfin.
"Some of the affordable options like FHA loans were not able to compete in that market as much," says Sheharyar Bokhari, a senior economist at Redfin. "Now, that is reversing."
The median down payment in the U.S. has dropped to 13.1% of the purchase price, down from a peak in May 2022 of 17.5%.
But making a smaller down payment comes with a host of tradeoffs, including higher monthly payments, additional costs due to requirements for private mortgage insurance and the risk of having negative equity if your home loses value.
Your down payment amount also affects your mortgage rate (along with other factors like your credit score) because lenders see greater risk when a buyer wants to make a smaller down payment. So if you only put a small percentage down, monthly payments can be brutal in the current interest rate environment.
Young buyers get pushed out
Lisa Smith, a real estate agent in Sante Fe, New Mexico, seldom sees younger buyers or first-timer buyers these days. When she sold a home in March to a young couple with a 3-year-old and 5-month-old, it caught her by surprise: "I haven't seen little kids in years," she says.
Until interest rates started to rise about a year ago, lots of younger Americans were becoming first-time homeowners, Bokhari says. But now the market favors older buyers who are more likely to have equity that can help them overcome high mortgage rates.
That reflects Smith's experiences. Her buyers nowadays tend to be older and are often coming from out-of-state, whereas she used to have more clients who work in government and tourism jobs, two of the largest industries in the area.
Smith says many younger Santa Fe residents who work in the area's major industries — which often don't pay heaps of money — were saving for their first down payment before the pandemic and were probably starting to get close, only for prices to shoot up from mid-2020 into 2022, putting it out of reach for now.
"It's tough here for the regular workers," she says. "And it's tough for the locals who were born and raised here, unless their parents can help them."
Skipping entertainment, vacations and more to save up
Samuel Metcalf, 38, and his partner just got the keys to their first home, which he says is a major relief given the market.
They had been looking to buy a place for their family, which includes 3-year-old twin girls, since 2021 when their landlord hiked their rent. By the time they moved, the rent for their old home was $3,600 per month. They knew they could do better if they could just save up a bit more money for a good down payment.
More than a year later, when the right home came along — a new build in south Austin with a great yard — they had enough to put $70,000 down (15%) on the $465,000 property.
Metcalf says they had to strike a balance between putting money into the home initially to have lower monthly payments, while being careful not to wipe out their savings. With kids, plus the possibility of home repairs, they decided to each keep a $10,000 emergency fund — "You never know," he says.
At $3,000, their monthly payments are manageable, which will allow them to build their savings back up with each paycheck.
Thanks to a financing deal with the builder's lender, they locked in a 5.25% mortgage rate in January. That's good by current standards, but when they started looking, mortgage rates were around 3%. That rise in interest rates meant they had to commit to a higher monthly payment.
Still, Metcalf is glad they bought after the market slowed down. Earlier in their home search, seeing bids with more than 20% down and buyers waiving inspections, among other "craziness," they felt priced out by the hotness of the market. So they resolved to keep saving, which meant avoiding unnecessary shopping, not traveling and having a small Christmas last year.
That's a shared experience he has with other first first-time buyers. More than 8 in 10 of whom make sacrifices to finance the down payment, including 61% who cut back on entertainment spending, 48% who canceled or postponed vacation plans and 44% who picked up more work, according to a recent Zillow report.
Despite their sacrifices, many young prospective buyers have had their homeownership dreams get harder to reach over the past few years. Metcalf made it eventually, but not without a good deal of anxiety as he watched the market become increasingly inaccessible.
"I felt like a passenger, like I had no agency over my future because it was slipping out of my hands."
More from Money:
How to Make an Offer on a House
Home Sellers Feel Trapped By Their Low Mortgage Rates: Survey
People Aren't Buying Vacation Homes — and That's a Bad Sign for the Housing Market