Get 'Em While They're Hot: Neiman Marcus Unveils $7,100 Weiner Couch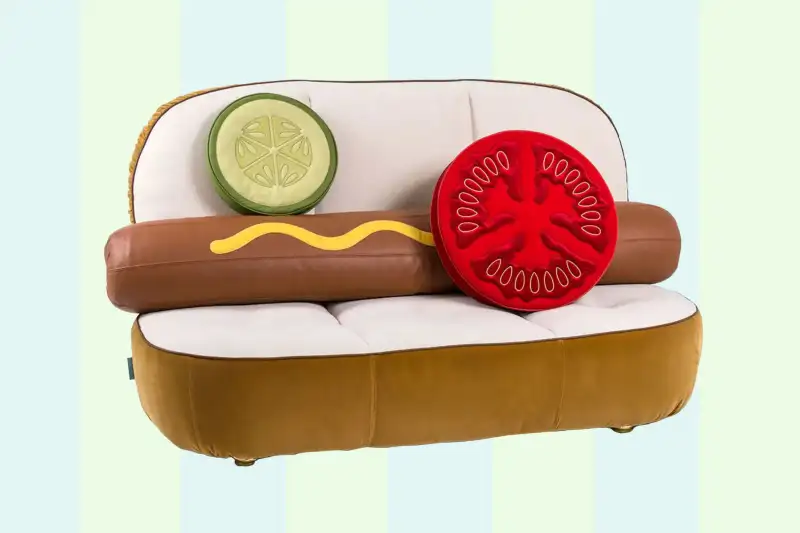 Courtesy of Neiman Marcus
Neiman Marcus, the luxury retailer that has blessed the world with the $25,000 cupcake car and $1,425 "destroyed" high-top sneakers, is now selling another amazing expensive absurdity.
Behold the $7,100 hot dog sofa:
Courtesy of Neiman Marcus
The hot dog couch sold by Neiman Marcus comes from Seletti, an Italian design company founded in 1964 that says its collections contain "art blended with daily life icons, send a message of shape and function, conveying to its customers a vision for a unique, personal and fun lifestyle."
The hot dog sofa is listed as "out of stock" at the Seletti website, but it is available for order from Neiman Marcus. Orders will take some time to be fulfilled: Shipping will be processed no later than December 6, and delivery adds $295 on top of the $7,100 price tag.
Naturally, Twitter is gushing over the Neiman Marcus's latest astounding home furnishing item. One tweet posted on Thursday showing the hot dog couch has generated over 7,000 likes and nearly 2,000 retweets.
Seletti specifies that the set of vegetable pillows pictured with the hot dog sofa is sold separately. The extra cost is unclear, but if you're spending $7,100 already it would seem silly not to place your order with all the fixings.
For that matter, Neiman Marcus is also selling the perfect companion piece to the hot dog sofa. It's the Seletti Burger Chair, priced at $4,950 plus $250 for shipping.
Courtesy of Neiman Marcus
We've included affiliate links into this article. Click here to learn what those are.