This Will Be the 2018 Holiday Season's Hottest Toy, According to Experts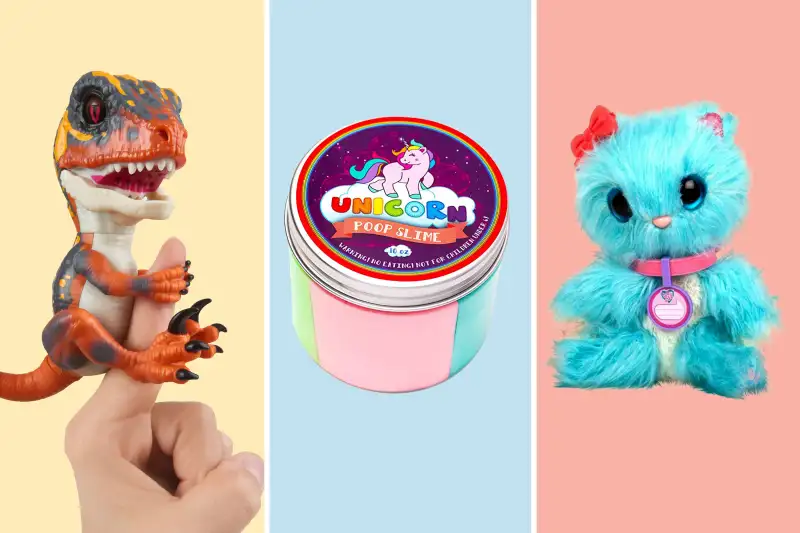 Each product we feature has been independently selected and reviewed by our editorial team. If you make a purchase using the links included, we may earn commission.
We know: It's not even Halloween yet. But if you always buy Christmas gifts for the kids in your life and always ideas for the best toys, you'll want to get a jump on things, because the hottest holiday toys tend to sell out quickly. Just look at what happened with Fingerlings last year, and Hatchimals the year before.
Once the holiday season's hot toy is sold out, shoppers have little choice but to turn to eBay or other online marketplaces, where resellers can command a ridiculous markup. So it's wise to make note now of what the hottest toys are likely to be, and perhaps scoop up some for your kids at the lowest price possible before they're sold out. Walmart and Amazon both recently came out with hot holiday toy lists, and Money asked some industry experts to tell us which will be the hottest toys of all and flying off shelves in the weeks ahead.
"There is no shortage of great toys this holiday season for every age kid and there are lots of retailers getting ready for a busy holiday season," says Juli Lennett, senior vice president and toy industry advisor at market research firm The NPD Group. If there are kids in your life, here are the holiday gifts they're going to beg for this year.
Scruff-A-Luvs
If we had to place a bet on which holiday toy is going to get the most buzz this year, we'd go with Scruff-A-Luvs, a toy that ticks many of the boxes for trends this year. For the uninitiated, these critters are presented as stray pets a kid "rescues." "You put it in water and it becomes an animal — you're adopting and nursing it back to health," says Adrienne Appell, trend specialist for The Toy Association.
Appell says these toys will generate buzz because they have the surprise element and an unboxing ritual — similar to Hatchimals, the hot stuffed animal from two years ago — and they also tap into an animal-rescue theme. Other toys this year also pick up on the pet rescue theme, like the Melissa & Doug Examine & Treat Pet Vet Play Set.
Other Interactive "Pets"
Appell says another popular interactive pet this year is Pomsies plush interactive toys, which the Good Housekeeping Institute recognized in its holiday roundup this year. "It's almost like a wearable virtual pet," Appell says. Not to be outdone, WowWee, the manufacturer of last year's can't-keep-em-in-stock Fingerlings, has rolled out a cuddly, plush version called Fingerlings Hugs.
Collectibles
Aside from plush interactive pets, toy industry pros say other collectibles are still going strong. "The Fingerlings, which were really really hot last year, now have a boy version which is on-trend with the dinosaur theme," Lennett says, referring to the growling-and-roaring Fingerlings Untamed dinosaur collection. (Fingerlings also have a collection of clip-on baby dragons now, as well.)
Another collectible that did well last year and is positioned for a reappearance on kids' Christmas lists is the L.O.L. Surprise! brand. "One of the biggest trends we've been talking about is really the collectibles with the big reveal — those blind pack collectables," Appell says. A couple of the new L.O.L. Surprise! toys out this year are the Glam Glitter Series Doll and Big Surprise versions.
These toys are appealing to parents because of their fairly low price points, and they're also a boon to toy companies because, well, if there are a whole slew of them (and there are), your kid is going to want them all.
Gross-Outs
Sorry to break it to you, parents, but gross is in this year — blame the growing ubiquity of the poop emoji. "The one thing that was talked a lot about at the toy fair was the whole toilet humor or poop theme," Lennett says. There's pastel-colored "unicorn poop" slime (some of which is even made by a brand called Poopsies), and a board game called Don't Step In It (also featuring unicorn poop — which is presumably less gross to consider than the real thing).
Other slime toys are also popular, and there's a new Baby Alive doll called the Potty Dance Baby — a pretty self-explanatory name.
STEM/Digital
Of course, STEM and digital toys are still going strong this year. Appell says some of the more intriguing offerings merge on- and offline play.
"The biggest 'wow' I saw this year was the Nintendo Labo," she says. "You're building things with the Nintendo Switch. It becomes a car, a backpack — it requires non-virtual play, so it's not like just having your kid in front of the Switch all day."
Kano's Harry Potter Coding Kit and the Ozobot Bit Coding Robot are other great examples of this hybrid toy trend, and Amazon is getting into the action, as well, with the Osmo Genius Kit for Fire Tablet (available starting next month).
We've included affiliate links into this article. Click here to learn what those are.