A Houston Author Asked People to Send Him Money For Harvey Victims. He Got $130k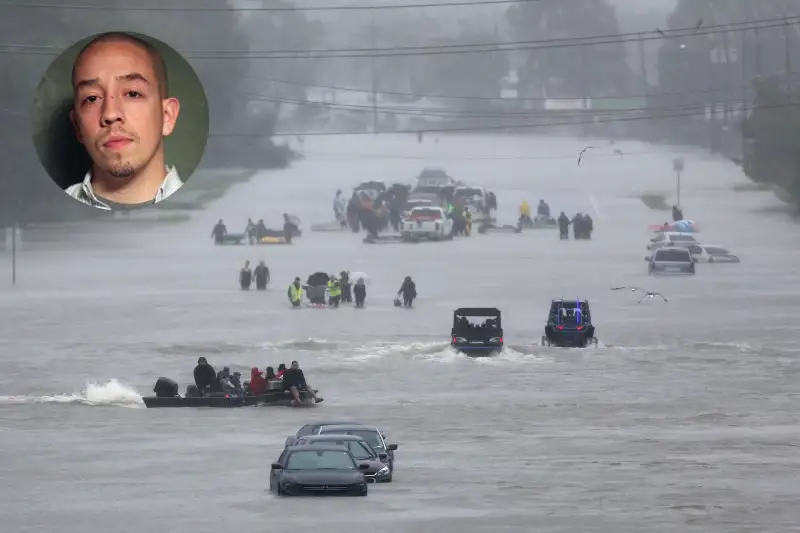 Jonathan Bachman—Reuters; Courtesy of Shea Serrano
Last night at about 6:30, Houston resident Shea Serrano put out a call on the Twitter transom.
"time 4 the F**k Hurricane Harvey donation ~ i got $200 on it ~ if u wanna join in."
The Houston-based writer, whose family evacuated to San Antonio in anticipation of the storm, rattled off his PayPal and Venmo information. And that was it -- no details on where he'd be spending the donations, or how. Just … that.
His followers jumped on board immediately.
At 7:09, he tweeted again:
And then, a little later:
At 10:56:
By this afternoon, he'd reached a whopping $132,000.
It's a peculiar thing. Ever since the storm made landfall last Saturday, destroying thousands of homes and killing at least 46 people, charitable donations have propped up dozens of corporate fundraisers and celebrity-backed Go Fund Me accounts.
Serrano's Twitter account is neither of those things.
It does, however, have a dedicated group of followers, about 160,000 deep, who frequently band together to help the writer raise money for charity. Over the last year, Serrano's "army" has mobilized on behalf of Planned Parenthood, public school teachers, and one exceptionally kind airport employee, among other causes.
The "F*ck Harvey" fund is by far most successful.
Money caught up with Serrano as he and his family drove back home to Houston. Here's what he had to say about the whole thing.
What's going on in your neighborhood right now? What have you heard from neighbors?
We live in this neighborhood, Meyerland, that floods all the time. Even when there's a big rain. Most of it is still underwater, so we were very worried. But I checked with some neighbors, and it sounds like water didn't even get in our house. We'll find out for sure in a couple of hours. We've got our fingers crossed.
You have a history of raising a ton of money in a short period of time. Why are so many people willing to donate to you personally, when they have no idea how it will be spent?
This is a group we've built up over the last two years. We've raised money for women's shelters in Dallas, the food bank around Thanksgiving. The most recent one was for an LGBTQ youth center in San Antonio a couple of weeks ago.
I try to be sure to post receipts, something that shows the amount of money we raised, and where it was donated. It's a reputation they can trust.
$130,000 is an awful lot of money, though ...
This isn't a thing that I'm doing by myself. I only put $200 in, the rest of the money came from other people. All things considered, I sent 20 tweets. That's it.
And I didn't even tell people where it was going. No one even asked until we got to $50,000. I just said, here's my information, if you want in. And boom, that was it.
It's easily the most we've ever raised. I thought we'd get about $25,000 or $30,000 at most, but it just kept going. It's intimidating.
How so?
Because it's like, if we raise $15,000, I know what the expectations are. I'm comfortable paying taxes on a $10,000 gift. But I've never gotten to this level before.
Have you decided what you're going to do with the money?
No. I know a bunch of organizations in Houston. So I know it will go to Houston places and Houston people. And maybe some other, smaller cities like Port Arthur, which got hit really hard, and maybe don't have the resources that Houston has.
That's the plan. But honestly, I don't know any specifics yet. Someone might have a particularly heartbreaking story. And I still need to talk to my tax person.