Here's How Much Ariana Grande Is Getting Paid for Coachella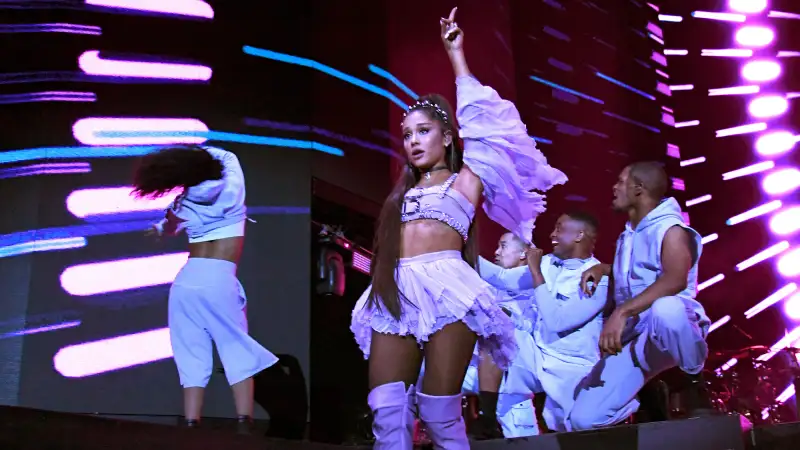 Kevin Mazur/Getty Images for AG
If you've been anywhere near social media or Palm Springs, California, recently, you know that pop queen Ariana Grande rocked Coachella this past weekend.
In her 85-minute set on April 14, Grande — the youngest artist to ever headline the popular music and arts festival — pulled off an *NSYNC reunion, paid tribute to late rapper Mac Miller and sang before an orchestra. She featured P. Diddy, overcame audio issues with Nicki Minaj and served as the soundtrack to an adorable Justin Bieber-Billie Eilish hug. She even had Wall-E do a cameo.
Oh, and did we mention Arichella still has another weekend to go?
Along with breaking the internet, the 25-year-old is definitely boosting her bank account. Although we don't know exactly how much Ariana Grande got paid for Coachella 2019, Variety reported that she's making $8 million.
Coachella's press team did not respond to Money's email asking whether that number was accurate. But even if Grande is earning a slightly smaller amount than rumored, her paycheck is almost certainly in the millions. The New Yorker wrote in 2017 that headliners Kendrick Lamar, Radiohead and Beyoncé — the last of whom later pulled out due to her pregnancy — were each earning "between three and four million dollars for playing." Other, lower-profile musicians didn't break $10,000.
Coachella can (probably) afford it, having grossed more than $114 million back in 2017.
Arichella comes after a particularly busy, and lucrative, year for Grande. This past August, she released the album Sweetener, which got the equivalent of 231,000 sales in the week after its release, according to the New York Times. In February, she dropped thank u, next, which initially pulled in 360,000 album-equivalent units when traditional sales, downloads and streams were considered.
Grande is currently on an 80-show tour, which is also sure to be a moneymaker. Billboard reported that her 2017 Dangerous Woman tour grossed $71 million.
Grande has never shied away from talking about money. In the lyrics of her recent hit "7 rings," she boasts about having a black credit card, buying her friends jewelry, making big deposits and partaking in retail therapy. (Side [to side] note: She isn't actually making much from "7 rings." Because the single samples the 1965 song "My Favorite Things," Grande gave 90% of its songwriting royalties to the Rodgers and Hammerstein estate.)
Overall, Ariana Grande's net worth is about $80 million, according to the Celebrity Net Worth, which bases its ballpark figures on news articles and real estate records. Coachella will only add to that.
Thank u, checks.