You Can Make Some Quick Cash on Election Day By Being a Poll Worker. Here's How Much It Pays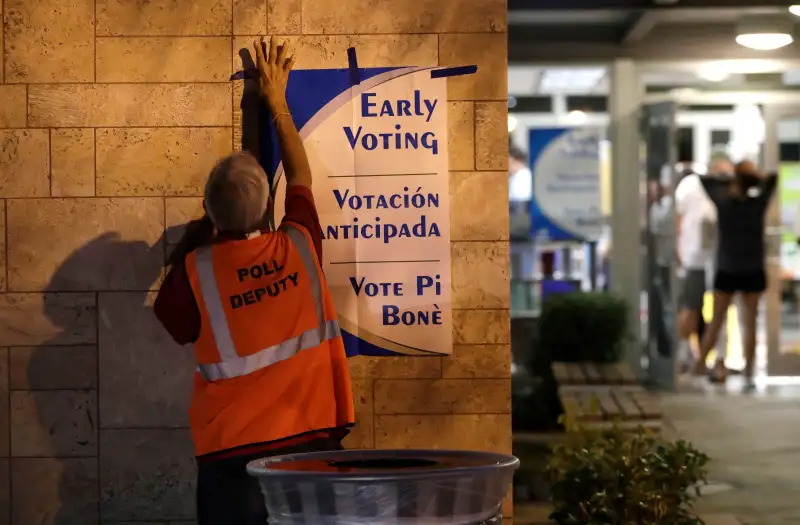 Lynne Sladky—AP/REX/Shutterstock
Rachel Noble took Election Day off work, but she won't be sleeping in or catching up on Netflix. From 6 a.m. to 9:30 p.m. on Nov. 6, she'll be volunteering as a poll worker.
With a Monster Energy drink in hand, Noble will work a 15-hour day at a nearby Los Angeles polling place. As a director of a neighborhood voting center, the 30-year-old will be responsible for setting up tables, manning the phones and translating for Russian speakers.
And for her efforts, she will earn about $140.
Noble is one of nearly 1 million poll workers across the country who will oversee the voting process for the midterm elections — and get paid for doing for it. The sums vary widely by location, but the need doesn't: Many counties are still attempting to recruit help for Election Day now.
So if you're looking to earn fast cash — or simply just feeling patriotic — you might want to sign up.
"The first year, I just didn't have a job and needed the money," says Noble, who has been a poll worker since 2012. "But then it was such an amazing and rewarding experience. I really like the feeling that I'm directly involved in the democratic process."
A Staffing Shortage
For the 2016 general election, the U.S. had 116,990 polling places that each required an average of 7.8 workers to verify voters' identities, help with documents, provide ballots and assist with machines. A similarly sized workforce is likely also needed this time around: States hired over 730,000 people for the 2014 midterms.
But they're not easy to find.
In its 2016 Election Administration and Voting Survey, the Election Assistance Commission found that about 47 percent of jurisdictions said they had a "somewhat difficult" or "very difficult" time getting enough poll workers.
And pay may be part of part of the problem.
As the National Conference of State Legislatures pointed out a few years ago, the stipend often isn't enough for people to justify the long shift, multitude of tasks and need to take time off from their day jobs. As a result, retirees comprise the vast majority of poll workers (which presents its own set of challenges).
Responding With Raises
A handful of states have increased wages recently in order to drum up volunteers.
West Virginia eliminated a $175 statewide cap on the amount of money a worker can earn, a move intended "to provide flexibility to clerks that are having difficulty finding poll workers," as a spokesman told the Charleston Gazette-Mail. New York City bumped up its daily pay by $50. Philadelphia introduced a $20 raise, which one commissioner told the Public Record "should have a positive effect on filling the vacancies."
Ryan Godfrey, a 47-year-old inspector of elections in Philadelphia, tells Money he's heartened by the news.
"The pay raise is something we've been clamoring for a while," he says. "I'm not doing this for the money, but there are a lot of people who are. Having the extra 20 bucks is really helpful."
Godfrey, whose day job is at a software company, says he receives other benefits from taking time off to be a poll worker. He joined up in 2013 because he wanted to give back to the community and "this was a way I thought I could help out," he says.
On Election Day, Godfrey will make sure voting machines work correctly, put up signage and confirm hundreds of voters' identities so they can cast ballots. The extra cash is just a bonus — he's more excited to help protect the integrity of the elections.
"I'm not in it for the paycheck. I'm in it to help people," he says.
How to Become a Poll Worker for Money
If you want to sign up to work on Election Day in your town, contact your local elections office. You can also check out workelections.com, a nonpartisan project from the Fair Elections Center and DevelopmentSeed, which has information on states like California, Florida, Nevada, Ohio and Virginia.
As for the money, there's no centralized database with information on the stipends in various precincts. But to give you an idea of what sort of cash you could make on Election Day, Money has compiled poll worker wages from the 20 most populous counties.
Here's what sort of check you can expect: