How Much White Nationalist Richard Spencer Is Costing the University of Florida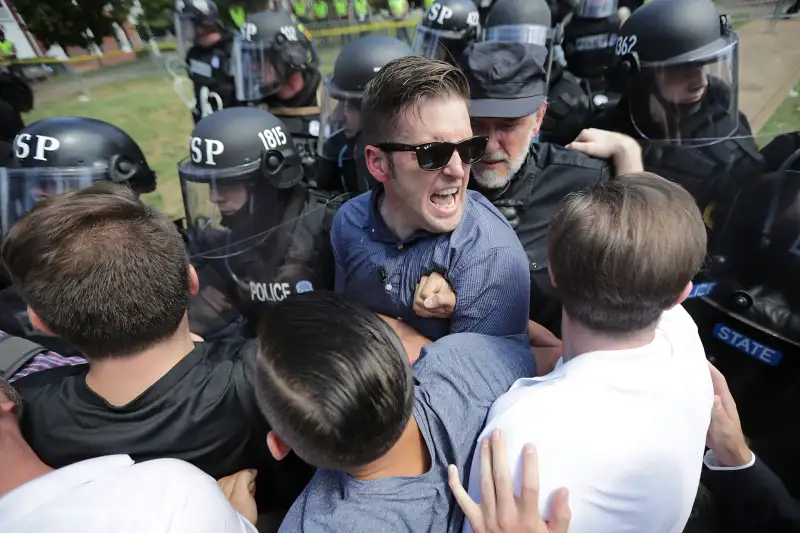 Chip Somodevilla—Getty Images
No students, faculty or state officials invited him, but the University of Florida says Richard Spencer, the white nationalist who helped lead the August rally in Charlottesville, Va., that turned deadly, will cost the school at least $500,000 for a two-hour speech on its campus.
Spencer, president of the National Policy Institute — a white nationalist think-tank that the Southern Poverty Law Center has identified as a hate group — rented space on campus for the event on Thursday. The university initially rejected Spencer's request until he and his team threatened the school with legal action.
The speech will cost Spencer $10,564 to rent the facility, use equipment and have security, but the university says it has to shell out hundreds of thousands of dollars more for additional security on campus and around the city, due to an expected influx of protesters and counter-protesters.
Florida Gov. Rick Scott declared a state of emergency on Monday ahead of the speech — a preemptive order that is typically used in the state amid devastating hurricanes and, in the case of June 2016, deadly mass shootings.
It is unclear how much the use of state and other law enforcement agencies to help manage the event will cost Florida and its taxpayers, a spokesperson for the governor's office told Money. That price tag will depend on what exactly occurs on Thursday, and what kind of law enforcement is needed.
This speech will be Spencer's first public appearance on a college campus since the violent rally (and subsequent smaller reprise of it) in Charlottesville. Spencer has taken advantage of policies at some public universities that allow for uninvited speakers to rent out spaces, and, since these institutions are publicly funded, they're required to follow the First Amendment.
At Auburn University in Alabama this past spring, a federal judge intervened after the school denied Spencer's request to speak on campus, resulting in a loss of $30,000 in legal fees for the university. He subsequently spoke at the school in April.
A 1992 Supreme Court case created a precedent for the government — and in this case, the publicly funded universities — to make it so speech "cannot be financially burdened, any more than it can be punished or banned, simply because it might offend a hostile mob," according to then-Justice Harry Blackmun.
While they are legally obligated to allow Spencer's speech, the University of Florida has made its stance on him and his ideologies clear.
"We encourage you to speak up with your voices in support of our proudly diverse community and the values of this institution," the university said in a statement to students and faculty. "We also encourage you to avoid the event. Don't let the University of Florida be defined by Richard Spencer."
The school has advertised an alternative event to Spencer's speech also taking place on campus on Thursday — a move recommended by the Southern Poverty Law Center when divisive speakers come to campus.
The University of Florida is not the only university pay large sums for security for events involving divisive speakers. The University of California, Berkeley, has paid a total of around $2 million for security for these kinds of figures this year, a spokesperson for the school told Money.
Unlike the University of Florida, Berkeley has a policy that requires speakers to be invited by a university group. At the invitation of the Berkeley College Republicans, conservative radio host Ben Shapiro spoke at the school in September, costing the school $600,000 in security measures. Right-wing provocateur Milo Yiannopoulos came to speak for what he called "Free Speech Week," which cost the school far more than $800,000, despite most of the speeches being canceled and a brief appearance from Yiannopoulos himself.