Here's How Much Tom Brady Will Make at the Super Bowl—Even If He Loses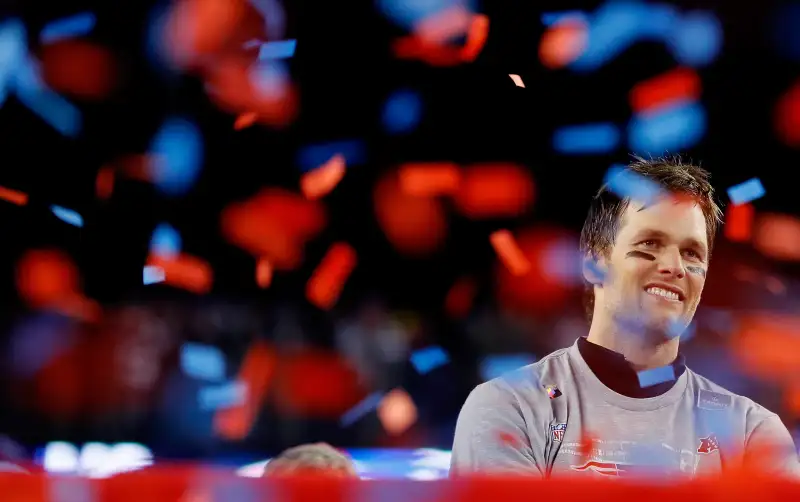 Kevin C. Cox—Getty Images
To the surprise of almost no one, New England Patriots quarterback Tom Brady is headed to Super Bowl LII in what will be his eighth Super Bowl appearance in 16 years.
But how much will Brady make if the Patriots beat the Philadelphia Eagles this Sunday?
Whether he takes home another Super Bowl ring or not, Brady will earn the exact same amount as the second-string punter of the Patriots. If that seems unfair, it's the price NFL players pay for the other benefits that come from being in a union with each other.
NFL post-season pay is not dictated by players' individual contracts. Instead, the players' association and the NFL have worked out a fixed-income schedule for playoff teams. By this agreement, if the Patriots win the Super Bowl—as Las Vegas expects will happen—every player on the team will make $112,000. If the team loses the big game, Brady and the rest of the Patriots will earn $56,000 each.
Now, those payouts come with an asterisk. Because the Super Bowl is being played in Minneapolis, Brady and his teammates will have to pay Minnesota's 9.85% income tax, which happens to be the second-highest in the country.
Ironically, that means Brady will make less than his former backup Jimmy Garoppolo, who was traded to the San Francisco 49ers earlier this season. As our colleagues at Sports Illustrated note, Garoppolo will earn the same amount as any other Patriots player since he's played for the team in at least eight games this season. But because he won't be making the trip to the Twin Cities, Garoppolo won't have to pay Minnesota's high income tax. (The only way he'd end up paying more is if he's established residency in his new home state of California—the only state with a higher income tax).
And despite its massive ratings, the NFL's post-season payouts are even less than what players earn in other sports, according to Spotrac.
The good news for Brady is that what he makes after the Super Bowl will be just a drop in the bucket compared to what the all-star quarterback makes in a single year. The future Hall of Famer has earned $197,166,804 total from his NFL career so far, according to Spotrac, a site that tracks athletes' earnings. And Forbes values Brady's endorsements with companies like Under Armour and UGG Boots at $8 million a year.
But the Super Bowl winnings will be much more significant to Eagles quarterback Nick Foles, who's only earning $4 million this year. A 3% bonus for winning the big game would be nothing to sneeze at.