How New York City Created Four of the Top 100 Colleges in the U.S.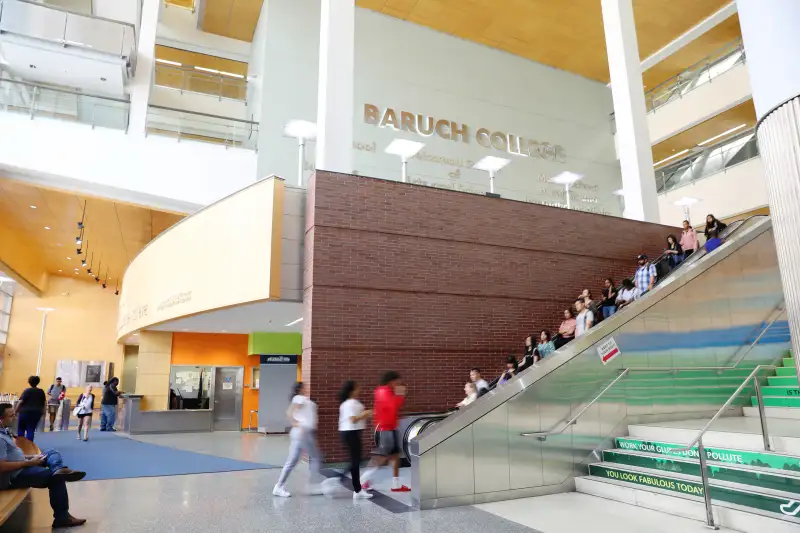 Photographed for Money by Jennifer Lavelle.
Quick question: What's the best-value college in New York City?
Columbia University may come to mind first. But the correct answer, according to Money's 2019-2020 Best Colleges rankings, is Baruch College, a downtown campus where 70% of students graduate within six years and the average grant cuts the annual price tag down to less than $5,000.
In fact, the New York public university system accounts for four of the top 100 colleges in the country, according to Money's analysis—led by Baruch at No. 2 and CUNY Brooklyn College at No. 35. (Columbia, with an average annual price after grants of $24,400, comes in at No. 81.) Of the 744 colleges in our ranking, eight are part of the public CUNY, or City University of New York, system.
CUNY is now the largest urban university system in the U.S., with 25 campuses serving more than 270,000 students. But even with a giant population, it still manages to deliver the mix of quality and affordability that makes getting a degree worth the investment.
In order to make Money's list, a school has to be a four-year public or private nonprofit college in the U.S. It must have at least 500 students, sufficient data and above-average graduation rates. We then rank the colleges based on their scores in 26 categories, including student-faculty ratio, graduates' early-career earnings and net costs. We analyze more than 19,000 data points in all. See the full list here.
On the issue of student debt in particular, CUNY schools excel. Whereas the average student debt level across our rankings is $23,133, the average at the CUNY schools on our list is just $11,136. When it comes to net price for low-income students, Baruch and CUNY's Lehman College fall right behind Harvard, Stanford and Duke, three prestigious private colleges known for their flush financial aid programs. CUNY sets students up for success after graduation as well: Its schools shine in economic mobility, or pushing low-income students into upper-middle-class jobs by their mid-30s.
"Who else can claim that 80% of students graduate without loan debt?" chancellor Félix V. Matos Rodríguez says. "In terms of setting them up for the potential of a master's or buying a house or starting a family without that kind of debt — we're very proud of that."
Here's what makes CUNY such a standout.
'You Can't Get a Much Better System'
For high schoolers in New York City, CUNY isn't just close — it's also cheap.
The discounts start before freshmen even set foot on campus. Low-income students attending New York City public schools do not have to pay the $65 fee to apply to CUNY; more than 41,000 people applied this way last year.
Once there, some 65% of full-time undergraduates attend CUNY tuition-free. The state's (somewhat controversial) Excelsior scholarship program takes care of tuition for CUNY students who intend to stay in New York after graduation. The scholarship kicks in after federal Pell grants and New York State Tuition Assistance Program grants.
"If you're a New York resident, you can't get a much better system than CUNY," says Dana Ponsky, the senior college admissions counselor for NYC Admissions Solutions, a private consultancy that guides local parents and students through the high school and college application process.
CUNY's reputation as a good value extends beyond the Empire State, too. Ponsky used to recommend it to students when she worked in Miami and Washington, D.C. She says CUNY is "a great option if you're looking for something that is not going to cost a fortune." Full-time nonresident students can expect to pay $18,600 per year, which is $5,290 less than what the College Board says typical students in that cohort spend.
One thing that drives down costs is Matos Rodríguez's determination to pump up completion rates. Since taking over as chancellor in May, he says he's renewed the focus on making sure CUNY schools are retaining students — and then helping them graduate on time.
Last year, for example, the system launched the "Momentum Campaign," which aims to increase its six-year graduation rate to 65% by 2025. The initiative encourages students to take 15 credits per semester in order to stay on track for graduation. One of its mottos is "The longer you stay, the more you pay."
The Search for Education, Elevation and Knowledge program offers extra financial aid, counseling and academic support to low-income students with less-than-stellar academic records. There's also the Accelerated Study in Associate Programs, which give two-year students mentors, MetroCards and textbook money, and its baccalaureate counterpart. (Money's rankings focus on four-year degrees.)
Judging from CUNY's stats, these initiatives are working.
"The DNA here is access with academic excellence," says Matos Rodríguez.
Location, Location, Location
The size of the system lends itself to specialization, which means there's a CUNY for pretty much everyone.
The John Jay College of Criminal Justice is the place to study criminal justice, while Baruch's got business chops. For nursing or education, there's Hunter College, located on the Upper East Side.
"You could have a student who struggled academically through high school be able to find a place in the CUNY system, and you could have your valedictorian find a place in the CUNY system, and they can both be extraordinarily successful," Ponsky says.
There's variety in how the campuses feel, too. Queens College is suburban, while Brooklyn College seems more like a neighborhood. City College has a Gothic, classic-college-campus style.
CUNY's spread doesn't make it any less distinguished. Money data shows that Baruch accepts just 29% of applicants, a rate on par with schools like the University of Virginia, Boston University and Wake Forest University. Ponsky praises CUNY's Macaulay Honors College, which gives the top 4% of incoming freshmen on certain campuses full tuition, a free laptop and special study grants. Another unique offering is the Sophie Davis Biomedical Education Program, which allows students to get a bachelor's and an MD in seven years.
But no matter which path a student picks, they benefit from the sheer fact that they're in New York City. In 2013, economists with the Federal Reserve Bank of New York found that graduates in big cities are more likely to get jobs that both require a degree and are related to their major. The larger the population, the better the chances of a match.
"As far as getting jobs or internships, it's going to be a lot easier because you're already here," says Abby Siegel, a former Stuyvesant High School counselor who now works as a college entrance consultant.
New York City had more than 4 million private-sector jobs as of June 2019, and Matos Rodríguez wants to funnel CUNY grads into those roles and others. He says improving career engagement is one of his biggest priorities as chancellor.
To that end, Matos Rodríguez has forged connections with groups like the Partnership for New York City, a business leadership organization whose members include JetBlue, General Electric and American Express. He says CUNY is "taking advantage of the timing and eagerness of the business community to partner more with us."
After all, it's CUNY's stated purpose to be "a vehicle for the upward mobility of the disadvantaged."
"The more connections we have, the easier it's going to be for those students to get their first job — and get that first job that pays better," Matos Rodríguez says.