12 Highly Successful People on the Best Way to Avoid Burnout and Stay Creative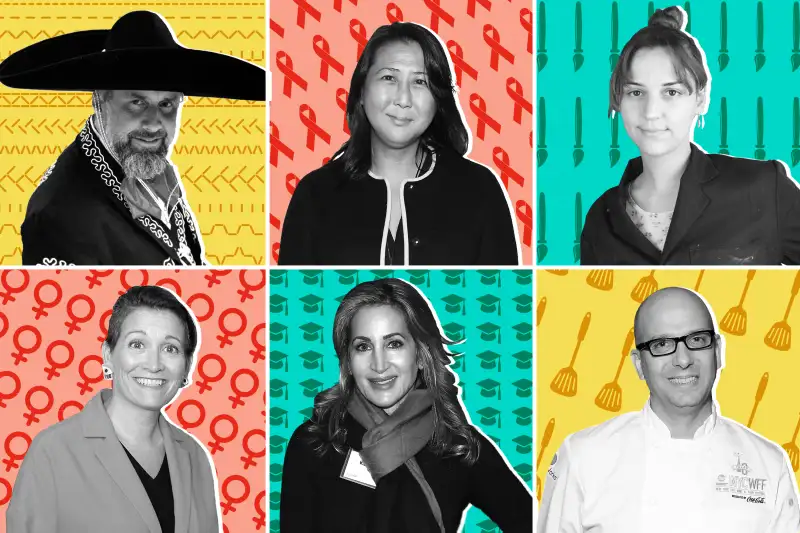 Photo illustration by Money; Getty Images (6); (headshots) Courtesy of the subjects
Writer's block, procrastination, burnout.
The hustle is real — but creative slumps can also be pretty relentless.
Good news is, this happens to literally everyone (even Oprah has off days!!!). Some of us (i.e. Oprah) are just really good at powering through.
Which begs the question: How the heck do they do it?
Is it grit? Discipline? Pure, unbridled genius?
To find out, we asked a bunch of people in the art, business, and nonprofit worlds—all paid to be creative—how they get their lightbulb moments.
Next time you get the blahs, here are some tips for turning on the flow of ideas.
Move around
"Physical activity lubricates the rusty hinges in my brain and makes my thinking more fluid. So I often take my dog for a quick run or play around the agility park. A 10 minute break shoots some oxygen and dopamine into my system and gets my mind refreshed and creative."
-Kuba Koziej, CEO and Co-founder of Zety
"I squeeze anywhere from 15-45 minutes of fitness into my workday. Sometimes, it's just stretches at my desk or a lap around the Twitter campus between meetings. The quick boost of energy is often the difference between powering through my day at full energy and zoning out before the end of the day."
-Olinda Hassan, Partner on Twitter's strategy & innovation team
Step outside yourself
"My number one piece of advice is to force self-imposed constraints. When I started my company, I gave myself the constraint of no breakable parts in my [bag] designs. DO YOU KNOW HOW HARD IT IS TO DESIGN WITHOUT ZIPPERS?! I accidentally forced myself to make designs that stand out and last longer."
-Dave Munson, CEO of Saddleback Leather
"I have my most creative moments when I'm talking to other people about the challenges they face. It's how Stand Up To Cancer's "Convergence Research Teams" got started — a few years ago, I spoke with some oncologists and biomedical researchers who were frustrated that they couldn't share data fast enough. Separately, I knew big data scientists who were looking to help in the fight against cancer. We brought them together to see what sparks would fly, and now we have teams of academics, cancer doctors, researchers and computer scientists all working together."
-Sung Poblete, CEO of Stand Up To Cancer
Find the right tunes
"I'm a big believer in two things to get my creative juices flowing: hype music and physical activity. I can't tell you how often walking around the block to a playlist of Cardi B, 2Chainz, Beyonce, and Kendrick has hyped me up before a meeting or brainstorm. It has this imposter effect that helps me channel confidence when I'm not feeling optimal.""
-Sashee Chandran, CEO of Tea Drops
"To stay creative I put on house music fairly loudly on a set of headphones. Not only does the music help focus me, others come by and only interrupt me when it's critical."
-Andres Lares, Managing Partner of Shapiro Negotiations Institute
Top, L-R: Dave Munson, Sung Poblete, Andrea Castro. Bottom L-R: Amy Emmerich, Dr. Kat Cohen, Chef Ron Paprocki. Photo illustration by Sarina Finkelstein for Money; Getty Images (6); (headshots) Courtesy of the subjects
Channel your inner guru
"In a world where we are inundated with screens and technology, doing nothing is a luxury. When I get to sit still, clear my mind and fall into the darkness, that is when the thoughts appear. And if that's not possible, I face paint with my kids. It brings out the creativity with no expectations."
-Amy Emmerich, Chief Content Officer, Refinery29
"It might sound crazy to some but I have a daily manifesting practice that uses a vision board. Every morning I look at my board full of images of my personal and business dreams for the year. I even carry a picture of my vision board in my phone just in case I need a quick pick me up during the day or I'm traveling. It connects me with why I have a business."
-Adamaris Mendoza, psychotherapist and relationship coach
Crowdsource for inspiration
"To keep myself focus and inspired, I reach out to other workers in my field by phone or Skype. A one hour talk with an artist friend, sharing our tactics, frustrations and wins, simply fuels me to no end. It makes me want to go directly to the easel."
-Andrea Castro, visual artist
"The constant curiosity of what other professionals in the industry are doing has always been a catalyst for change. Instagram makes it easy to see what others are creating in other cities and countries … that plays a tremendous role in heightening my creativity."
-Ron Paprocki, the Executive pastry chef at Gotham Bar and Grill
Regress
"This may sound counter-intuitive, but I get many of my most creative ideas while working on mundane tasks, like running errands or doing administrative upkeep. My mind is always 'on' — I'm constantly focusing on the students I work with and goals for my brand. Carving out a little downtime where I can tune these big picture ambitions out and focus in on something simple gives me the mental space I need to come up with innovative ideas."
-Dr. Kat Cohen, CEO of IvyWise
"I work with a team of digital marketers, and our job requires quite a bit of creativity. Usually around 3 pm each day, we hit a major lull, and have a lot of trouble keeping the creativity going. So we'll take a break and tell jokes or ask 'would you rather' questions. We'll find a corny, punny, Laffy Taffy-style joke to tell, and everyone will try to guess the punchline. It definitely gets the brain juices flowing."
-Laurelei Litke, digital marketer at HealthLabs.com