5 Things to Know Before You Buy a Racehorse
Money is not a client of any investment adviser featured on this page. The information provided on this page is for educational purposes only and is not intended as investment advice. Money does not offer advisory services.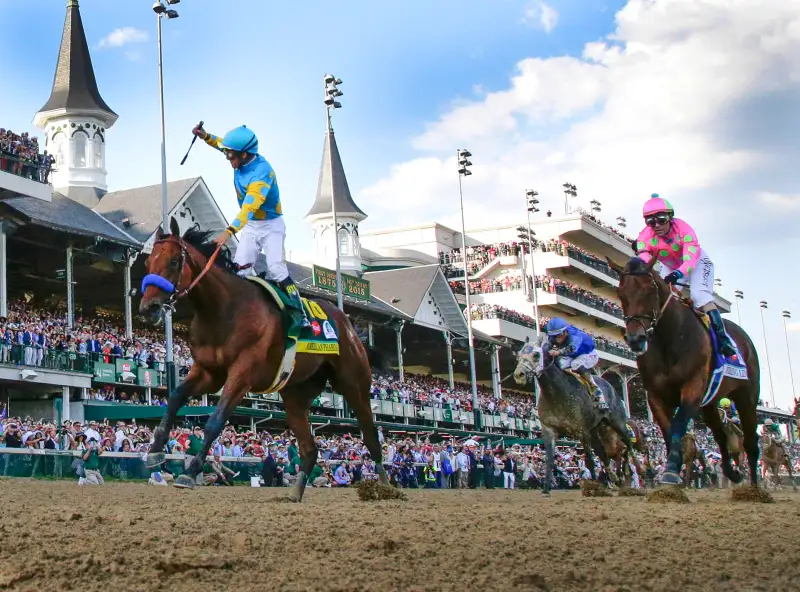 Mark Cornelison/Lexington Herald—TNS via Getty Images
This weekend marks the 142nd running of the Kentucky Derby, the longest-lived sporting event in American history, dating back to 1875. A crowd of 155,000 is expected to be watching the race in person, while upwards of 16 million more will tune in on TV.
The Derby is one of the most heavily wagered events of the year too—some $130 million bet each year on the books, and untold millions more on the black market. With interest in horse racing reaching the high point of the year, we got to wondering whether it makes more sense to invest as a racehorse owner (or part owner) rather than simply plunking down your money with the masses. Here are some tips to keep in mind if you're thinking of trotting down that path.
Racehorse prices generally follow economic trends. It doesn't seem to be a coincidence that the market for racehorses hit a recent low in 2009. That was the heart of the Great Recession, when the disposable income of many Americans dried up—and when putting money into horseflesh seemed even more irresponsible than usual.
Racehorse prices have since crept upward, generally reflecting America's economic recovery. According to The Jockey Club, the average price for a yearling—a horse that's between 1 and 2 years old—was around $40,000 in 2009 and 2010, and it leapt up to $60,000 by 2013 and topped $65,000 last year.
Read Next: 10 Things Americans Have Suddenly Stopped Buying
The prices cited above are averages, mind you, and they're pushed upward by horses from prized lines that cost a pretty penny—easily into the hundreds of thousands of dollars. The median price for a yearling is considerably lower than the average; it has been in the low- to mid-$20Ks for the past few years. The Thoroughbred Owners and Breeders Association (TOBA) reports that inexpensive racehorses start at about $10,000, and that sum is sometimes divided up among several owners. Most novices are better off joining a syndicate and buying into a 5% or 10% ownership of a horse, so that they can learn the ropes and avoid costly missteps. (Check out TOBA's buying guide for first-timers for all the basics.)
And if you want to get the most bang for your buck, consider buying a racehorse when the economy is tanking, similar to what smart investors do with the housing market.
Initial price is only part of the ownership cost. Owners must foot the bills for housing, feeding, and training of their horses, plus expenses for things like veterinarians and race entry fees. Figure the need to pony up $60,000 or more annually if you're the owner of a racehorse.
Read Next: 12 Things Americans Are Suddenly Buying More Than Ever
Very few racehorses pay off financially. Don't think for a second that buying a racehorse is your path to riches and an early retirement. In fact, more often than not owning a racehorse is a money-losing venture.
"Don't get involved with horse racing unless you love the sport," Barry Irwin, founder and CEO of the Kentucky-based horse-racing syndicate Team Valor explained to CNBC a few years ago. "The chances of losing are 90 percent." In the same piece, racehorse expert and consultant Tony Cobitz said of racehorses: "This is a game where money invested should be thought of as disposable income."
The pros in the business invest in hundreds of horses, with the hope that a few hit it big and their profits make up for all of money losers. As for the amateur enthusiast who is putting all his eggs in one basket—or one saddle—it's best to only invest with "play money" that you can lose without destroying your life. Don't think of this as a core part of your portfolio.
Owning a racehorse can be a heckuva lot of fun. As an Investment News story put it, casual investors should think of racehorses as "an expensive hobby, not a business venture."
"Don't expect you are going to make money, but you may get a great temporary ride," Austin Frye, principal of Frye Financial Center, said to Investment News. After all, gambling can be thrilling, and when you're involved in the game on a deeper, more personal level, as with thoroughbred ownership, the stakes are high and the payoff can be especially rewarding.
Read next: Sports Illustrated: How to Pick the Kentucky Derby Winner
If you get lucky, you can make a bundle. Yes, long shots occasionally pay off in a big way. And yes, some racehorse owners have unknowingly stumbled into fortunes. For example, CNN rehashed the story of a handful of old friends from Australia who pooled together $315,000 to buy a mare named Black Caviar. The horse wound up winning 23 races in a row and millions in prize money.
Yet such tales are exceptions. As noted above, once all of the expenses are added up over the course of several years, most racehorses cost their owners hundreds of thousands of dollars. So if you want to buy into the racehorse game, you better really hope you're going to enjoy the ride.