How to Win Free Chick-Fil-A Meals for a Year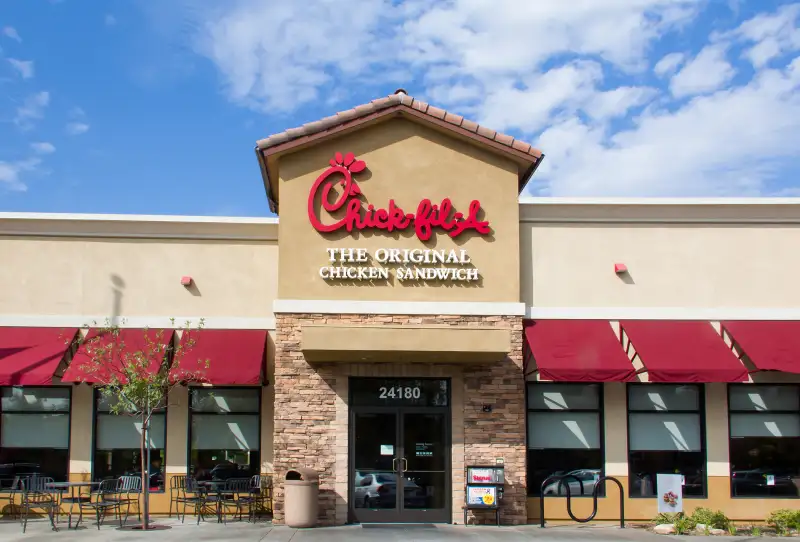 The forecast calls for rain and chilly temperatures in New York City this weekend, but that's probably not going to stop a few hundred people from staying out all night on Friday. Why? On Saturday, the city's first Chick-fil-A opens for business, and as fans of this Atlanta-based chicken chain know, every time it opens a new restaurant, the first 100 customers on line get free food for a year.
Before storming over to the new location, at 37th Street and 6th Avenue in Manhattan, take note of the special rules for the opening promotion. First off, the competition is actually open to the first 300 customers. Chick-fil-A says that the first 300 people registered starting at 5:30 p.m. on Friday will enter a drawing, and 100 of them will be selected to get the free food, assuming they qualify.
To qualify, customers must meet the following criteria:
Be residents living within a 30-mile radius of the restaurant. (Originally, there was a requirement to live within 12 miles, but people complained that excluded some parts of New York City.)
Be among the first 300 people registered in line.
Be ready to stay overnight outside the restaurant from 6 p.m. Friday through 6 a.m. on Saturday. "You may not leave during this time or you will lose your place in line," Chick-fil-A warns.
On the upside, at least for the New York City opening there's apparently no need to bring a tent, camping gear, or snacks. "We'll take care of everything you need for this 12-hour event including food, shelter and entertainment," Chick-fil-A states.
Winners indeed get free Chick-fil-A for a year, but the freebies are limited to one meal (sandwich, fries, medium drink) per week—so a total of 52 meals over the course of 52 weeks. Chick-fil-A estimates that each opening promotion amounts to a giveaway of $32,000 worth of food to the lucky 100 winners.
While special arrangements have been made to allow up to 300 people to be eligible to win in New York, sometimes Chick-fil-A openings fail to entice a full 100 individuals to camp out overnight for the promise of free food. In late September, a Chick-fil-A restaurant opened in Woodbridge, N.J., and only 62 people camped out. At roughly the same time, only about a dozen campers spent the night outside on the eve of another Chick-fil-A opening in Minnesota. In all of these cases, there are residency restrictions that limit the contestants to locals, so it's not like Chick-fil-A fanatics can swoop in from miles away to win free food whenever there's an opening—and you know that people would if they could.
After New York City, the next Chick-fil-A openings—and the possibility of 100 more winners of free food for a year—are scheduled in the near future for locations including San Antonio, Texas, Marietta, Ga., and two more locations in the vicinity of New York—Port Jefferson, on Long Island, on October 7, and Jersey City, on November 4.
MORE: How Waiting in Line for iPhones and Chick-fil-A Is Like Burning Man