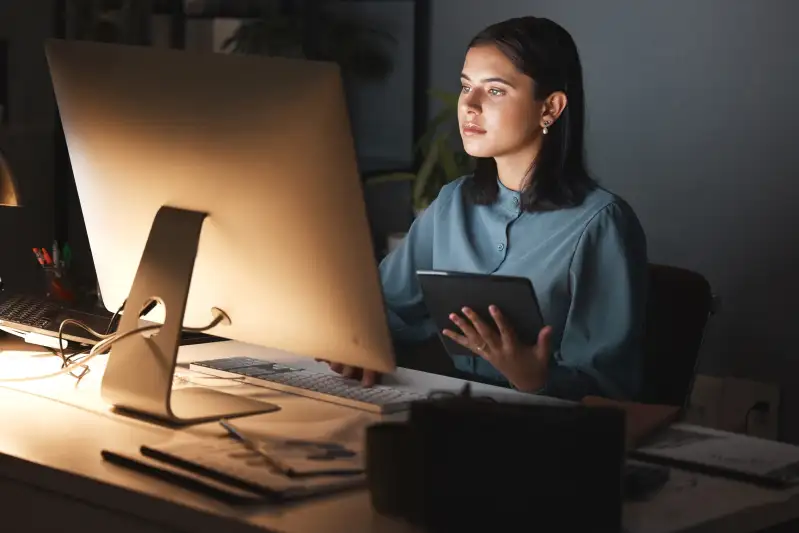 *Content includes branded mentions of our sponsor Hostinger.
Launching a website can be a daunting task for those unfamiliar with the inner workings of servers. Fortunately, it's easier than ever to get the ball rolling on hosting your own website in a secure manner.
Web hosting is a service that allows individuals and organizations to make their websites accessible on the internet. It's what connects your domain and content to the World Wide Web.
Hosting a website requires a few essential steps: purchasing a domain name, selecting a hosting site (such as Hostinger) and finding the best plan for your needs. Read on to learn more about how to host a website and manage your online presence.
3 simple steps to set up a dedicated hosting service
Setting up a dedicated web hosting service doesn't have to be intimidating. In three easy steps, you can have your site running in no time.
Purchase your domain name
A domain name is an address used to identify and locate a website on the internet. It's the unique web address that someone types into their browser's address bar to find a specific website.
Creating a domain name involves purchasing a domain registration so that no other user or business can own your domain name as long as you continue to pay an annual fee.
When purchasing a domain name, choose one that's short, memorable and relevant. This will lend credibility to your website and can help customers remember it more easily. It's worth taking the extra time to properly research domain names from the best domain registrars.
Pick a hosting site
A hosting site is a platform that allows you to set up, create and share your website with the world. Choosing the right web hosting site is an essential step when learning how to start a business online.
There are a range of web hosting sites and plans available that cater to different needs and budgets. It helps to consider both the costs and features provided by multiple web hosting services, compare companies across various factors and read online customer reviews. Consider whether you're more of a beginner to intermediate user, in which case a provider like Hostinger could fit your needs, or whether you're a larger business that needs dedicated hosting.
Even the most basic hosting sites can get you started, but don't be afraid to upgrade to keep up with customer demand as your business and website traffic grow. This means making sure that your site is able to handle the increased traffic and processing power needed. Upgrading your server software helps secure your site against malicious attacks and ensures that customers have a seamless experience.
Pick the plan that best fits your needs
Before choosing a website hosting plan, you should know exactly what you need in terms of storage, features and security options. Some hosting plans might have good deals on storage but lack quality support or more advanced features that you need.
If you're expecting a lot of web traffic, are using specific technology for your site or will require regular changes to coding, then consider opting for a premium plan. Even if you don't think your site needs anything fancy right now, it's always good to keep future plans and potential growth in mind when selecting your hosting provider.
Choosing a plan that is well-rated for security is also important for your business and customer data. Complementing your website plan with the best VPN service, management software and password manager can help you optimize your site's functionality and customer experience.
VPNs help establish secure remote connections within a given network, allowing employees to access files securely from wherever they are in the world. Management software can monitor user activity and ensure that they do not compromise data security, while password managers enable businesses to create strong passwords and store them for multiple sites for easy login. All of these options work together as an important line of defense against cyberthreats.
What are the benefits of hosting a website?
With the right hosting plan in place, there's no limit to what your business can do online. Here are the key benefits that web hosting can bring to your business:
Increased visibility. A website provides you with a platform to showcase your products or services to a global audience. A well-designed website can help build trust and credibility with potential customers.
Improved customer service. Hosting your own website can provide customers with 24/7 access to information about your business, including your contact details, product or service offerings and operating hours. Customers can also use your website as a platform to submit feedback or leave reviews.
Increased sales. Customers can use your website to purchase products or services directly from you. By hosting a website, you have a platform to promote special offers or discounts.
Access to dedicated resources. Hosting a website benefits businesses by offering access to dedicated resources such as unlimited bandwidth, an informative domain name and two-factor authentication. This can provide you with higher performance predictability and better control over your content and sales.
A domain-associated email address. With a domain-associated email address, businesses can efficiently communicate in a secure space while projecting their brand and cultivating customer trust. It can provide security measures such as two-factor authentication, encryption capabilities and data loss protection.
How do you know which website to choose?
Picking the right website hosting company is an important decision for any business. Most hosts offer similar features, so it can be difficult to determine which one is best for you. Below are the main things to consider when deciding on a website.
Check what database it uses
If you're looking for a web hosting provider, take the time to check what type of database it uses. This can have an important impact on whether your website or application runs as efficiently as possible.
Whatever your purpose — whether you're launching a new business website, creating a personal blog or developing an SaaS application — the right database management system (DBMS) and configuration can make a huge difference.
With the right DBMS and configuration in place, website owners can streamline web pages, minimize data loss or corruption and cut down on response times. An optimal DBMS should fit your current workloads and take into account any foreseeable changes — the wrong selection can quickly lead to poor performance or an inability to scale with demand.
Check if it has an SSL
When choosing a web hosting provider, check if it offers website protection through a Secure Sockets Layer (SSL). An SSL provides security for data transmissions between your website and visitors' browsers.
Without an SSL in place, any data that is shared on your website is at risk of being intercepted and misused. As cybercrime is on the rise, having an SSL certificate can provide much-needed peace of mind that sensitive information will remain secure. Making sure your website plan has an SSL will help ensure the safety of your data and users' private information.
Check if it offers redundancy
Redundancy packages provide an extra layer of security and reliability to ensure the maximum uptime of your website. For example, if your primary server experiences an outage, redundant servers will step in to make sure that your website continues running smoothly and remains accessible to visitors.
Not all providers offer this type of service, so carefully read each company's features to examine which plan best meets your needs and expectations. With redundancy servers, you can rest assured knowing that even if something unexpected happens to your server, users can still access the content they need.
Check if it has flexible options
Flexible options include the ability to upgrade storage space, customize security features or switch between shared and dedicated server plans. Many reliable hosts provide additional resources for small and large websites, such as support teams, domain registration services, HTTPS support, DNS management, storage services and automated backups.
Ultimately, having access to flexible options when choosing a web hosting provider ensures that you will not get stuck with outdated or obsolete services that cannot satisfy your website's needs.
Access to flexible options is also essential for businesses that intend to grow since your website needs are likely to change as your company scales.
Common types of web hosting sites to choose from
Shared hosting
Shared hosting is an economical and convenient way to get a website up and running quickly. It involves utilizing a single server that hosts multiple websites. This means that instead of having to buy, set up and manage your own private server, you have a single, centrally managed environment, allowing for cost savings.
Shared hosting typically comes with features like backup services, easy-to-use control panels, free domain registration or transfers and free email accounts.
Most providers offer several plans with different features so you can pick one that fits your budget and the requirements of your website. When seeking out a shared hosting provider, look for one that offers reliable uptime, robust security features, customer service, easy-to-use control panel access and other features that balance affordability and performance.
Cloud hosting
Cloud hosting involves storing data and programs in a remote server infrastructure, or cloud. With cloud hosting, you access data and applications online instead of relying on physical hardware like hard drives or disks. Cloud hosting is typically faster, easier and more reliable than traditional hosting.
Rather than investing in physical hardware, businesses can lease or rent virtual cloud computing services from third-party providers. At its core, cloud hosting allows organizations to quickly and easily access resources stored in the cloud over the internet instead of local servers. This speeds up service delivery while cutting hardware costs and dramatically expanding maximum storage capacity capabilities.
VPS hosting
VPS (Virtual Private Server) hosting is a virtualized service that provides access to a physical server's operations and resources from a remote location. It separates your website from other sites on the same server, giving you the equivalent of your own dedicated server environment. Each user also has full root access which allows them to customize their own server environment for their own ends.
This type of hosting is great for businesses or individuals who are looking for more control over their hosting environment without having to host their own dedicated hardware infrastructure. VPS hosting also comes with greater customization options compared to a shared-hosting environment as it gives you significant freedom of choice when it comes to software packages and server configuration.
As this hosting solution provides isolated control, businesses must take full responsibility for the management of their server and its environment. Without a dedicated IT team or professional assistance, it can be difficult and costly to upkeep your VPS properly. While VPS hosting offers more power and freedom than shared hosting options, how well it can work for your business ultimately depends on how many staff and resources you can allocate to managing your website.
WordPress hosting
With WordPress hosting, you'll have access to pre-configured software such as Joomla, PHP and other tools optimized specifically for this type of platform.
Once you set up your account, WordPress will provide the technical infrastructure that enables you to design, manage and build your site. You'll have access to various themes, plugins, templates and other features so you can customize the look and functionality of your website.
WordPress hosting requires expertise in managing and maintaining the server, something that may be outside of most non-technical users' knowledge range. Many WordPress hosts offer managed services, but they can come with extra premiums depending on your website's scale.
Colocation hosting
Colocation hosting is an appealing option for companies that have made the investment in buying their own hardware and need a highly secure facility to host their servers. By renting server space in a data center, you not only benefit from improved internet bandwidth but also gain access to advanced cooling systems, climate control and a reliable power supply.
Colocation hosting, while convenient, does come with some drawbacks. It can be very expensive, as the cost of rent for racks and cabinets alone can be prohibitively high. Additional fees can include power requirements, physical security features and internet bandwidth usage fees.
Pick the best provider to host your website
When it comes to finding the right website host, there are many options available, but not all offer the same level of quality and reliability. It's important to do your research and choose a web host that will provide you with all the features you need for your website's success. Look for hosts offering uptime guarantees, security services, scalability options, website-building tools and good customer service.
Some key considerations include the cost of hosting packages, disk space, bandwidth limits and type of control panel offered. Consider what additional services you may need, such as email accounts or advanced communication features. With so many factors to consider and web hosts to compare, taking the time to do your research will pay off in the end.