How to Improve Employee Retention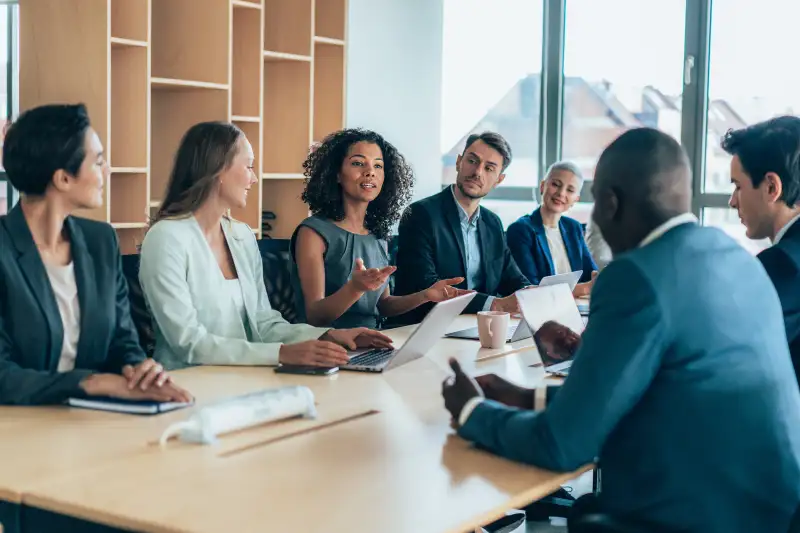 *Content includes branded mentions of our sponsor ZipRecruiter.
If you're a business owner or manager, you know that retaining top talent is key to the success and growth of your company. High employee turnover can not only be costly and disruptive, but it also impacts morale and productivity. In this article, we'll provide some strategies and best practices on how to improve employee retention for the success of your business.
But in addition to retaining employees, employers also want to attract the best candidates for their job openings. ZipRecruiter can help simplify the hiring process to match you with the top talent available.
What is employee retention?
Employee retention refers to the ability of an organization to keep its employees over an extended period. It's a measure of how long employees stay with a company and how likely they are to remain with the organization in the future.
Various factors can impact employee retention, including job satisfaction, work-life balance and opportunities for growth and advancement. Organizations focusing on these areas are more likely to retain their employees and create a stable and productive workforce.
Employee retention is important because it helps to reduce the costs and disruptions associated with high employee turnover, and it can also improve morale and overall productivity within the organization. By tracking and monitoring employee retention rates, organizations can identify areas where they may need to improve to keep their employees happy and working for them.
Why is employee retention crucial?
Employee retention offers companies several key benefits, including:
Reduced costs: High employee turnover rates can be costly, as it requires time and resources to find, hire and train new employees to replace those who have left. Organizations can save on these costs by retaining employees and allocating resources elsewhere.
Improved productivity: When employees are happy and feel supported in their roles, they are likely to feel more engaged and motivated to do their best work. This leads them to stay longer and contribute to the organization's success.
Increased morale: Providing support for the employee makes them feel a part of something greater. When employees feel valued, they produce better. High employee retention can contribute to a positive and supportive work environment, improving morale and overall job satisfaction.
Better customer service: Well-trained employees who deeply understand the organization's products and services are better equipped to provide high-quality customer service. High employee turnover can result in less knowledgeable and less experienced employees, negatively impacting customer experience.
Greater stability: High employee retention can help organizations maintain a stable and consistent workforce, which can benefit long-term planning and strategy.
Employee retention is an essential factor in the success and growth of an organization because it improves productivity, reduces costs, increases stability and creates a positive and supportive work environment.
How to determine employee retention rate
Employee retention rate measures how long employees stay with a company. It's a useful metric for businesses to find out because it can affect productivity, morale and overall success.
To determine the employee retention rate, you need to calculate the number of employees who left the company over a specific period and divide it by the total number of employees at the beginning of the period. For example, if a company had 100 employees at the beginning of the year and 10 of them left by year's end, the employee retention rate would be 90%.
To get a more accurate picture of the employee retention rate, you should track it over a more extended period — usually a year or more. When analyzing your employee retention rate, consider factors such as employee demographics, job satisfaction and opportunities for growth and development.
By understanding these factors and addressing any issues found, your company can work to improve its retention rate and create a positive work environment for employees.
How you can improve employee retention
There's no magic bullet for instantly improving your employee retention rates. It's a challenging task for any organization.
Employee retention can be affected by how you find employees as well as how you hire employees. Once you hire them, it can also depend on how you support, value and compensate them.
Several ways to improve employee retention include providing an accurate job description (which can be simplified by using a job posting site such as ZipRecruiter), communicating a clear career path to them and listening to employee feedback. Below are some ideas to improve employee retention in any industry, from retail to hospitality.
Pinpoint the reason why employees are leaving
When it comes to employee turnover, it's essential to understand the underlying reasons why people are leaving your organization. Reasons for leaving a job can include lack of pay, an unpleasant working environment or burnout. But, since this depends on the specific industry and context, diving deeper to pinpoint the specific reasons why your employees are leaving is necessary.
One effective way to do this is by conducting exit interviews with employees leaving your organization. These interviews can provide valuable insights into the motivations behind an employee's decision to leave and can help you identify any common themes or patterns. It's important to approach these interviews with an open mind and a willingness to listen.
In addition to exit interviews, it can also be helpful to gather employee feedback through regular check-ins or employee satisfaction surveys. This can help you identify any issues or concerns that may be causing employees to consider leaving and can allow you to address them before it's too late.
Give and encourage actionable feedback
One common reason that employees leave is a lack of constructive feedback. By providing regular, actionable assessments, organizations can help employees understand their strengths and weaknesses as well as provide them with the necessary tools to improve and grow in their roles.
Encouraging actionable employee feedback can be beneficial for all parties. By encouraging open, honest communication, you can create a positive work environment where your employees feel supported and comfortable in discussing their performance.
Learn to spot early warning signs and tackle the issue
Another critical aspect of improving employee retention is learning to spot early warning signs that an employee may be considering leaving. This could include a decrease in productivity, a change in attitude or a lack of engagement.
To effectively tackle an issue like disengaged employees, address it as soon as possible. This could mean having a one-on-one conversation with the employee to understand what their current situation is. It could be followed by establishing a customized plan that addresses that employee's needs to help them get re-engaged with their work.
By proactively addressing issues as they arise, you can help prevent them from becoming more substantial problems in the future all the while maintaining a positive and productive work environment.
Show that you trust and believe in your employees
One of the most effective ways to improve employee retention is to show that you trust and believe in your employees. You can do this by giving them more autonomy in their roles, providing them with the resources and support they need to succeed and trusting them to make decisions. Making their contributions a part of periodic reviews, for instance, can give them the sense that you value their opinions.
When employees feel trusted and valued by their employer, they are more likely to feel motivated and engaged, leading to higher retention rates.
Implement career development plans
You should also provide your staff with opportunities for career development. For instance, you can give them access to training programs, mentorship opportunities and professional development workshops.
Often, companies provide stipends to their employees so they can enroll in courses relevant to their job description that will help them grow professionally. Not only does this increase their motivation, but it can also raise their value within your organization and enable them to expand their responsibilities. Investing in the professional growth of your employees can help them feel fulfilled in their roles.
Be more selective when interviewing candidates
It's helpful to get your company on the best job search sites so you can have access to quality candidates. Then, you can start vetting potential employees.
You can increase the chances of finding a candidate who's committed to staying with the company for the long term by thoroughly evaluating their skills and experience. During the interview, ask targeted questions that delve into the candidate's motivations and career goals as well as getting a sense if they fit with the company culture.
Additionally, try to get insight into how they handle difficult situations and whether they are likely to stay with the company through tough times. By identifying candidates aligned with your company's values, you can increase the likelihood of making the right recruitment decisions.
Provide benefits
A good benefits program can help you keep your best employees and reduce turnover.
Some specific benefits that you can offer employees include a competitive salary, opportunities for advancement, professional development, and flexible scheduling and work arrangements. These days, the option of remote work is also a significant incentive that leads people to switch jobs.
Encourage teamwork and inclusivity
Employees place a lot of value in having a positive work culture that promotes teamwork and inclusivity. To achieve this, consider regularly hosting team-building activities, promoting open communication and encouraging collaboration.
It's also a good idea to get managers involved. If you're leading multiple teams, you might not have the time to foster the frequent and attentive communication that each staff member needs. In leadership meetings, be sure to check in to make sure that all leaders are finding their own ways of engaging with their team members.
By fostering a sense of teamwork and community throughout the company, employees will feel a higher sense of belonging.
Emphasize the importance of a healthy work-life balance
Another approach to improving employee retention is emphasizing the importance of a healthy work-life balance. This can be done by offering flexible schedules, encouraging employees to take breaks and vacations. By prioritizing the well-being of employees, organizations can help to reduce stress and burnout.
Make sure they feel supported and heard
Finally, you should make sure that employees feel supported and heard. Conduct regular check-ins, provide opportunities for employees to give feedback and actively listen to and address their concerns.
Also, ensure that you have a codified system in place for raises and other incentives for good work and staying with the company.
When employees have more buy-in, are compensated fairly and feel that their managers can adapt to their most important needs, they'll be more likely to stick around for a longer time.
Easily create an employee retention strategy that fits your business
Employee retention is an important consideration for companies and organizations of all sizes. Because it's so important, new entrepreneurs should create an effective employee retention plan for employees as soon as they start a business.
To avoid burnout and improve retention, be sure to focus on underlying issues that cause your employees stress or fatigue and address them as soon as possible. It also helps to offer competitive compensation and benefits packages, including health insurance, retirement plans and paid time off. Fostering a positive, flexible and collaborative work culture as well as providing opportunities for career advancement are other essential aspects of improving retention.
By taking these steps, you can create an employee retention strategy that fits your business and helps you retain top talent.