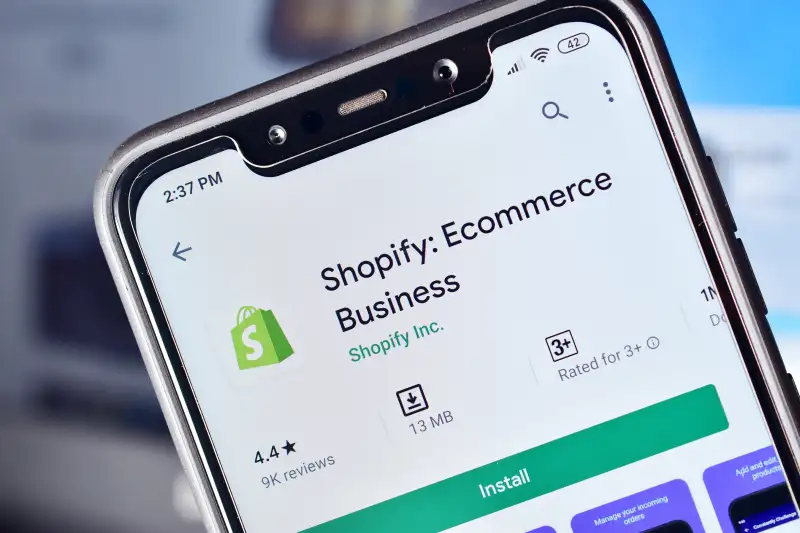 Shopify is a leading e-commerce platform that allows individuals and businesses to easily create and manage their own online stores. This platform offers a wide range of features and tools, excellent customer support and a user-friendly interface that make it easy to set up and run everything from merch makers to tech stores, even for those with little to no technological training. It also offers customizable templates, a range of plugins and an excellent website builder that will add extra functionality to your store. You can obtain all the key details while reading this Shopify review.
Best for Multi-Platform Selling
Shopify is a great site for businesses that want to sell on multiple platforms. It offers integrations with various marketplaces, such as Amazon, eBay and Facebook, simultaneously granting the ability to sell on social media channels like Instagram and Pinterest. Shopify also offers what's widely regarded as one of the best point of sale (POS) systems in the industry. This allows businesses to manage their inventory, sales and customer experiences seamlessly across multiple channels.
Shopify Pros and Cons
Pros
Excellent app store
Easy navigation and use
Cross-platform marketing and selling abilities
Cons
Less customizability than other options
Fees for non-Shopify payments
Glitches that may require troubleshooting
Pros explained
The benefits of using Shopify include:
An excellent app store
Shopify has a large app store that can help you with various tasks as you build your e-commerce site. These include:
Marketing and promotion: They can help you grow your online store through search engine optimization, social media marketing, email marketing and other forms of promotion.
Sales and conversions: These apps help you increase sales and conversions by providing tools such as abandoned cart recovery, upselling, cross-selling and customer reviews.
Shipping and fulfillment: Shopify provides tools such as real-time shipping rates, package tracking and printable shipping labels.
Finances and accounting: Apps hosting the best business checking accounts can help you manage your finances and accounting by providing tools such as account integrations, financial reporting and tax calculators.
Easy navigation and use
Shopify's user-friendly interface allows sellers to set up and manage their online stores. It has clearly defined sections for orders, products and customers, and a simple dashboard where you can see an overview of your business performance. Each section has its own sub-sections and options, allowing you to easily access and manage the different aspects of your online store.
Cross-platform marketing and selling abilities
Shopify businesses have many ways to market and sell their products across different channels. Here are a few examples of how to make money from home using Shopify:
Online store: Shopify's essential and core feature is creating an online store where businesses can list and sell their products.
Social media: Shopify allows businesses to connect their store to social media platforms like Instagram, Facebook, Pinterest and TikTok. This enables customers to purchase products directly from social media platforms.
Marketplaces: Shopify has integrations with popular marketplaces like eBay, Google Shopping and Amazon. This allows businesses to expand their reach and sell products on these platforms.
Cons explained
Unfortunately, there are also some downsides to using Shopify.
Less customizability than other options
Some users may find that Shopify customization options are more limited than other e-commerce platforms, such as Magento or WooCommerce. To customize the template's structure and functionality, you need knowledge of Shopify's template language (Liquid), or else you will have to pay for a developer to customize your site. This makes it harder to make significant changes to the template or add custom functionality without spending money.
Fees for non-Shopify payments
Shopify has its own payment gateway, Shopify Payments. It doesn't charge any additional transaction fees. However, if you instead use some of the best credit card processing companies, such as PayPal or Square, Shopify will charge an additional transaction fee of 2% on all sales.
Glitches that may require troubleshooting
Businesses may experience website downtime or slow loading times caused by various factors such as hosting issues or high traffic. Sometimes, apps or integrations may cause conflicts or bugs that affect the website's functionality. Thankfully, in the case of any issues, Shopify has a dedicated support team that can help troubleshoot and resolve any problems.
Shopify Plans/Offerings
The following are the five different plans that Shopify offers:
Starter
The Starter plan is the simplest version of Shopify. It's designed for you to create a store quickly and sell products on social media, email, SMS and anywhere you want to share a link to a product. It's also optimized for mobile devices.
Basic
This plan is aimed at small businesses and includes features such as unlimited products, 24/7 support and the ability to sell on social media and other online marketplaces in addition to the Shopify website.
This plan includes the following features:
Online store: Create a standalone online store to sell your products.
Shopping cart: Customers can purchase multiple products at once.
Secure checkout: Protect customer data and comply with industry standards.
Unlimited products: Add as many products as you want to your store.
Manual order creation: Create and fulfill orders directly from the Shopify admin.
Shopify POS: Sell in person with Shopify's point-of-sale app.
24/7 support: Gain access to Shopify's support team.
Shopify
The Shopify plan is designed for businesses that require additional functionality and tools to manage and grow their online store.
The main features of the Shopify plan include all the features of the Basic Shopify plan, as well as:
Gift cards: Offer gift cards for purchases made using your store.
Abandoned cart recovery: Automatically send email reminders to customers who have left items in their cart.
Professional reports: Access advanced reports on sales and website traffic.
Shipping discounts: Offer automatic shipping rate discounts to customers.
Discount codes: Create and manage discount codes for your store.
Staff accounts: Create and manage staff accounts for your store.
Advanced
The Advanced Shopify plan is intended for larger and more established businesses.
Some of the key features of the Advanced Shopify plan include:
Advanced report builder: The advanced Shopify plan allows you to create custom reports, giving you deeper insights into your business and sales.
Access to the Script Editor app: The Advanced Shopify plan allows you to write custom scripts that can be used to modify the checkout process or add functionality to your online store.
Eligible for Shopify Plus features: This plan also includes the ability to create an unlimited number of staff accounts and 24/7 support.
Third-party calculated shipping rates on the advanced Shopify plan enable you to offer real-time shipping rates from multiple carriers.
Shopify Plus
Shopify Plus is Shopify's enterprise-level e-commerce platform, intended for large businesses and high-volume merchants that require more advanced tools and functionality. The main benefits of Shopify Plus over the other plans include:
Scalability to handle high traffic and large sales volume (essential for large businesses)
Advanced security features, such as PCI-DSS compliance, ensure your customer's data is secure
Advanced fraud prevention tools
Customizable checkout to match your business branding
Dedicated account manager and 24/7 support. You'll have access to a dedicated account manager who will help you optimize your store.
Advanced developer tools, including APIs and the ability to write custom scripts to modify your checkout process or add functionality to your online store.
Multi-language and multi-currency support. Shopify Plus allows you to sell to customers all around the world using their language and currency.
Shopify Pricing Plans
Here is an overview of Shopify's current monthly prices:
Starter: $5/month
Basic Shopify: $29/month
Shopify: $79/month
Advanced Shopify: $299/month
Shopify Plus: This plan is typically for businesses that generate at least $1 million in annual revenue and typically costs more than $2,000/month based on seller needs and customization.
Shopify Financial Stability
Shopify is a publicly traded company on the New York Stock Exchange. As a publicly traded company (it had one of the biggest stock splits in 2022, along with Google and Tesla), its financial stability is clear for all to see, thanks to its financial reports filed with the U.S. Securities and Exchange Commission (SEC) and records of its financial performance on the stock market.
Shopify Accessibility
The Shopify platform is committed to making its products and services accessible to everyone. This includes the website and mobile apps. Accessibility features in Shopify include support for high-contrast mode, keyboard navigation and alternative text for images.
Availability
Shopify promises an uptime of at least 99.98% for their platform, meaning that it should be up and running and accessible almost all the time. Shopify has a team of engineers and support staff that monitor the platform and respond quickly to any issues that might arise.
Contact Information
Contact Shopify for support or general questions with the following contact information:
Email: support@shopify.com
Phone: You can call the Shopify customer service number by dialing +1-855-859-9496.
Live Chat: You can also use the live chat feature on the Shopify website to speak with a support representative in real-time.
Community Forum: Shopify also has a community forum where users can ask questions and share tips and advice.
Help center: Shopify has an excellent help center where you can find the answers to the most common questions and help guides.
User experience
Shopify offers an easy-to-use interface, intuitive navigation and an array of features to help users create and manage their online stores. It also has a variety of templates, apps and integrations that will help users customize them and add functionality.
Shopify customer satisfaction
Shopify customers have reported high levels of satisfaction with the platform, praising its ease of use, flexibility, and responsiveness of the support team, not to mention the wide range of features and integrations the platform offers.
However, there are occasional issues. Some customers have reported problems with the platform's flexibility, customization options and pricing structure. Some also found it difficult to navigate the platform when they first began using it.
Is Shopify secure?
Yes. Shopify is a secure e-commerce platform with several measures to protect merchant and customer data, including two-factor authentication.
Is Shopify legitimate?
Yes. Shopify is a legitimate and widely used e-commerce platform. It's been in business since 2006, is publicly traded and has a large customer base, with businesses of all sizes using it to create and manage their online stores.
Is Shopify just like Amazon?
No, Shopify and Amazon serve different purposes and have different features.
Amazon is primarily an online marketplace where third-party sellers can list and sell products to consumers. It also sells its own products and brands and has a wide range of products and categories.
On the other hand, Shopify is an e-commerce platform enabling businesses to create and manage their online stores. It allows businesses to create a customized website, sell their products online, manage inventory, track sales and customers and handle shipping and payments.
To summarize, Amazon is a separately managed store where you can buy and sell products, while Shopify is a platform for creating and running your online store.
What is the difference between Shopify and Etsy?
Etsy is a marketplace that primarily focuses on handmade and vintage items and unique, factory-manufactured items. It is a platform where individual sellers can list their items and sell them to buyers. Sellers on Etsy have less control over the look and feel of their store, and they have to adhere to Etsy's policies and regulations.
How We Evaluated Shopify
To evaluate Shopify, we assessed various aspects of the platform, such as its ease of use, design customization options, payment and shipping options and its available apps and plugins. We also read user reviews and performance metrics.
It is crucial, of course, to consider the specific needs of your business and compare them to the features and capabilities offered by Shopify.
Summary of Money's Shopify Review
As we conclude this Shopify review, rest assured that Shopify is easy to use and offers a wide range of features, including various payment gateways, inventory management tools and customizable templates. It's an excellent choice for small to medium-sized businesses looking to start an online store, but it may not be the best fit for larger enterprises.