6 Best Small Business Insurance Companies of 2021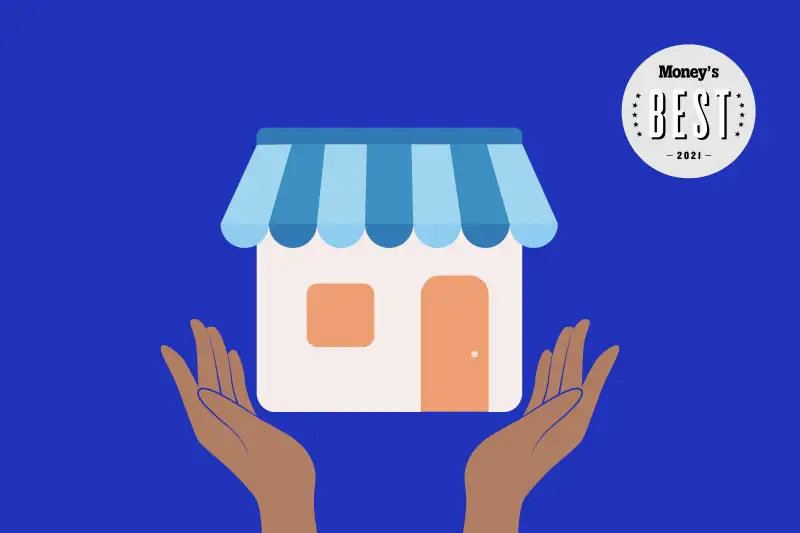 Business insurance protects you from the unexpected costs of running a business. General liability coverage is recommended for all businesses, but every business is different. Your business insurance needs will vary depending on factors, including number of employees, location, and industry. To help you find the right coverage, we have thoroughly selected the best small business insurance companies for 2021.
Our Top Picks for the Best Small Business Insurance Companies
Ads by Money. We may be compensated if you click this ad.
Ad
Your business is your greatest and most valuable asset, keep it safe with a business insurance policy.
A CoverWallet Business Insurance policy can protect you against risky lawsuits, the loss of your business partner, and much more. Get a free quote by clicking on your state.
Get a Free Quote
Best Small Business Insurance Reviews
The Hartford: Best Comprehensive Option
| | |
| --- | --- |
| Pros | Cons |
| Online quotes available for 51 professions across 24 industries | No coverage in Alaska or Hawaii |
| File claims online | No online chat available |
The Hartford stands out for its comprehensive Business Owner's Policy (BOP), a three-in-one policy combining general liability, business property insurance, and business income insurance. This package includes protection from loss of income caused by fires, destructive winds or burglaries, bodily injury or property, and personal and even advertising injury.
Besides the Business Owner's Policy, Hartford also offers:
Liability for employment practices
Commercial floods
Home-based businesses
With Hartford, small business owners can buy add-ons to cover such perils as a data breach, debris removal, and valuable paper records loss.
Ads by Money. We may be compensated if you click this ad.
Ad
Get great Business Insurance coverage in minutes with The Hartford.
Get a Free Quote
Nationwide: Best for General Liability Insurance
| | |
| --- | --- |
| Pros | Cons |
| File your claims online | No online chat |
| Business Solution Center offers cybersecurity advice and social media guides | |
Nationwide offers a wide array of products for small business owners including, business liability, commercial property, commercial auto insurance policies, and worker's compensation insurance.
Where this insurer stands out, however, is in its flexibility in adding general liability coverage to other policies. You can also supplement their general liability insurance with additional coverage, including fire legal liability and employment-related practices liability.
Other coverages offered:
Cyber liability
Equipment breakdown
Accounts receivable
With Nationwide, you can include in your coverage add-ons for commercial crime, business income, inland marine, and builder's risk, among others.
StateFarm: Best for Commercial Liability Insurance
| | |
| --- | --- |
| Pros | Cons |
| Insures more than 300 professions | Not all insurance agents can cross state lines |
| Customizable insurance | Claims are filed over the phone |
| Online chat | |
| Partnership with US Bank to offer financial services through the StateFarm Bank | |
With StateFarm's Commercial Liability Umbrella Policy, you can add extra coverage to fit your business needs. The company's extra coverage includes professional liability, errors and omissions liability, employment practices liability insurance (EPLI), Not-for-Profit liability insurance with EPLI, and Condo and Homeowners Association Directors and Officers Liability with EPLI.
Other coverages offered:
Business Owners Policy
Commercial Auto
Workers Compensation
Health and Life Insurance
Retirement Plans
StateFarm has a Business insurance directory, a complete list of the types of businesses and organizations they insure. They offer online business resources and other financial services such as paperless billing and autopay options. For more information on business checking accounts, check our selection for the best business checking accounts of 2021.
Progressive: Best for Commercial Auto Insurance
| | |
| --- | --- |
| Pros | Cons |
| Claims can be filed online | No online chat |
| A.M. Best rating of A+ Superior for financial stability and ability to pay out claims | Policies are underwritten by third parties, which may affect the quality of customer service |
| Offers customers discounts for maintaining a clean driving record, having a commercial driver's license, and for those paying their policy in full, among others | |
Progressive shines in its commercial auto coverage offerings. Their policy typically includes liability, physical damages, medical payments, uninsured motorist, hired auto, and non-owned coverage. The company insures commercial trucks, business cars, emergency vehicles, military vehicles, and a variety of SUVs, vans, trucks, buses, tractors, and trailers.
Progressive also offers business owners coverage for general liability, professional liability, worker's compensation, BOP, health insurance, and cyber insurance.
Ads by Money. We may be compensated if you click this ad.
Ad
Protect your business with Progressive.
Get a Free Quote
CyberPolicy: Best Business Insurance Marketplace
| | |
| --- | --- |
| Pros | Cons |
| Discounts available for bundling multiple policies with the same carrier or cross carrier | Offers insurance that applies nationwide, but policy offerings vary by state |
| Compare quotes while you shop | Submit claims directly through your insurance provider's claims department, not through CyberPolicy |
| Online application and claims | |
CyberPolicy is a small business insurance policy marketplace that partners with some of the most prominent industry players: Chubb, Hiscox, Liberty Mutual, Nationwide, and BiBERK.
Suppose you need to buy insurance products while comparing various options. In that case, CyberPolicy provides convenient one-stop shopping and a free quote. These marketplace offerings can be inexpensive, claiming you can find customized policies from just $10 a month. Once you purchase a policy, coverage starts within as little as 24 hours.
Other coverages offered:
Fidelity and crime
Employment practices liability
Lessor's risk
Liquor liability
CyberPolicy's customer service includes a licensed insurance advisor available via chat to help you decide on the best commercial insurance options for your business.
Ads by Money. We may be compensated if you click this ad.
Ad
Plan, prevent, and insure your business from the unexpected with CyberPolicy.
Get a Free Quote
Thimble: Best for Micro-Business Insurance
| | |
| --- | --- |
| Pros | Cons |
| Instant coverage | No online claims |
| Extend or pause coverage as needed or purchase coverage hourly, daily, or weekly | Policies not available in NY or WA |
| Underwrites their policies through industry veterans Global Aerospace | Third-party companies handle claims |
Thimble offers small business insurance policies covering general liability insurance, professional liability insurance, and errors and omissions policies. They have instant coverage online for as long as you need it, hourly, daily, or monthly.
Thimble serves more than 100 types of small business professionals, ranging from freelancers, personal trainers, pet sitters, event organizers, photographers, landscapers, and beauty professionals, among others.
Other coverages offered:
Events coverage
Drone insurance
Thimble's on-demand drone insurance can be purchased and accessed through Verifly, their mobile app.
Other Companies We Considered
| | |
| --- | --- |
| Pros | Cons |
| Good for self-employed or small business insurance when the business has five employees or fewer | Coverage not available in Alaska |
| Online application and claims | No online chat |
| | |
| --- | --- |
| Pros | Cons |
| ConsOnline chat and online access to your policy | Their business insurance is not directly with Geico but through a partnership with Hiscox |
| Offers cyber liability insurance | Commercial auto insurance doesn't cover semi-trucks and tractor-trailers |
| | |
| --- | --- |
| Pros | Cons |
| Wide variety of business insurance policies | No online quotes |
| Mobile app where you can access your policy and file claims | Not all insurance agents can cross state lines |
Ads by Money. We may be compensated if you click this ad.
Ad
Great businesses carry great responsibilities — keep yours safe with a business insurance policy.
A policy from The Hartford can protect you against lawsuits, employee injuries, cybersecurity attacks, and property damage. Click below to get a free quote today.
Get a Free Quote
Small Business Insurance Guide
What is Business Insurance?
Business insurance offers financial protection against unexpected events that might happen in your workplace, such as natural disasters, fires, accidents, lawsuits, death, and more.
Going without business insurance comes with high risks. A claim lodged against your uninsured business could eventually lead to legal seizure of assets, including personal ones, leaving you unable to pay your employees or others.
If your business is in need of financial help, check our selection of the best small business loans of 2021.
The Main Types of Business Insurance
Business insurance companies offer a wide variety of choices, but the commercial coverage you buy from an insurance company is likely to fit into two main categories: property and casualty.
Commercial Property Insurance
Commercial property insurance covers the loss (or damage to) your business's possessions, including its real estate and vehicles. Add-ons can also protect you against financial losses or extra expenses you incur from operating the business without these possessions.
Commercial auto coverage: Coverage for company-owned vehicles or any personal car used for business purposes
Commercial real-estate insurance: Protects the company's real estate and other physical assets from loss and damage from fire, inclement weather, vandalism, or civil disobedience
Business income and extra expense insurance: Protects against revenue loss due to physical damage from a fire or other calamity. Extra-expense coverage takes care of any costs above regular operational expenses due to property damage and some other setbacks
Business interruption insurance: This coverage can help compensate you for the lost business your company suffers after a property is damaged or destroyed because of a covered peril
Liability Coverage
Commonly called third-party coverage, commercial liability insurance covers claims filed by other people other than the insured party. This casualty insurance protects businesses from lawsuits or other actions filed by employees, customers, clients, and visitors.
General liability policy: Covers claims or lawsuits against your business due to injury, death, medical expenses, slander, libel, and damages your business is said to have caused to third parties or their property
Umbrella liability: A supplemental coverage for catastrophic events exceeding the coverage provided by your primary liability policy
Errors and omissions liability: Should your business give advice or create a product that causes harm to an individual company, this policy covers you. In case of a lawsuit, it protects you from the costs of legal fees and pays out any claim
Key-person coverage: Covers any losses attributable to the business losing its owner or another key person to death or disability
Malpractice insurance: Supplemental coverage for healthcare providers in the occurrence of a lawsuit for malpractice or negligence
Employee Coverage
A business's casualty insurance also encompasses coverage, sometimes mandatory, that protects employees if they lose their job or are injured or disabled while performing it.
Worker's compensation insurance: As a rule, workers comp is legally required by your state if you have employees working for you. It covers injuries on the job, medical expenses, rehabilitation, and lost wages. It can be purchased to protect business owners as well as employees
Disability insurance: Should an employee be unable to work due to injury or illness, this policy covers a percentage of their wages. In California, Hawaii, New Jersey, New York, and Rhode Island, employers must carry disability insurance
Unemployment insurance: Provides employees with a percentage of income when they are not working, in this case, because they lost their job. You cannot purchase unemployment coverage through an insurance carrier. Still, it is funded through mandatory federal taxes that are forwarded to state governments, who administer the program
Employment Practices Liability Insurance (EPLI): This coverage can help if an employee files a discrimination, wrongful termination, or sexual harassment lawsuit
How to Choose a Business Insurance Policy
As with buying personal insurance, spending a little time planning your business coverage upfront can pay off handsomely. These steps can save you time and money when comparing business insurance online.
Take stock of business assets
Make a thorough list of what the business owns, including property, equipment, and inventory. Then determine the value of those assets to ensure you will buy sufficient coverage to repair or replace them if the worst happens.
Figure out how much coverage you need
List all the functions and activities of your business, then assess the coverage you think is needed for each, based on its respective risk.
Seek professional help, in part to research insurance companies
Even if you start the process yourself, the coverage assessment we describe above is best completed with an insurance professional's help.
One option is to seek an independent agent or marketplace specializing in business insurance and who represents a variety of insurers.
Compare quotes
The policies you compare online should have the same, or similar, exclusions, deductibles, and coverage limits. An agent or marketplace site you're working with will be able to provide insurance quotes from the companies they represent. Consider supplementing those with quotes from companies you reach out to yourself — including some of those on our list.
Look for policy bundling discounts
Many insurance companies offer discounted prices when you purchase multiple policies from them. In addition to the financial advantages of ganging up policies in this way, bundling coverage can reduce the time and hassle required to pay premiums, contact customer service, or make claims.
Review your business insurance regularly
Reviewing your business insurance coverage gives you a chance to assess how you've used your coverage in the past and if you need to increase or lower it. You may be able to drop coverage limits or increase deductibles, saving money on premiums.
Along with annual reviews, try to re-evaluate your business's level and types of coverage whenever business needs or circumstances change.
Do Contractors & Freelancers Need Business Liability Insurance?
Yes, even a solo entrepreneur or independent contractor who has no employees should consider buying business insurance to protect their equipment.
The right business insurance for you will vary depending on your unique needs:
The size of your company and the industry it operates in
Your business assets, revenue, and number of employees
How much protection you need
Best Small Business Insurance FAQ
How much is business insurance?
Small business insurance pricing depends on the coverage you need. However, the average small business insurance costs approximately $46-$125 monthly or $552-$1,500 per year.
What is the best insurance for a small business?
The right insurance for your business will depend on the professional services you provide and the type of coverage you need. It is recommended that small companies have at least a Business Owner's Policy (BOP), including property coverage and protection against liability, peril, and business interruption.
What is the cheapest small business insurance?
From the companies we researched, Thimble offers the cheapest small business insurance starting at approximately $42 per month.
What does cyber liability insurance cover?
Cyber liability insurance protects your business if a cyberattack or a data breach occurs.
Do you need business insurance with a Limited Liability Corporation (LLC)?
Yes, you should purchase insurance even if your business is an LLC. An LLC protects your assets from being attached to your business. However, if you don't have general liability insurance and an accident happens in your business, your business is liable for the costs associated with the accident that took place.
How We Chose the Best Business Insurance Companies
To select the best small business insurance providers for 2021, we emphasized three major factors in making our selections:
Range of coverage options
Business types and sizes covered
The ease of applying for a policy and submitting a claim
Summary of Money's Best Small Business Insurance of 2021