Want to Invest In Bitcoin? Here's What You Need to Know
Money is not a client of any investment adviser featured on this page. The information provided on this page is for educational purposes only and is not intended as investment advice. Money does not offer advisory services.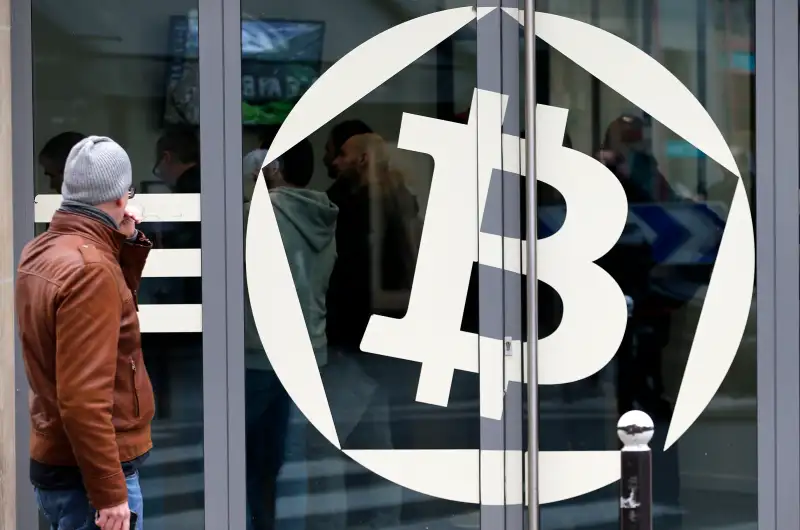 Bitcoin has captured America's imagination. Whether or not the cryptocurrency will ultimately turn out to be a good investment or just a passing fad remains to be seen. Indeed, in the past several months Bitcoin prices have enjoyed a run-up that makes the 1999 tech bubble look staid by comparison. That excitement -- the promise of sudden riches or sudden ruin -- has a lot of people wondering how a bitcoin investment actually works.
If that's you, here's a step-by-step guide on how to trade bitcoin. But first...
Should I Invest in Bitcoin?
Like any speculative investment, buying bitcoin at sky-high valuations is risky business. If you're asking, "Is it smart to invest in bitcoin?" you might do well to heed this advice from billionaire investor Mark Cuban, who told Money, "It's still very much a gamble." You need to know that your bitcoin investment might lose money. If you're not prepared to face that prospect, bitcoin investment might not be for you.
You'd be in good company in that case, anyway. Jack Bogle's bitcoin investment advice is pretty simple, and blunt: You should avoid Bitcoin speculation "like the plague." And this is coming from the guy who founded Vanguard, so he knows a thing or two about investments. The other risk to keep in mind if you plan to invest in bitcoin, aside from the overall volatility of the cryptocurrency, is of a cyber attack. Hackers descended on digital currency exchange Bitfinex on Tuesday, less than a week after cybercrooks made off with $70 million in a separate heist.
How to Invest in Bitcoin
If you're aware of the risks and still willing to take the plunge, this is what you need to know about investing in bitcoin: Cryptocurrencies exist in an unregulated, decentralized digital sphere without involvement by (or protection via) a central bank. This is part of bitcoin's appeal. People or entities can buy and sell cryptocurrency anonymously, and there are fewer middlemen taking a cut of transactions. But it also means you can't just buy bitcoin via mainstream investing tools like a brokerage account.
First one piece of good news: You can buy fractions up to the eighth decimal place of bitcoin. That means you don't need to plunk down the nearly $17,000 you often see quoted as the price for a full bitcoin -- which is probably for the best, as we noted above. As of Thursday afternoon, that one ten-thousandth — four decimal places or 0.0001 — of a bitcoin is worth about $1.65.
Beyond that, for most people, the best (i.e. simplest) way to invest in bitcoin starts with setting up a cryptocurrency wallet. Some of the better-known sites where you can do this are Coinbase, Bitstamp and Bitfinex, although there are a number of other platforms out there, as well. Once you establish an account, connect it to your payment source — a bank account or a credit or debit card — via two-factor authentication. Of note: It's important to use a tool like Google Authenticator rather than just relying on text-based authentication, which can be more vulnerable to cybertheft, when investing in bitcoin.
Once you have purchased a bitcoin, it stays in your digital wallet until you trade it — either by using it as currency for a purchase, or by selling it (which is technically "trading" it for American dollars or another currency of your choice).
If you have a brokerage account, you can expect the bitcoin user experience to be similar. And, as with a brokerage account, you're likely to pay transaction fees whenever you buy or sell. That means day-trading bitcoin probably isn't a great strategy -- since those transaction fees could quickly eat up any profits. If you're using bitcoin instead of PayPal, Venmo, etc., check first to see if the seller will charge you a fee for paying in bitcoin.
And although bitcoin is technically anonymous, that doesn't mean you'll necessarily escape the watchful gaze of the IRS. As Money has previously explained, for tax purposes, bitcoin is treated like a stock in that a trade can trigger a capital gains tax bill.
Other Ways to Buy Bitcoin
As of recently, investors can also buy bitcoin futures, which has only added to the hype surrounding it. Bitcoin investment sites are struggling to keep up with the surge in demand.
Coinbase, for example, has been such a popular bitcoin investment app that its CEO posted to the company's blog last week a warning that the sudden influx "does create extreme volatility and stress on our systems," which can create a lag for users. The Chicago Board Options Exchange, on which the first bitcoin futures trading took place this week, warned that a flood of traffic ahead of the launch was slowing its site.
Another exchange, CME Group, is scheduled to begin bitcoin futures trading next week.
There is also the Bitcoin Investment Trust from Grayscale Investments. We're mentioning it for the sake of comprehensiveness, but it's a bit of a different animal. The fund is invested in bitcoin, but keep in mind, you're actually buying the fund, not bitcoin. You're a step removed from owning actual bitcoin, even though you are still exposed to its volatility. The pluses, Grayscale says on its site, are that you get the structure and tax benefits you wouldn't get trading bitcoin directly; on the other hand, fees will eat up a chunk of anything you earn, negating the reason many people are drawn to cryptocurrencies in the first place. All of which is to say, you should really, really know what you're doing as an investor if you're going to dive into this pool.