How to Manage Difficult Employees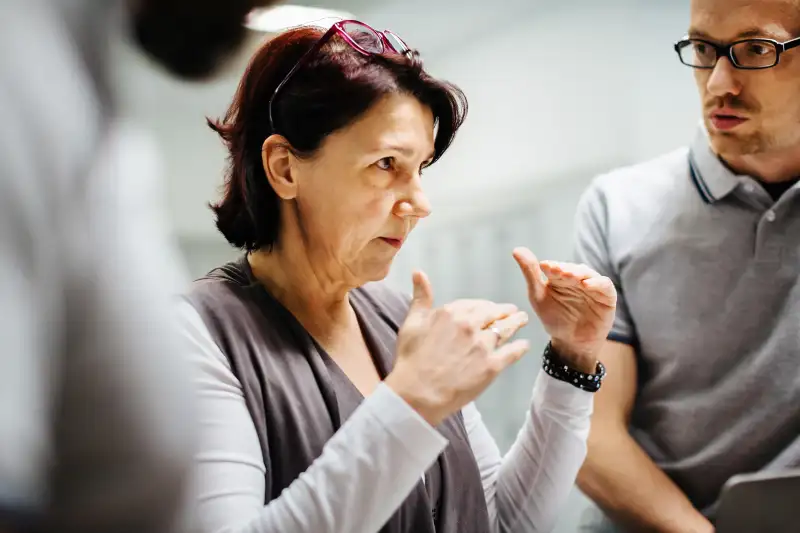 *Content includes branded mentions of our sponsor ZipRecruiter.
One of the most challenging parts of being a manager is dealing with uncooperative, argumentative or overly negative employees. Disruptive or inappropriate employee behavior can affect team morale and harm the entire organization, so leaders and business owners must find solutions to manage these issues as they arise.
This article provides a framework for managing difficult employees and includes examples of tough situations and tips on dealing with them.
Of course, one of the best ways to avoid difficult employees is to recruit and hire the right people for the job. ​And job search sites like ZipRecruiter can help you find the best talent for your organization.
What defines a difficult employee?
Difficult employees exhibit inappropriate or disruptive behavior that can create a hostile work environment for managers and colleagues. These employees may have problems following instructions, meeting goals, adapting to change, performing collaborative tasks or communicating with others.
Examples of difficult behavior include:
Constant negative attitude
Chronic tardiness
Lack of accountability
Inability to meet deadlines
Resistance to change
Poor job performance
Poor work ethic
Ineffective communication skills
Unresponsiveness to feedback
The sooner managers can deal with these types of behaviors, the better for everyone on the team.
What are some examples of difficult employee situations?
One common example of a difficult situation involving employees is tardiness. While seemingly a small issue, having an employee who is consistently late while others are on time can lead to resentment. And if the pattern goes unchecked, other employees may also feel it's safe to show up late.
Employees who don't pull their weight on projects can be another source of frustration for team members. Having to pick up the slack for a colleague can lead to tension, ill feelings, and even job dissatisfaction among top performers. If unresolved, this could inspire other employees to seek job opportunities elsewhere.
Yet another example of a difficult employee situation is when you have a good employee with poor time management skills. Their inability to meet deadlines can not only disrupt the team's dynamic but also affect client-business relations. A company that cannot make good on its promises is bound to lose clients as well as time and money.
One of the most difficult situations of all, however, is when you have employees who undermine your authority as a manager. Not addressing this unacceptable behavior can cause the team to question your leadership skills and create a toxic work environment where gossip and disrespect are par for the course.
Why it's important to face a difficult conversation rather than avoid it
While it might be tempting to put off a one-to-one meeting with a difficult employee, the best course of action is to face the problem head-on as soon as you identify it. Not addressing problematic behaviors promptly can lead to bigger problems down the road.
Some consequences of avoiding a difficult conversation with employees may include:
Unmotivated employees
Lagging work performance
Toxic work culture
High staff turnover
Poor customer relations
Unhappy or unmotivated employees can negatively affect the growth of any business, regardless of its size and years in business.
How do you deal with tough employees?
Although all sorts of difficult situations can arise when dealing with direct reports, managers can utilize a general framework to resolve most issues.
Letting go of an employee with behavioral problems should be a last resort. It takes more time and effort to find, interview, hire, onboard and train new employees than to work with existing employees to get them to modify their behavior.
Of course, termination may be the only option in extreme cases, such as when an employee demonstrates discriminatory behavior, threatens others or is physically violent. These types of behavior could endanger the safety and well-being of other employees and create a toxic work culture. Your business may also face legal consequences if these issues aren't addressed.
1. Don't avoid the issue
While you can certainly hope for the best, difficult situations are unlikely to resolve themselves without intervention. Avoiding issues can strain communication with your employees and erode their trust in you. This can ultimately affect morale and cause higher turnover rates and absenteeism. Addressing issues quickly and effectively can ensure your workplace remains safe and productive.
2. Be respectful and calm
When meeting with an employee who has received complaints or shown unacceptable behavior, maintain a professional and respectful demeanor. Some managers start difficult conversations by reviewing something the employee has excelled at before moving on to direct and constructive feedback.
Avoid blaming the employee and using negative language. Instead, focus on concrete examples of disruptive or unacceptable behavior and how it impacts the team and company. Ask questions and allow the employee to have a say in the matter, too. It's possible that they're unaware of how their words or actions affect the team and overall work culture.
3. Listen attentively
Go into a one-to-one meeting with a supportive attitude and good intentions. Your job as a manager is not to judge but to resolve the problem. Going into the meeting with your mind already made up will hamper your ability to be impartial and arrive at a fair resolution for all involved.
Give employees a chance to explain their side and actively listen to what they have to say. Ask clarifying questions and paraphrase what they tell you to ensure you fully understand their point of view. Understanding the root cause of the problem will help you come up with specific steps to address it.
Behavioral and performance issues may have different root causes, such as the employee's workload, relationships with coworkers or personal factors. Hearing them out and demonstrating your support may resolve the problem.
4. Don't make it personal
Try to remain neutral and objective when dealing with difficult employees. By focusing on specific behaviors instead of personal traits, you can keep emotions from getting in the way and have a more productive conversation. If a meeting gets personal, your employee may feel attacked and be less likely to speak openly about the issues affecting their attitude or performance.
5. Don't assume you have all the facts right away
Before reaching any conclusions, speak to the employees involved and get their take on the situation. Performance and behavioral issues can have many root causes, and hearing different perspectives can help you get a clear picture of what's really going on.
Inappropriate workplace behavior may stem from the following:
Lack of motivation
Bad communication
Feeling undervalued
Insufficient pay
Lack of training
Limited growth opportunities
It's also important to stay accountable and reflect on how your actions and behavior may have contributed to the problem. Encourage feedback from your employees and consider how you can use that feedback to prevent similar issues in the future.
6. Communicate clearly and set measurable goals
Once you have a better idea of the problem, set clear expectations and objectives for the employee and provide actionable feedback to help them achieve those goals.
Create a performance improvement plan, set deadlines for improvement and schedule follow-up meetings during which you'll touch base and go over the employee's performance up until that point. Be compassionate but direct and unambiguous about potential consequences so you're both on the same page regarding the changes you expect to see.
7. Suggest helpful tools, resources and solutions
Making sure your staff understands the tools and resources available to them shows your support and desire for a fair resolution. If the company provides it, encourage employees to use the employee assistance program (EAP). These programs generally offer counseling and related services to assist staff members with various personal issues.
EAPs can help with the following:
Health issues
Substance abuse issues
Relationship and marriage issues
Legal issues
Financial issues
Parenting and family issues
Emotional distress
Stress management
Other great tools to facilitate employee improvement are company-sponsored development and training sessions. For example, a helpful resource for an employee who has been unconsciously disrespectful to others could be sensitivity training. Coaching or mentoring programs could also be good options.
8. Document everything according to company policy
Consistent documentation is a crucial part of dealing with difficult employees. It allows for transparency and serves as evidence of the fair treatment of employees.
Keep documentation objective and impartial, listing all the steps you've taken to correct the employee's behavior, the goals you set together and the potential consequences of not meeting them. If you decide to let go of an employee, the path will be much easier with proper documentation.
Speak with your HR department so they are aware of the issue and can give you guidance on proper procedures.
9. If all else fails, it's time to part ways
Perhaps one of the hardest parts of being a manager is having to terminate an employee. While a last resort, it can be a necessary measure in cases where employees are unable or unwilling to modify their behavior.
When notifying employees they are being let go, remain professional, use a calm and respectful tone and maintain neutral body language. Refrain from judgment or criticism and simply refer to the facts. The documentation you've gathered should clearly evidence the decision is in the best interest of the team and company.
Feel confident handling even the most toxic employees
Managing difficult employees can be challenging, but it doesn't have to be a painful process if done effectively and with the guidance of your HR department. Remember the goal is to help your employees become more productive team members, so approach the process calmly and offer as much support as possible.
By understanding the underlying issues and implementing the strategies suggested in this article, managers can better difficult situations and create a healthier work environment for their employees.
Also keep in mind that effective hiring practices and the right tools can help you find the best employees for your business. If you don't know where to start, sites like ZipRecruiter can help you find qualified candidates and provide valuable insights to make better hiring decisions.