How to Solve Workplace Morale Problems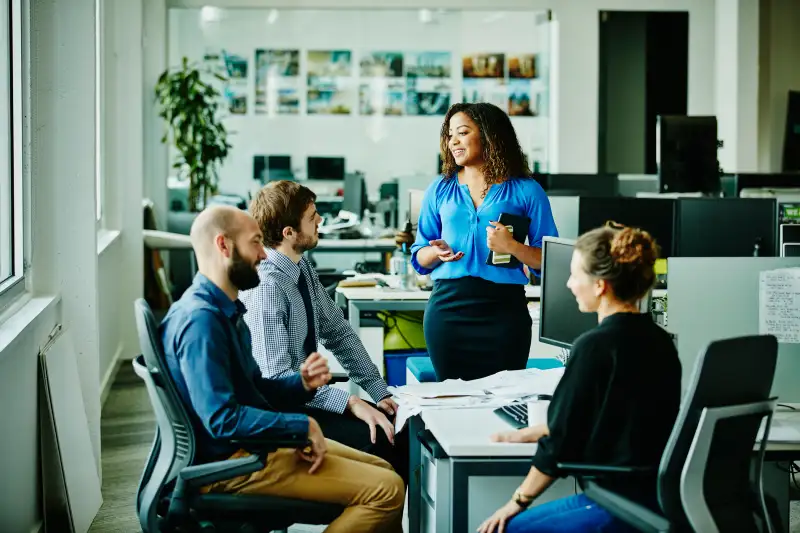 *Content includes branded mentions of our sponsor ZipRecruiter.
Workplace morale is the heartbeat of your business. When that morale is healthy, your people are happy, engaged and motivated to work toward their — and your — goals.
Unfortunately, workplace morale isn't always so rosy. Especially now, when the latest jobs report showing that we're very much still in a job seeker's market, businesses need to find new ways to energize their employees, hire new ones, and give them the fulfillment they seek in their work.
Are you running the risk of unhappy employees? In this piece, we'll explore how to boost morale in the workplace and build a great company culture.
What is workplace morale?
Workplace morale is a measure of your employees' sentiment toward their work, their managers, their teams and your organization.
When workplace morale is high, it signals that employees feel fulfilled in their roles, supported by their managers and confident about the trajectory of their organization. By contrast, low morale could mean that employees feel stifled by their work, hindered by their managers and anxious about the organization's future.
What causes low morale
Workplace morale is a reflection of the overall employee experience at your organization. When the employee experience is strong, it leads to positive employee morale; when the experience is negative, it can lead to low employee morale.
As for what contributes to a strong employee experience, consider the major steps of an employee's journey within your organization:
Applying to a job description
Interviewing for the role
Receiving an offer letter
Onboarding with the company
Working with a team and manager
Goal setting and career planning
Leadership development
Offboarding and exit interviewing
Whether an employee spends a year at your company or their entire career there, they deserve a positive experience for each of the above bullets. The more you invest in that experience, the higher workplace morale and discretionary effort you'll earn in return.
Bear in mind that outside factors can also play an outsized part — a 2022 MetLife study found that job satisfaction is at a 20-year low, especially in 23- to 28-year-olds.
Why it's an important issue for employers to fix
Employee morale and productivity go hand in hand. When morale is high, it means that employees are happier in their jobs and energized about the work they're doing. Naturally, those factors are key drivers for employee performance — and, by extension, your company's performance.
However, employee morale isn't a guarantee. As The Great Resignation has shown, the reasons for leaving a job are only increasing. Even if disengaged employees stay within your organization, they may be "quiet quitting," or putting in the bare minimum to keep their job.
As a business leader, employee morale needs to be top of mind. Left unchecked, it can spell disaster for your productivity and retention, not to mention your bottom line.
8 effective workplace morale boosters to try
Looking to improve employee morale within your organization? Below are eight employee morale ideas you can use to mobilize your people, re-energize your teams and positively impact the employee experience.
Help your employees achieve a healthy work-life balance
One of workplace morale's biggest drivers is stress. A 2020 European workplace study found a negative relationship between employee stress and engagement levels. When stress increases, engagement tends to plummet (and vice versa).
This makes practical sense, too. If you work in a role with long hours and unattainable goals, stress will likely seep in. Before long, it'll be hard to stay motivated, and you might find yourself scouring ZipRecruiter for new opportunities.
As a business leader, preventing that stress from wreaking havoc is critical. Remind your employees that their health and well-being come first. Encourage them to take time off and give ample opportunities to recharge their batteries. Make sure they have a healthy workload — not too little, not too much — and re-calibrate their goals if they feel overwhelmed.
By showing commitment to your employees' mental health, you'll build trust and goodwill that can pay dividends in the long run.
Foster a culture of open communication
Your company culture is arguably the biggest catalyst (or inhibitor) of workplace morale. By fostering a culture that welcomes people of all backgrounds and creeds, you send a message to your employees that you respect their abilities and value their contributions.
Transparency goes a long way toward building a best-in-class culture. Make sure you provide employees with the information they need to succeed in their roles. Find a forum that facilitates open communication — whether that's a monthly town hall meeting, a weekly newsletter or collaboration tools like Slack — and stick to it.
The more upfront you can be with your people, the better. You may hesitate to disclose company earnings after a bad quarter, but sharing that information is far better than leaving your people in the dark. When you show vulnerability and candor, employees tend to reciprocate — and that "we're in this together" mentality can do wonders for morale.
Further, this can also affect your bottom line. Research by Grammarly and The Harris Poll found that poor communication also costs companies money — to the tune of $1.2 trillion in annual losses.
Increase employee recognition
Another great way to build a winning culture is to reward employee behavior that reflects your core values. You can't leave culture up to chance; without a consistent way to incentivize people to model the behaviors you seek, you create a "no man's land" where anything goes.
If you don't have core values as an organization, start there. Think back to your mission statement, and create a set of values that reflect who you are as a business and where you're going. Look for ways to reward exemplars of those values, whether through company awards, a $50 gift card or something else entirely.
Forms of employee recognition double as stellar morale boosters for the workplace. When you give employees kudos on something they did at work, they'll want to repeat it. They'll feel energized about their work and go the extra mile to keep up the great work. If you can get everyone in your organization to adopt the same mentality, just imagine the possibilities.
Encourage employees to give feedback
There's nothing worse than working in an organization where you feel your voice doesn't matter. When employees don't feel comfortable or safe sharing their opinion, they tend to care far less about the work they're doing, the success of their team or the future of their organization.
Engagement surveys are great ways to solicit employee feedback and reassure them that their opinion matters. By asking people questions about their employee experience, you give them an outlet to actively improve their lot — but make sure to draw up unambiguous questions, with single statement propositions, to minimize noise.
This will allow you to receive valuable feedback to reinvest in your business, while giving people greater ownership of the organization and its future.
Strengthen the leadership skills of your supervisors
As a business leader, you bear most of the burden when it comes to boosting and maintaining workplace morale. Next in line, however, are the leaders you oversee — and all the managers under them.
It's become a cliché in HR circles: "People don't quit bad jobs; they quit bad bosses." Even if you have a sterling company culture and the greatest mission in the world, if you aren't supporting your people with capable managers, you're hanging those employees out to dry.
According to a report from The Predictive Index, the second skill that most managers lack according to their employees is the ability to "drive team morale." So, if you're not actively equipping your managers with the so-called "soft skills" needed to lead others, (and evaluating them based on these abilities), you're running the risk of rampant disengagement.
Make leadership development a core pillar of your organization. Even those new to management could prove to be invaluable assets to the business.
Provide career growth and advancement opportunities
Developing clear career paths doesn't just help you solve management gaps; it also gives employees a greater sense of purpose and belonging. That said, make sure that you don't push people into leadership roles they may not be suited for — develop a system where people can further their career as individual contributors as well.
There's nothing as demoralizing as getting hired for a role only to find out you're "locked into" that role for the entirety of your time at an organization. No matter how hard you try, you'll never be able to move vertically or even horizontally to advance your career.
Organizational bureaucracy and red tape are a one-way fast track to a disengaged workforce. Without anything to incentivize good performance (short of retaining your job), your people won't give the extra effort that could separate your organization from others in your market.
Make career pathing a common discussion point between managers and their direct reports. Every manager should have regular one-on-one conversations with their reports to ensure individual contributors feel fulfilled in their roles, clear about their responsibilities and motivated to achieve their next career milestones.
Annual reviews and 360 feedback reports can be useful tools, but don't let them relegate the conversation to a single day of the year. Instead, institute monthly or bi-monthly personal development meetings for every employee in your organization. Doing so is a powerful way to invest in employee growth while boosting workplace morale.
Make sure workers take their breaks
When you think of the word "worker," it's easy to picture someone in an industrial setting, working endless shifts from dawn to dusk. This perception of the working class tends to perpetuate grueling working conditions and poor work-life balance.
Whether they're a salaried accountant working full-time or an hourly, part-time construction worker, all persons deserve to work at a healthy, sustainable pace. Overworking your people is only going to make for unhappy employees and drive low morale in the workplace.
The best way to encourage healthy work habits is to create a psychologically safe environment where people know they can take time for themselves without reprimand. Remind employees that they have breaks they can take throughout the day and PTO they can leverage when they're feeling physically or mentally under the weather.
It's crucial to model the behavior you wish to see. Ask your managers to take time away from work, and urge them to tell their direct reports to do the same. It takes time to "build that muscle," but once employees naturally take breaks, it'll become a permanent part of your culture.
Promote diversity in the workplace
This may be last on the list, but it probably comes first in terms of sheer importance. It's paramount that your organization reflects the makeup and complexion of your candidate pool, your customer base and your community.
If you're wondering how to hire employees in a particularly competitive fight for talent, it may be time to widen your aperture. Give your hiring team the go-ahead to recruit from new areas of the country. Host career fairs at traditionally underrepresented colleges and make remote hiring your standard practice. Broaden your job descriptions and use gender-neutral language to appeal to job seekers of all kinds.
People don't want to work in environments where they don't feel represented. The more diverse you make your employee base, the more welcoming your company becomes for everyone. Of course, diversity is nothing without inclusion; you can't just recruit diverse talent, then expect it to magically improve workplace morale immediately. It takes constant effort and intention to build up under-represented workers and prove to them that you're invested in their employee experience.
Low workplace morale will soon be a thing of the past
Boosting morale in the workplace isn't accomplished overnight. You'll encounter stretches of adversity, whether that's financial difficulties, a wave of resignations or even forced layoffs. However, it's important to stay the course. Morale isn't just some "soft" metric that's nice to have; it's crucial if you want to deliver on your business goals.
Use the above workplace morale boosters to increase engagement and improve the employee experience. The more you do to improve morale in the workplace now, the better the returns you'll see weeks, months and years down the line.