How to Start a Vending Machine Business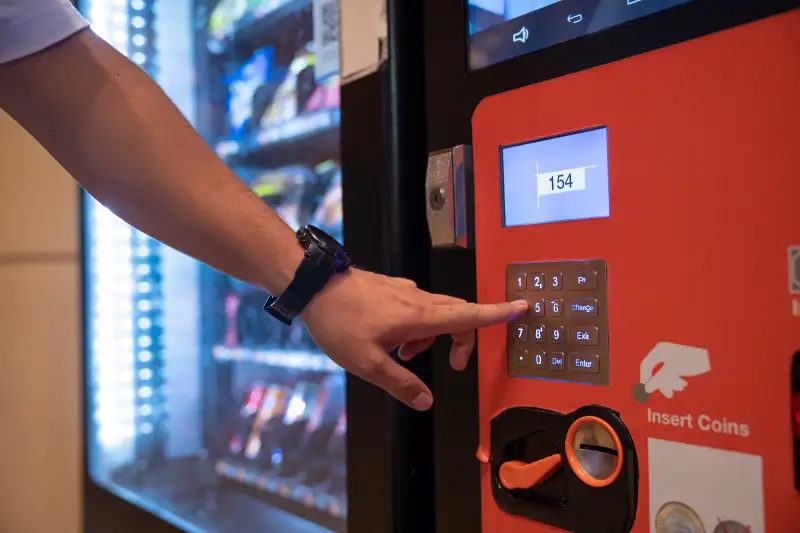 Vending machines are easy to spot in malls, offices, bus stations and laundromats. Earning less than a dollar on every bag of chips or energy drink may not seem very profitable, but the vending machine industry can be an excellent source of income. This article provides you with all the necessary details on how to start a vending machine business.
The advantages of owning a vending machine business
Starting a vending machine business comes with plenty of upside. After setting up your machines in the locations you choose, the vending machines will do the selling for you. Let's examine some of the main benefits of getting started in the vending machine industry.
Experience isn't required
You don't need a college degree or previous work experience to run a successful vending machine business. The beauty of it lies in its simplicity; you can be up and running with one or two machines. Moreover, it isn't difficult to change products and locations to better suit your market. As you gain further insights into the vending machine industry, you can scale your business by scouting potential locations and increasing the number of vending machines.
Low startup costs
Most startups need a lot of capital in the beginning. Renting office space and hiring employees can deplete your savings before you've even started running your company. In a vending machine business, you don't need to worry about overhead costs concerning rent or employee payments.
The three main costs for running a vending machine business are the machines, the products you'll stock them with and any necessary repairs. You can purchase items wholesale to further cut down on your expenses. For a few hundred dollars, you can buy a vending machine and start selling.
Generates passive income
Passive income refers to the practice of business owners earning money without actively managing their business. Although vending machine businesses require some time for traveling, stocking and maintaining the machines, your profits will roll in on their own.
Vending machines can also make sales 24 hours a day without being managed. So, setting up vending machines in effective locations is a great way to make money from home as a full-time job or as an extra source of income.
How to start your own vending machine business from scratch
There is more than one way to get into the vending machine industry. For example, you can take over a business with an established batch of machines to start. Although this method requires a lot of capital upfront, it may be worth it. Not only will you inherit the previous owner's machines but often you'll inherit their existing customer accounts and revenue streams.
If you choose this route, be sure you understand why the previous owner wants to sell the business before agreeing to anything. Problems with existing customer contracts, locations or machines can cause headaches in the long run.
A second option is to buy into a franchise. Since you'll be working from an established framework, this reduces the number of business decisions you need to make and you'll also gain experience as a vending machine operator much faster. However, keep in mind that your franchisor likely charges upfront fees and takes a percentage of your earnings every month.
If those options aren't appealing, starting your vending machine business from scratch allows for more flexibility. When starting your own vending machine business, there are specific steps you should consider taking.
Form a legal entity
Before buying a vending machine, you should set up a legal entity and register your vending machine business in your state. Depending on your preference, you can register your business as a limited liability company (LLC), an S Corporation or a C Corporation. Setting up a legal entity allows you to open a business checking account and can protect you from lawsuits.
It is possible to run a vending machine business as a sole proprietor or in a partnership, but there are specific risks you should be aware of. It may be more difficult to receive loans and financing from banks, such as LLC loans. Also, you would shoulder all personal responsibility for your business's legal, financial and tax problems. It may be worthwhile to consult with an attorney to decide which option is right for you.
Buy your vending machines
When the time comes to buy a vending machine, there are many things to consider. If you are unsure how to buy a vending machine, a quick search online can connect you with a manufacturer or wholesaler.
How much does a vending machine cost? It depends on the machine type and the seller. Manufacturers and wholesalers have many new machines available, but these are also the most expensive options. Trying to find a refurbished or used vending machine for sale will be more affordable and may better suit your needs. You can always search for online resellers or buy from a former machine owner on a third-party platform like eBay at a lower cost.
However, depending on the vending machine you choose, it may be hard to pay out of pocket. That's why the following options may be more feasible:
Small business loans: Entrepreneurs with limited financial means or grand ambitions should consider small business loans. Short-term loans are an excellent option for startups and usually must be paid back in 18 months or less. They have higher monthly payments than long-term loans, but you'll pay less interest in the long run.
Equipment financing loans: With these loan types, the lenders allow you to buy business-related machinery for your startup. They will charge you interest and consider the cost of your vending machines. If you default on loan payments, your machines may act as collateral.
Lease: Some companies lease vending machines. Contracts usually last between two and five years and can be a way to get started if you need help financing the vending machine you want. Expect fixed monthly payments to the leasing company for the entirety of the contract.
Once you have your finances in order and are ready to buy a vending machine, you will need to determine which kind works best for your business. Although vending machines vary significantly, there are three main types.
Mechanical vending machines
Most of the classic snack or soda vending machines fall into the category of mechanical vending machines. These machines are commonly seen in public spaces such as office buildings, motels and airports. While the sizes and capacities of mechanical vending machines differ, most can hold multiple products at various prices. Refurbished mechanical vending machines typically cost around $1,500, making them a possible entry point for first-time entrepreneurs.
Electronic vending machines
Electronic vending machines are the most expensive type of vending machine available. Some machines stock products ranging from bottled water to headphones while others — such as coffee vending machines —can prepare beverages.
Newer versions of these vending machines come with state-of-the-art technology like interactive touch screens and remote monitoring software. Customers can make payments with cash, credit cards, or smartphones and, in some cases, even using facial recognition. Electronic vending machines start around $3,000 and can go as high as $10,000 depending on its features.
Bulk vending machines
Bulk vending machines sell a single product. Common bulk vending machines are gumball or toy vending machines. These coin-operated machines don't need any electricity to function. Because they only cost a few hundred dollars at most, they are a great way for you to test the vending machine market.
Decide what items you want to sell and find suppliers
Choosing the right product is vital for running a successful vending machine company. As products in machines can range from tech accessories to skincare lotions, conducting market and industry analysis is essential.
Additionally, tailoring your products to a location-specific audience yields the best results. Providing laundry detergent at a laundromat, protein bars at a gym or pet treats near a dog park will turn a profit.
Remember, higher-priced items don't always bring in the most profit. A customer may visit the same beverage vending machine multiple times a day but they may only buy a product once a month from a shampoo vending machine.
Some vending machine products include:
Towels
Flash drives
Over-the-counter medications
Novelty items
Sunscreen
Candy bars
Stuffed animals
Once you've decided on your product, finding a wholesaler is next. Networking and making good connections with wholesale suppliers is the best way to get your supplies in bulk. Some providers also offer contracts to furnish and maintain your machines if you agree to purchase all supplies from them.
Choose high-traffic, profitable locations
The locations of your vending machines are just as crucial for running a successful business as product selection. Areas of high foot traffic provide more chances for a sale, so you may want to consider your options wisely. Finding a great location will take a bit of scouting and creativity, especially as you may run into already-established competitors.
Networking and connecting with local business owners can be beneficial in this situation and allows you to take advantage of unexplored opportunities. Cold calling is another option to gauge property owners' interest in adding a vending machine to enhance their space.
Possible vending machine locations include:
Apartment complexes
Office buildings
Grocery stores
Truck stops
Sports complexes
Car dealerships
Manufacturing facilities
In most cases, you will need to pay an agreed-upon amount between 5% to 25% of your profits to the property owner or manager. If this sounds like too high a percentage, you can also try to value-sell your business. A value-sell works by convincing the property owner to allow you to place your vending machine on their property for free because of the positive impact it will bring to the location's tenants and customers. It's a challenging feat, but it may work in some places.
After agreeing on terms with the proprietor, you must draw up and sign a contract. Some contractual conditions to include are:
Compensation rate
Contract length
Rights to add, remove or replace machines
Provisions for a breach of contract
Exclusivity clause
It is best to have a lawyer review the contract before signing it.
Stock your machine and start making sales
Once you decide which products you'll sell and where the machines will go, it's time to start making money. Make sure to set your prices competitively to attract customers and maximize profits. Many states require vending machine business owners to charge a sales tax, so consider this when finalizing your prices.
What else is involved in owning a vending machine business?
Once you register a business, decide on a product, purchase a vending machine and scout a location, you can start your journey as a vending machine business owner. Here are a few more things to consider while running your business.
Repairs and maintenance costs
Keeping your machines clean and in working order is one essential aspect of the vending machine business. A dirty vending machine will not attract customers and a malfunctioning vending machine will not make any profit.
One solution to these problems is hiring a vending machine operator, which can save you time. But if you want to save money, you can also learn how to repair and maintain the vending machines yourself.
You should also consider possible acts of vandalism and theft, as vending machines typically sit in public spaces. Set money aside for these possibilities and include them in your business plan so an unexpected event won't ruin your business. You can also examine whether small business insurance is a viable option.
Stocking products
Once your business is underway, you'll have to restock your vending machines as needed. You can streamline this process and reduce travel time by selecting your sites in an ordered sequence instead of choosing locations all over town. Choosing similar products for multiple vending machines will also make your trips more efficient. If you are stocking food or perishable items, note when they will expire and ensure you always replace them in time.
Regular money collection
The most rewarding part of having a vending machine business is collecting profits. Consider doing so while you travel to stock your machines, which saves you time and energy, but also keep a close eye on your accounts. By frequently monitoring your bills, you'll know when to make the necessary changes to earn more and expand. Business accounting software for small business owners can help you with that and save you precious time and effort.
Is a vending machine business worth it?
The vending machine industry is an attractive opportunity for first-time entrepreneurs and anyone who wants a passive income. Vending machine business owners can start small with a single drink vending machine and scale their business in a controlled manner to be as large as they choose. With flexibility in time and choices, the vending machine business is something to look into as a full-time business or a side job.
You're on your way to becoming a business owner
Now that you know how to start a vending machine business, you're on your way to becoming a business owner. Low startup costs, high-profit potential and increased flexibility are all benefits of joining the vending machine industry.
With a little effort and strategic thinking, you can go a long way without investing too much time, energy or resources in your startup.
For a more detailed look at your opportunities outside the vending machine industry, check out our guide on how to start a business.