Gary Vaynerchuk and Other Top Executives Share How They Beat the Monday Blues — and Kickstart a Successful Week in the Process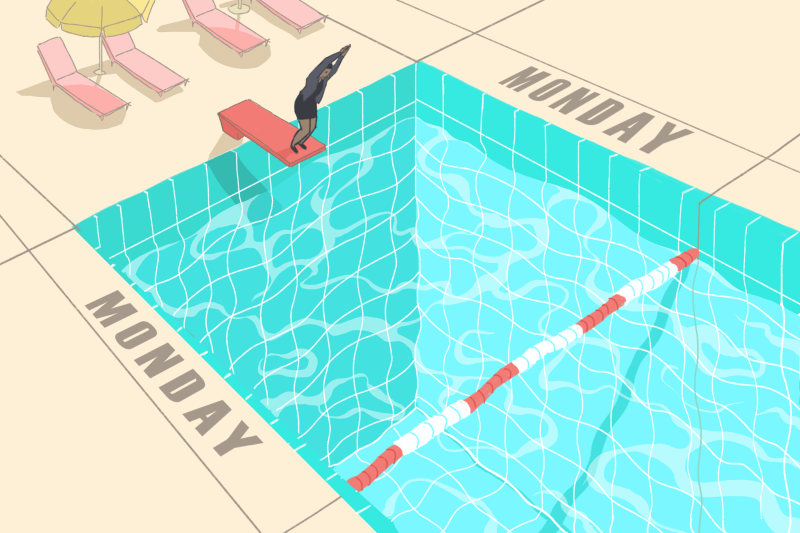 If you've got the Monday blues, you're starting the week off on the wrong foot. Here's how to stop longing for the weekend, feel better about the day, and prepare for the week ahead, according to nine successful business leaders and Advisors in The Oracles.
1. Think of everything you want to do in life.
Gary Vaynerchuk, courtesy of The Oracles
If I told you this was the last Monday morning of your life, would you complain about how much you hate Mondays? I don't think so. You'd think about all the big things you want to do. That's how you should be thinking every Monday. You're lucky to be alive. So pick up your head and make Monday yours.
My Monday starts the minute I open my eyes at 6 a.m., just like every other day. I consume information from places like TechMeme, MediaREDEF, and Nuzzel, which aggregates headlines that people in my circle are sharing. Then I spend time on Twitter and Instagram, catching up on what my friends are doing and conversations I want to respond to. I work out for an hour, say goodbye to my kids, and am often in my first meeting before 9. —Gary Vaynerchuk, founder and CEO of VaynerX; five-time New York Times bestselling author of "Crushing It!"
2. Focus on your magic hours.
Craig Ballantyne, courtesy of The Oracles
Your competition is already taking your customers if you wait until Monday morning to prepare for the week ahead. Don't rush through the process late on Sunday either. Prepare your plan at the end of the day on Friday, then finalize it on Sunday morning. Kick back with your beverage of choice in a non-work space. Design your week to take advantage of your time outside of work and get things done in your "magic hours," whatever those are for you.
I learned an important lesson growing up on a farm (where cows don't take a day off): When the sun comes up, you better start working. It's simple and effective. Use this blueprint to dominate your Monday morning, which is when you have the greatest control, willpower, and intention. —Craig Ballantyne, owner of Early to Rise and creator of The Perfect Day Formula and Social Story Selling System; author of the Wall Street Journal bestseller "Unstoppable"; read how Craig overcame entrepreneurial anxiety; follow Craig on Instagram, Facebook, and LinkedIn
3. Work from a "domination list."
Bedros Keuilian, courtesy of The Oracles
To prepare for a Monday morning and set up the week for success, I start on Sunday night. I write a list of things that I have to dominate on Monday morning to consider the day a success. Then I write a second list of things I have to dominate all week to consider the week a success.
My to-do list focuses on items that move the needle and have an impact. I only do the things in my zone of genius that no one else can do. I delegate everything else to my team, and they do a fantastic job. Every morning when I wake up, I only work off my domination list instead of scrolling through emails or social media, reading text messages, or browsing the internet. That helps me get productive and time-collapse the results I get in life. —Bedros Keuilian, founder of Fit Body Boot Camp, author of "Man Up," and host of "Empire Podcast Show"; read how Bedros built his dream life; connect with Bedros on Instagram, Facebook, and YouTube
4. Schedule your week on Sunday night.
Marina Mara, courtesy of The Oracles
My Monday morning is my Sunday evening. There's that cut-off point on a Sunday when you know the weekend is well and truly over. If you wait for Monday morning to prime your week, you've lost your productivity game!
Every Sunday, I invest one hour of my time scoping out my entire week. Meetings, flights, new clients, project completions, publicity deadlines, events, and the list goes on. It's the aerial snapshot that gives me full visibility of the week ahead, and rather wonderful sanity. Once I've established it, I allocate my to-do list and workflow throughout the days of the week, with pragmatic windows of time for each task or project. Come Monday morning, when everyone else is cursing their way to the office, I'm enjoying getting into a flow state, while sipping my latte and knowing that all that is left for me to do is execute. —Marina Mara, international media, brand, and reputation advisor; connect with Marina on LinkedIn and Instagram
5. Check your big goals and set intentions.
Matt Clark, courtesy of The Oracles
Each year, I map out what I want to accomplish and identify quarterly goals to get there. On Monday mornings, I write down three top intentions for the week that are in alignment with my quarterly goals. Limiting myself to three makes me think hard about what's most important. I also pick a personal development focus, like honing a talent from the StrengthsFinder test.
Because I already know my high-level goals, this alignment process takes less than 30 minutes after I've had my coffee and spent a few minutes stretching. Then I usually talk with my executive coach, who functions more like a self-development coach. This keeps me more grounded, more focused, and less stressed, and the businesses I'm involved in are doing better than ever. —Matt Clark, co-founder and chairman of Amazing.com and co-creator of Amazing Selling Machine; connect with Matt on Instagram
6. Get into the right mindset and visualize the week.
Dennis Najjar, courtesy of The Oracles
I begin my Monday mornings by visualizing the week ahead. I look over the calendar and picture what I'll be tackling, from my regular meetings to unique projects and events that require atypical planning. Each week, I take on a special project in addition to my routine objectives; so I outline the goals and priorities I plan to conquer.
I also take time to get into the right mindset before I get to my desk. I exercise before going to work, and while I'm doing so, I mull over ideas and projects, and even draft communication in my head. This dedicated time combines much-needed physical activity with clarity to think before anything can interrupt me at the office. I set my own expectations for the week and then navigate the expected and unexpected as they happen. —Dennis Najjar, co-founder of AccountingDepartment.com, a virtual accounting service for small businesses; connect with Dennis on LinkedIn
7. Brain-dump into a plan and follow a routine.
Tom Shieh, courtesy of The Oracles
On Sunday evenings, I visualize the week so I can hit the ground running. I brain-dump all my thoughts, to-dos, worries, and loose ends in a list. Then I load the top priorities into tools like Asana, Slack, and Trello to communicate with my team.
On a typical Monday, I wake up at 5 a.m. to pray, reflect, meditate, read, and work out for an hour. Then I meet with my sales team before our all-staff meeting at 7. After that, I walk my kids to school and spend an hour with my wife. At 9:30, I meet with my assistant to map out the week. Review your plan with your team and empower them early in the week and regularly throughout. Each hour you invest with them can create exponential productivity. —Tom Shieh, CEO of Crimcheck; advisory board member to Defy Ventures; advisor to Tiny Devotions; connect with Tom on Facebook
8. Carve out time for business development and breathwork.
Nafise Nina Hodjat, courtesy of The Oracles
I used to prepare for the week on Sunday evenings. But my friend Stephen Fairley, the founder and CEO of The Rainmaker Institute, suggested an alternative that has worked wonders and helps free up mental space to enjoy the weekend.
He suggests carving out two to four hours a week for business development. Friday afternoons are a great time to do that in preparation for the upcoming week, especially for those who enjoy working on weekends. Nowadays, I spend my Friday afternoons preparing for the weekend and the following week. Then I start Monday mornings the same way I start every day: with simple breathwork meditation. —Nafisé Nina Hodjat, founder and managing attorney of The SLS Firm
9. Find what works for you.
Craig Handley, courtesy of The Oracles
I have an unconventional answer. I don't like early mornings; I'm a night owl. I have ADD and work better with music blasting. My work is my passion, so I want to be productive every day, not just Monday through Friday. Find out what works for you, make a plan, and do it.
For me, that's constantly reviewing my list of work and personal projects, goals, and life dreams. I like to knock out easier tasks one after the other, then push forward on my bigger "journey projects," like finding time to write or work on creative projects. In a successful week, I accomplish most of my easier tasks so I have time to enjoy my journey projects and research and develop ideas. — Craig Handley, co-founder of ListenTrust and author of "Hired to Quit, Inspired to Stay"; read more about Handley: Why These Founders Train Their Employees to Quit
---
Want to share your insights in a future article? Join The Oracles, a mastermind group of the world's leading entrepreneurs who share their success strategies to help others grow their businesses and build better lives. Apply here.
For more free business insider advice, follow The Oracles on Facebook, Twitter, and LinkedIn.