How to Use Flex Time to Reduce Summer Child Care Costs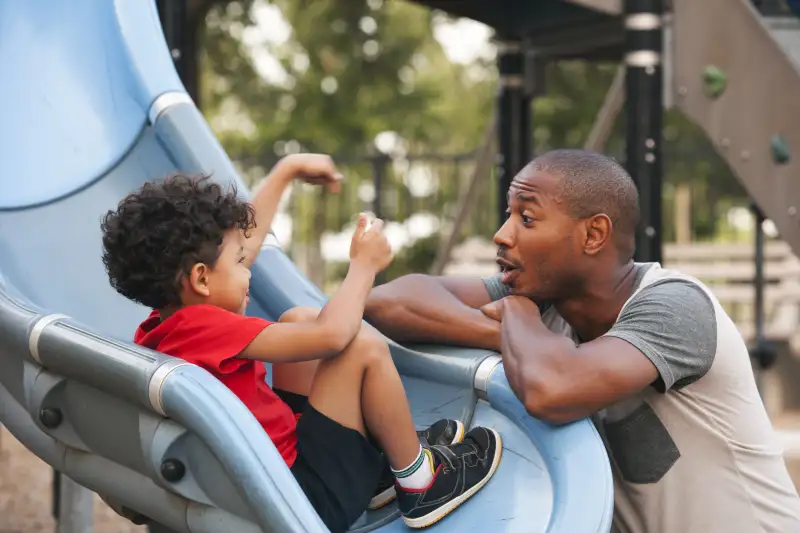 Terry Vine/J Patrick Lane—Getty Images/Blend Images RM
Finding childcare during the summer isn't usually a problem for families with little ones, unless you want to save money.
The average family can spend thousands of dollars during the summer months alone on childcare—ouch!—not to mention the headache that it is to find an accredited childcare facility that will fit all your standards and needs.
My husband and I have found that the easiest way for us to save money on care for our two-year-old son during the summer is to toggle our work schedules so that one of us can always stay home with our little guy.
While my husband works during the day—he's a lab courier—I stay home with our son and work on my freelance website design projects. When he gets home, I head to work at night at my part-time job at a movie theater. A little hectic at times, yes, but it works. And best of all, it's free!
During the day, I have a play area set up in my office so that I can watch my son while I do my freelance design work. I bring out all his fun and educational toys so that he can play while I work. Often, he'll occupy himself for about 30 minutes before he needs attention. When I take breaks, we go for walks to the park or play outside on his play set. When we get back inside, he often goes down for a nap and I can get a little bit of rest in, too.
Luckily, my husband and I have schedules that allow us to both care for our son. If you and your spouse already have jobs that offer different work start times or one that allows you to work double shifts to free up time later in the week, consider arranging your schedules so that you work at opposite times.
If you're at a more standard 9-5 job, consider negotiating for a more flexible work schedule that allows you or your spouse to cover child care by each working from home for one or two days a week. That way, even if you still do need to arrange for other child care, you'll have reduced your costs by upwards of 20%. Your boss may be more amenable if the company or department already has systems in place to allow for telecommuting. But don't make it about what's better for you or your family; explain to your employer why this will benefit them. You could point out that by cutting down on commuting time, you'll have two more useful hours to work, or that you'll have fewer office interruptions to your workflow. For help making a convincing argument, ask around to see if other employees at your job have these schedules and how they made their case.
If a more flexible work schedule is off the table, you and your partner could always turn to your vacation time. While it sucks to have to use a holiday for babysitting, you and your spouse could each take your two weeks at different times and cover child care for a month, or stagger the days off and use them once or twice a week to cut down costs over the entire duration of the summer.
Before you go rearranging your whole summer, know that this method of cost-cutting can be hard on the body. The downside to staying home while working at night is my sleep schedule can be funky at times. Luckily, I don't work at the theater every night of the week, so I do get to rest—though on the days that I do double duty, I am often pooped!
__________
Christy Meares is the mom of a two year old and the creator of Frugalful, a money-saving blog for women living the pretty life on a budget. She lives in Wilmington, N.C.
Check out our other posts on affordable last-minute child care:
TUESDAY: Bartering with family and friends