Meet Cooper Hefner, the 26-Year-Old Heir to the Playboy Empire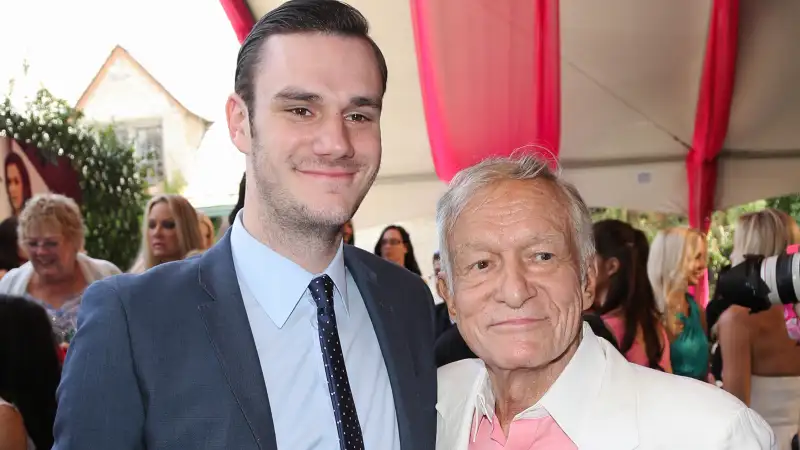 Paul Archuleta—FilmMagic/Getty Images
Cooper Hefner, the youngest of Hugh Hefner's children and current Chief Creative Officer at Playboy Enterprises, is set to fill the velvet slippers left behind by his father, who passed away Wednesday at 91.
Cooper, 26, is expected to inherit millions from Hefner's estimated $43 million estate. The fortune is promised to "his (four) children, the University of Southern California film school and a variety of charities," US Weekly reported in 2013, which also said Hefner had signed an "ironclad prenup" with his third wife Crystal, a 31-year-old former Playmate.
On Wednesday, he shared a collage of photos of the father-son duo with a moving tribute that honored his father's legacy as a "media and cultural pioneer."
"My father lived an exceptional and impactful life as a media and cultural pioneer and a leading voice behind some of the most significant social and cultural movements of our time in advocating free speech, civil rights and sexual freedom," Cooper said in a statement. "He defined a lifestyle and ethos that lie at the heart of the Playboy brand, one of the most recognizable and enduring in history. He will be greatly missed by many, including his wife Crystal, my sister Christie and my brothers David and Marston, and all of us at Playboy Enterprises."
Aside from inheriting his father's estate, Cooper also takes after Hugh's liberal tendencies — though he is more subdued in his personal life despite having grown up in the Playboy Mansion. In fact, Cooper got engaged back in 2015, when he was 23 years old, to actress Scarlett Byrne, who is well known for her roles in the Harry Potter franchise as well as CW's The Vampire Diaries.
Cooper maintains an active Instagram account that portrays his lavish lifestyle — frequently posting photos of private jets, fast cars, and exotic cities he's visited.
Cooper hasn't been timid about sharing his political leanings. "I'm a liberal, and I have a real issue with the conservative side feeling like they own the military," he told the Hollywood Reporter, adding that he currently serves in the California State Military Reserve.
He's also been outspoken about his disdain for President Donald Trump. "We don't respect the guy," he told the magazine. "There's a personal embarrassment because Trump is somebody who has been on our cover."
And like his father, Cooper is not one to shy away from controversies. Earlier this year, he backed the decision to bring back nudity to the pages of Playboy magazine after it was eliminated in 2015. "One of my first priorities was to reinstate the nudity . . . [so] that what Dad built was authentic," he told the New York Post in April.