I Just Moved from New York to LA — Here's What's Actually Cheaper in Each City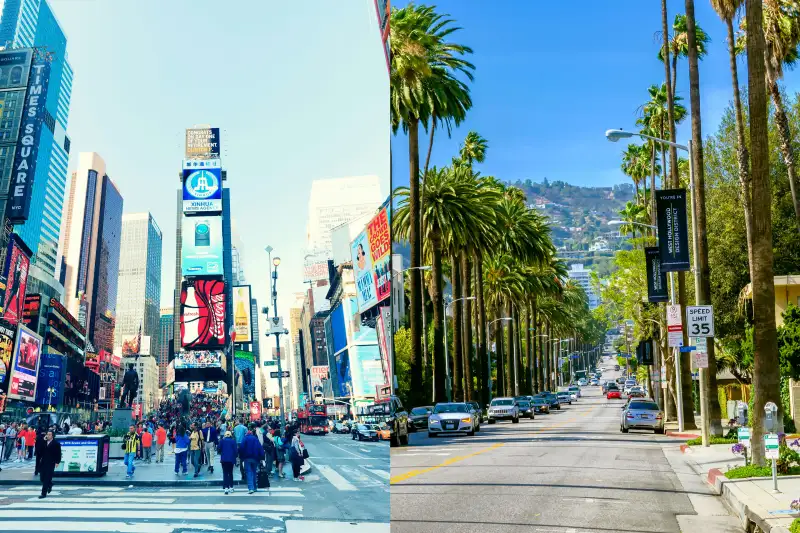 I didn't move to Los Angeles looking for a value.
I turned 30 and, after eight years in New York, was drawn to change mostly out of nostalgia and a desire for a higher quality of life. Nostalgia because my dad is from Van Nuys in the San Fernando Valley and I spent magical summers there growing up, and quality of life because, well, like everyone loves to point out: it's 70 degrees, dry, and sunny throughout most of the year.
But after seven months here I ended up discovering, and loving, how much cheaper certain things are in the City of Angels — the second largest city in the U.S. — that you might not expect. There's one big caveat, of course, because this is still a very expensive place to live. Some of the prices I pay might give you sticker shock (like if, for instance, a $10 cocktail seems outrageous). But one thing is for sure: I no longer feel as cramped and penny-pinching as I did throughout my 20s living in Brooklyn.
Here's what I've found is more modestly priced in LA, plus a few surprises about what isn't.
What's cheaper in Los Angeles
Living space
It's not so much that living in LA is cheaper than in New York — it's more that there is just a lot more space for the same amount of money. Like San Francisco, New York is notorious for its skyrocketing rents, and in much of Manhattan and the more in-demand areas of Brooklyn, these rents are often for pint-sized apartments.
Plus, there's the outdoor space: I've already met more people my age in LA who have a little green oasis than I ever knew in New York. I pay $200 less every month for a studio apartment in a desirable part of West LA than I did for a studio in Bushwick in Brooklyn. But my new apartment is one and a half times the size of my previous place. There really is no contest here.
Groceries
People in New York shop at bodegas. A lot. They're on just about every other block, open at all hours, and somehow stock anything you might need at midnight — but you also pay an absurd price for something as simple as a small package of sugar. It's a gift in the city if you live close to one of the scant Trader Joe's or even a supermarket like Gristedes or Key Food, and they tend to be much smaller and pricier than in other locations, likely owing to crazy-making rent prices.
In LA, I live a few blocks from one of many Trader Joe's, and I'm within walking distance of another TJ's, a Whole Foods market, and a jumbo Ralphs — where you can find anything you want for a good value.
Booze
You'll find yourself paying quite a bit less for booze of all sorts in LA. It helps that in California, supermarkets can sell not just beer but also wine and hard liquor, whereas in New York all the liquor stores have a stronghold on the latter due to regulation. I can buy a six-pack of California IPA for less than $10 in LA, compared to $13 or $14 for the equivalent East Coast variation in New York stores (add a few bucks more if you're buying in Manhattan). Now I snatch up Bulleit rye whiskey for $23, while I recall I spent north of $30 in the city that hardly sleeps (and likes whiskey a lot) for the same.
Cable, internet, and TV
Many people in New York tend to ditch cable TV entirely, which makes sense: After all, the average person who's not a screen obsessive like me is easily satisfied by one or two streaming subscriptions. Plus, cable in New York is particularly exorbitant. I've been a longtime Spectrum customer in both cities. Before leaving Brooklyn, I paid $162.61 per month for a Triple Play bundle including internet, TV, and landline phone service (because I like landlines and apparently live in 1997). I still have Triple Play here, but now it costs $119.17⁠ for the same services — a difference of over $43 every month.
Public transit
Sure, Angelenos sometimes do a double take when you tell them that you took the subway. Public transit is still much more limited and less accessible here than it is in the five boroughs, and people really love their cars. That said, if you do happen to have good access to the LA metro and other public transit services, you're getting a pretty good deal.
I pay $1.75 for one ride on the train using my TAP card, which is also applicable for buses. You'll currently pay $2.75, a whole dollar more, on NYC's MTA for a single ride. Many regular riders in the city opt for an unlimited monthly pass, which isn't exactly affordable at $127 for 30 days. Even if you ride twice every day, you're still paying a little more than $2 per trip.
What's the same or more expensive
Dining and drinking out
Given the lower rents in LA, you might expect to also pay less for a nice meal or a well-made cocktail around the city. That's largely untrue. I've found people not only love an overpriced avocado toast prepared for them here, but they will shell out $14 for a cocktail without blinking.
The restaurant and bar scene in New York is arguably without equal in the U.S., and as a result, you can get a fabulous plate of pasta in the East Village for a cool $16 or a sterling Old Fashioned for $10 at some more affordable watering holes. (Even dive bars in Manhattan and Brooklyn frequently outpace West Coast competitors in the mixology game.)
All other transportation
I take the metro in LA much more often than most people I know, thanks to the fact that I'm a 10-minute walk from a station and still don't have a car. (I'm saving up, with mixed success, for that down payment.) I also work from home and am happy spending time on the Westside around me. But if you commute every day in a car, you're looking at steep costs for gas, insurance, and of course car payments⁠ — and that doesn't even take into account the years LA traffic takes off your lifespan.
When I do have to trek somewhere in LA I can't easily get to via walking, train, bus, or a shared bike or scooter, I take a Lyft or Uber. And while those will take you farther for less money than in New York, I have seen my bills on those apps go up given how massive, sprawling, and car-clogged this city is. My $25.96 bill to go from Santa Monica to Hollywood in rush-hour traffic in a Lyft is not exactly most people's idea of affordable.
Laundromats
This is a weirdly specific one, but (for better or worse) it's central to my life. Though there is an in-building washer/dryer setup in my current apartment, which I only had briefly in one New York pad over eight years, I hardly use it. Years ago, I became addicted to wash-and-fold service for the blissful convenience and time-saving benefit.
I still pay for that most of the time in LA, but it's far pricier than it was at the laundromats I went to in NYC. Where I would've paid $20 or $30 for an extra-large load, now I find myself paying $40 or $50, which adds up. There also seem to be many more laundromats in New York, undoubtedly since so many people there aren't able to do laundry in their unit or even building. Getting laundry done for you is, naturally, a luxury most people can discard, and which I probably should. Once I nail my folding method.