IHOP's Free Pancake Day Is Today! Here's How to Get Your Stack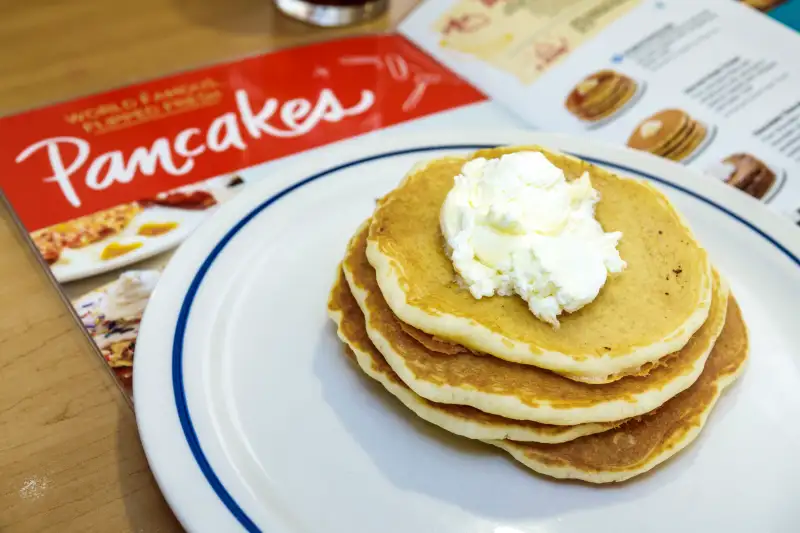 Jeff Greenberg—UIG via Getty Images
We hope you didn't already have breakfast — because IHOP has free pancakes today for everyone.
Tuesday, March 12, is National Pancake Day 2019 at IHOP. On this very special food holiday — one of literally hundreds that are made up randomly and celebrated around the calendar — you can get a free short stack of IHOP pancakes, with no purchase required.
You can get free IHOP pancakes any time from 7 a.m. to 7 p.m. on March 12, at IHOP locations around the country.
While IHOP is giving away free pancakes today to all customers, the restaurant chain does ask that you consider making a donation to charities that help children battling life-threatening illnesses. IHOP will be collecting donations all day while giving out free pancakes.
What's more, if you love food freebies and deals, get ready for National Pi Day, a "holiday" celebrated every March 14 (or 3.14, get it?) when there are special promotions and giveaways. We'll publish a roundup of the best National Pi Day deals soon, including details on where to get free pizza, free pie, and other specials.
Yet another great freebie day on the horizon is coming up on March 20, 2019. That's the first day of spring, and it's become a traditional day for free food deals, including Free Cone Day at Dairy Queen and free Italian ice at Rita's.