This Is How Much It Costs to Attend the Indy 500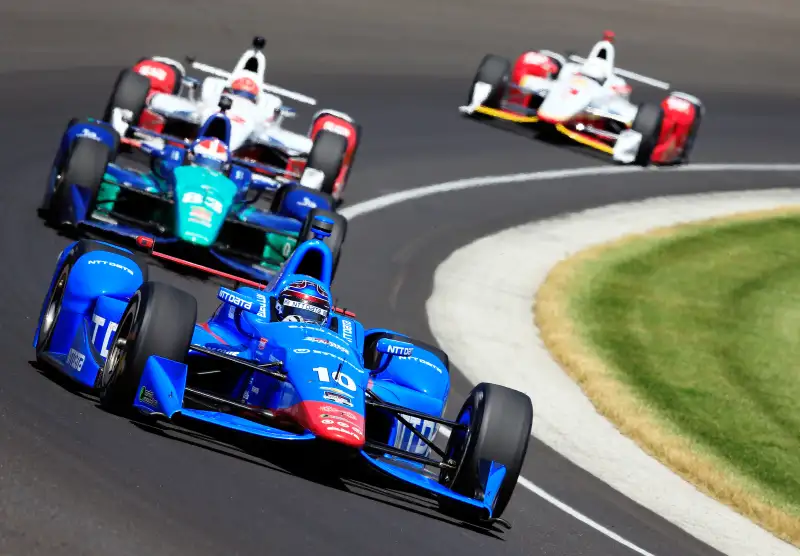 Jamie Squire—Getty Images
This weekend, thousands of fans will flock to Indianapolis for one of auto racing's premiere events, the Indy 500. Unfortunately for speedway fanatics, attending the big race doesn't come cheap.
It's the 100th running of the event, and tickets, unsurprisingly, are already sold out for the main event, where the 32-year-old champion of the Grand Prix of Indianapolis, Simon Pagenaud, is the heavy favorite to take home the title. If you already planned to attend, or if you're just a curious auto enthusiast, here's how much it would cost to attend the racing extravaganza:
Ticket Costs
A general admission ticket to the event will run you $40. There are also events leading up to the big race that you might be interested in checking out, like Miller Light Carb Day on Friday ($30), practice sessions ($15) and qualifying rounds ($20).
Flights
Chances are, you don't live in the Indianapolis metro area, so you'll likely have to board on airplane to see the big event. If you were to book a flight Friday for Sunday's event, it would run you over $900 on average, depending on where you're flying from, according to searches on Kayak.com. Even if you booked several weeks ago, the average attendee would have paid about $785 on average, according to Expedia searches conducted by GoBankingRates.com.
Hotel
If you're from out of town, you'll also have to book a hotel—and you can bet on higher-than-average rates tailored just for the big event. The average price per night of a hotel within driving distance of the speedway will run you about $353 per night, and that average cost only increases if you also plan to stay over Friday night as well.
Read Next: How to Watch the Indy 500 Without Cable
Camping
Camping is undeniably the cheaper option for race attendees: A 4-day pass will run you $70. For RV drivers, the cheapest price for a vehicle without electricity is $150.
Parking
If you brought your car, plan to factor in at least $40 to park outside the speedway. That cost only increases as you get closer to the track: Parking near the front row at Turn 3, for instance, costs $125.
Food
Food costs for the weekend could run you as low as $108, if you and a traveling companion ate three meals per day at an inexpensive restaurant in the Indianapolis area, according to data from Numbeo. The costs, however, increase if you're buying food and alcohol at the track, or springing for pricier meals out.
Extras
Don't forget to bring some spending money for incidentals at the speedway, like taking a tour ($30 for adults) or checking out the on-site golf course ($500 per foursome). Let's conservatively assume you'll spend about $100 inside on souvenirs and activities.
Total: $1,536