'Life in Those Squares Is Not Actually Real.' Instagram Moms Are on a Quest for Wealth and Fame — But at What Cost?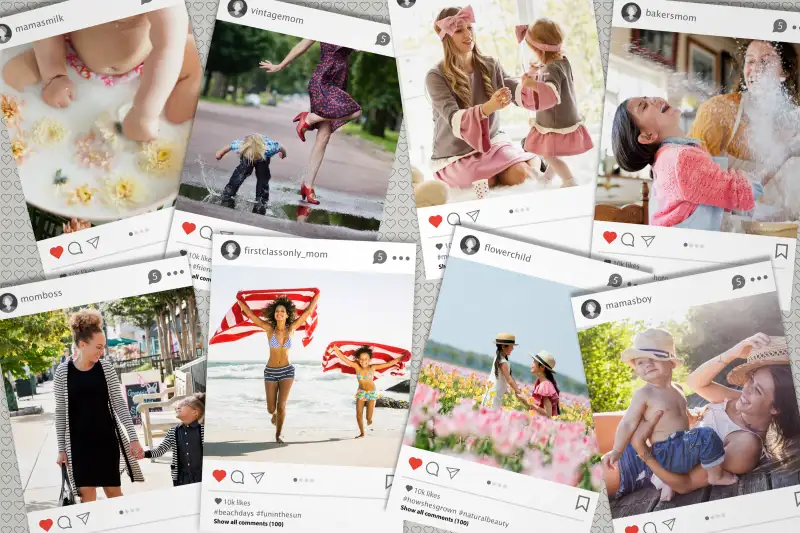 Photo illustration for Money by Sarina Finkelstein; Shutterstock (2); Getty Images (7)
In a bathtub in Sydney, Australia, a four-month-old baby named August floats among freshly cut flowers. His mom, a radiant, sun-kissed blonde, cradles him from the other end of the tub. She immortalizes the scene with an Instagram hashtag: #momentsiwanttoremember.
About 8,000 miles away, in Heber City, Utah, a mother and daughter make cupcakes in matching peach-colored dresses. The daughter, Ellie, is also wearing a tiny apron, but she won't need it. Like everything else in this aesthetically flawless #kitchen (white countertops; exotic rugs; stainless steel appliances), Ellie never gets dirty.
In Arkansas, a woman stands between her four kids on their front porch, all holding hands and dressed like they're posing for a Lands' End catalog. And over in Eugene, Oregon, another mom holds her daughter to her chest under a flowering tree.
This the world of Instagram parenting — an alternate universe where milk never spills and cherry blossoms are always in bloom. Where new moms wear a full face of makeup to soak in the tub, breastfeed, and change diapers.
It's all fake, of course — a consequence of highly-curated "influencer" culture run amok. But influencers aren't the only ones playing along.
If you grew up pre-social media, you may have already marveled at how different Instagram childhoods are from the photos hanging in your childhood home. Documenting a kid's formative years isn't a casual activity for scrapbooks and baby albums anymore — now it's a daily (if not hourly) routine that takes ample time, money, and emotional bandwidth.
Suddenly, it's normal to choose your family vacation based on how many photo ops you can squeeze out of it. Or to pay $350 an hour for a private photographer to catch every minute of your #TurksandCaicos #beachtime #fun. "Clickin Moms," an online DIY community where parents pay for access to photography tutorials, brings in more than $4.7 million in annual revenue, the research site Owler estimates. (Plow through some favorite mommy hashtags #ohheymama, #minime, #familyovereverything, #childhoodunplugged #motherhoodunplugged, #documentingmotherhood—to see this all play out in real time).
People are having fewer babies, but they're spending way more on their clothes — retail growth of childrenswear is outpacing both womens and menswear, with designer kids outfits worth about $6 billion alone, according to the market research firm Euromonitor.
Because it's not enough to gestate and nurture life anymore. Now them babies gotta flex.
"In the world of Instagram and social media, your kids are now part of your personal brand," Sylvana Ward Durrett, a former Vogue director and co-founder of Maisonette told Fashionista last year.
Insta parents belong to one of three camps: Mommy influencers, who get paid to post pictures of their kids with brand name toys, clothes, and other products; wannabe mommy influencers, who hope to get paid, eventually; and regular moms, who don't want to monetize their children, but do get a thrill from all the sweet, sweet "likes" they generate.
Top Instagramers can make tens of thousands of dollars or more per sponsored post, and Insta moms are no different. Like "travel couples" who get paid to pose in boutique hotels and next to bottles of CÎROC, enterprising moms (and a few dads) can make an entire career out of name-dropping Dove in a post about bath time — or throwing a line about probiotics into a breastfeeding tangent.
The influencer market is crowded, and it's tough to compete with popular moms like Acacia Kersey (2.1 million followers) and Amber Fillerup Clark (1.4 million). So the reality is, most Insta parents won't ever snag a lucrative brand deal.
But that won't stop them from trying.
"There's a massive ecosystem of moms who want an audience," says Tally Abecassis, a filmmaker and podcast host. "So you see a huge amount of people replicating what they see influencers do."
Abecassis' own Instagram is @VeganSmoothieMama, a satirical Insta mom account where she posts ranch dressing "face mask" selfies, and pictures of her sons scowling through craft projects. A felt message board, much like the ones influencers use for inspirational quotes, makes frequent appearances (hers usually says, "this is not actually fun").
"There's a lot of 'sameness' out there," she says. "It's so performative. Anyone who has tried to get good pictures of their kids knows how hard it is to get good pictures of their kids."
It's a precarious lifestyle, too. Many go to great lengths to grow their audiences — and to appease the followers they already have.
Emili, the Utah cupcake mom, posts about baking regularly, but her 41,000 followers never see any of the desserts she claims to make. Even more suspect: The gorgeous A frame home in her photos looks an awful lot like a nearby $239/night Airbnb (the owner, who is not Emili, says the home is "often rented out for photoshoots.")
Is this woman's whole Insta-life a charade? If so, it wouldn't be the first: in recent months, influencers have been caught staging things like brand deals and exotic vacations. Others with expensive pseudo-lifestyles have ended up in financial ruin.
Now, some of their behavior is trickling down to normal parents. After all, It's not hard to fake the perfect home life — with a digital camera, a good lighting setup, and some PhotoShop tutorials, pretty much anyone can do it.
"Life in those squares is not actually real," says Patrice Poltzer, a video media consultant based in New York.
A mother of two, Poltzer recently wrote an essay for PopSugar about the pressure she's felt to emulate the Insta mom lifestyle. She never wanted to be an influencer, but she's still wasted precious hours obsessing over filters and thumbing through hashtags. And now she's reevaluating.
"Brands want their products in front of certain eyes, and now we're all forced to play in that arena," she says. "It's strange, but it's becoming the norm."
What happens when the Insta kid generation grows up and Googles itself? How will they feel knowing their private moments are public record? Or that their parents styled their childhood photos with the subtlety of an Anne Geddes poster — just to woo corporate sponsors?
It's hard to say. Pamela Rutledge, a psychologist and director of the Media Psychology Research Center, says we could soon see an upsurge of people who, like child stars, have trouble adjusting to an adulthood that doesn't involve being regularly accosted by cameras.
But also: maybe not.
"This is not just happening to a few, its happening to many," she says. "When things become normalized, the impact lessens."