Jackson Hewitt Tax Software Review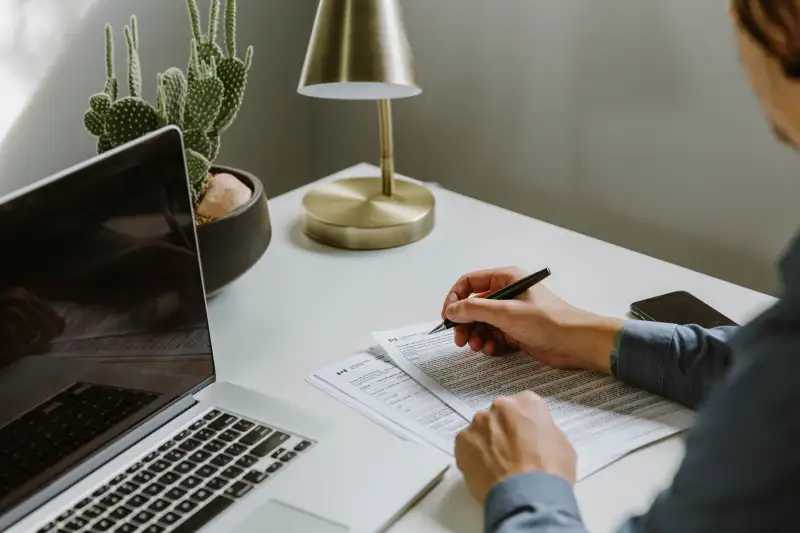 Filing your tax returns every year can be stressful, especially if you're a small business owner or freelancer with customers in multiple states. If you want to simplify the process and eliminate confusion, it helps to work with the best tax software and online tax preparation tools.
We reviewed Jackson Hewitt's tax software to see how it stands up to the competition. Read on to discover if it's the right fit for you.
Best for unlimited state returns
Whether you're filing simple returns in a single state or highly complex taxes in dozens of states, Jackson Hewitt charges the same reasonable $25 flat-rate fee. Of course, low prices mean nothing if you're not getting a quality product. Fortunately, Jackson Hewitt delivers.
Its portal helps you navigate state and federal tax returns and gives you access to expert tax professionals when required. For added peace of mind, Jackson Hewitt offers a maximum refund guarantee or your money back (plus $100). Taking these combined features into account, we've rated Jackson Hewitt as the best tax software to use for unlimited state returns.
Jackson Hewitt Tax Software Pros and Cons
Pros
Several filing options
Multi-state filing for only $25
Tax professional assistance available
Cons
No free tax filing
No form importing
Pros explained
Several filing options
Jackson Hewitt offers several filing options, so you can choose the method you're most comfortable with:
In-person: Meet with an expert at a local Jackson Hewitt location (or Walmart) to walk through the entire process.
Drop-off: Drop off your tax documents at a participating location and let a professional handle the rest.
Online: Complete your state and federal returns from your computer or smartphone.
All three filing methods come with a guaranteed maximum refund or your money back, plus $100.
Multi-state filing for only $25
Its major selling point, aimed at individuals who either do business in multiple states or earn income in different parts of the country, is its flat-rate filing fee for online returns. Regardless of the number of states in which you file, you pay $25. You may choose to purchase add-ons (like eCollect or Protection Plus), in which case your total cost will be higher, but these services are entirely optional.
Tax professional assistance available
If you find it hard to wrap your head around filing your tax returns or don't know what you need to file taxes, the portal gives you access to tax professionals who can lend a hand. Simply book an appointment using the Jackson Hewitt tax software website and bring your documents with you, and the tax professional in your area will help you with your tax questions and answers.
The company's tax pro can also do everything for you after you've put together your tax documents via the drop-and-go option. Simply drop off your completed documents and let them do the rest.
Cons explained
No free tax filing
If you don't have complex tax work that needs expert help, and all you need to file are simple income taxes, it doesn't justify the $25 fee. Some competitors offer free filing for such simple tasks, which makes Jackson Hewitt a less desirable choice.
No form importing
One of the biggest downsides of the Jackson Hewitt tax software is the lack of an upload feature. You can download the tax forms to fill them in, but you cannot upload them and other tax documents to the site when you're ready to file.
Jackson Hewitt Tax Software Offerings
Jackson Hewitt's tax services let you file your taxes in whichever way is most convenient for you. In addition to tax filing, it also offers tax resolution services if you need help paying your back taxes.
Online filing
One of the more popular options is to file online. Using Jackson Hewitt's tax software, you complete the entire tax filing process yourself, from calculating your returns to checking for errors. This option comes with a tax filing guide that helps you if you get stuck, and you can connect with live chat support if necessary.
In-person filing
Its in-person filing services are optimal if you're unsure how to proceed with your tax filing needs and want a tax professional to guide you. You'll need to pay a tax preparation service fee that will be determined once you meet with a Jackson Hewitt tax professional in person, and the price will depend upon your tax situation. At certain locations, new clients can get 10% off this fee.
Drop off and go
The drop-off option allows you to do your returns yourself with forms you can download from Jackson Hewitt's website. Once you've completed your paperwork, bring these documents to a participating office, and Jackson Hewitt's experts will take care of the rest. Even though you're not sitting down with a tax professional, you don't get a reduced rate because you're still assigned an expert who will manage your taxes for you. The only difference between this filing method and the in-person method is how much time you'll spend in an office.
Jackson Hewitt Tax Software Pricing
Jackson Hewitt's pricing varies depending on which tax filing option you choose. If you decide to DIY your returns and use the online portal, you'll only need to pay $25. If you decide to work with a tax professional, you'll pay more. Prices for both the in-person filing and drop-off-and-go options start at $65 and can go as high as $245, depending on the complexity of your case and the amount of work the tax professional needs to put in.
Jackson Hewitt Tax Software Financial Stability
While the company declared bankruptcy in 2011, it was acquired by Corsair Capital in 2018 from H.I.G. Bayside Capital, which has given the company a new lease on life. Under the umbrella of this company, Jackson Hewitt enjoys financial stability with its parent company's $9.11 billion in assets under management.
Jackson Hewitt Tax Software Accessibility
Jackson Hewitt's tax software can be easily accessed via the company website. You can estimate your refund, check your refund status, schedule appointments and file your tax returns via this online portal. The company used to have a mobile app, but after it changed hands, the app was discontinued and there's no news of it being reactivated.
Availability
Jackson Hewitt serves all 50 states in the U.S., with over 6,000 locations available for both in-person and drop-off services. Three thousand of these locations can be found in Walmart stores nationwide.
Contact Information
You can get in touch with Jackson Hewitt customer service via these channels:
Over the phone: Call 1-800-234-1040 to speak to a representative. This service is available Monday through Friday from 8 a.m. to 12 a.m. ET and Saturday and Sunday from 10 a.m. to 7 a.m. ET.
Live chat: Chat options can be found on the site's contact page and are available at the same times as the phone hotline.
In person: You can also contact the company in person, whether in a standalone Jackson Hewitt office or within a participating Walmart. Locate the one nearest you by visiting the website and entering your address.
User experience
The company's website is easy to navigate and provides the information you need for all your tax filing requirements. Signing up is also easy, as is logging in to check your filing status.
As for the software itself, while it is simple and uncluttered, it lags behind some competitors in terms of features and form import functionality. Users also noted that it's not as user-friendly as competitors' software, and there's no option to shift from DIY to working with a tax pro.
Jackson Hewitt Tax Software Customer Satisfaction
Customer satisfaction for this service is low, with ratings well below the three-star mark on many review sites. On the Better Business Bureau, Jackson Hewitt Tax scored 1.43 out of 5 stars after averaging more than 100 customer reviews. Of the 66 users who left feedback, only two customers gave Jackson Hewitt either five stars or a single star.
Jackson Hewitt Tax Software FAQ
Who is Jackson Hewitt tax software best for?
Jackson Hewitt's wide range of filing options makes it ideal for most individuals. If you plan to file multiple state tax returns, its online filing offering is particularly useful. If you have a very straightforward tax situation and are only planning to file in a single state, you could explore other free options.
Does Jackson Hewitt have a mobile app for tax filing?
The company used to have a mobile app, but after it changed hands in 2018, the app was discontinued. There's no word on whether it will be reactivated.
Does Jackson Hewitt have any additional tax services or features?
Aside from the three tax filing options stated above, Jackson Hewitt also has tax calculators, refund tracking and other tax help pages you can refer to when you need information on these. It also has a refund advance loan that you can use to get fast money when you need it, with the payment deducted from your upcoming refund without interest or loan fees.
How we evaluated Jackson Hewitt Tax Software
To evaluate Jackson Hewitt tax software, we considered the following factors:
Cost
Ease of use/User experience
Filing options available
Financial stability
Availability
Customer reviews
Third-party ratings
Summary of Money's Jackson Hewitt Tax Software Review
Jackson Hewitt's online tax software is a great, budget-friendly choice if you're a business owner or professional with tax filings in multiple states. Its in-person services and drop-off are also helpful if your tax needs are more complicated, though you'll pay more for expert advice.
If you have a simpler tax return, there are other free options than Jackson Hewitt. For simple filing needs, you can always find similar providers that let you file your returns for $0 (instead of $25).
For assisted filing, the cost for the service can be steep, and it's up to you to determine if the price is worth splurging on for your tax issues or if you're better off working with another tax professional not affiliated with the company.