This Workplace Habit Helped James Comey Write His Book. Career Experts Say You Should Adopt It, Too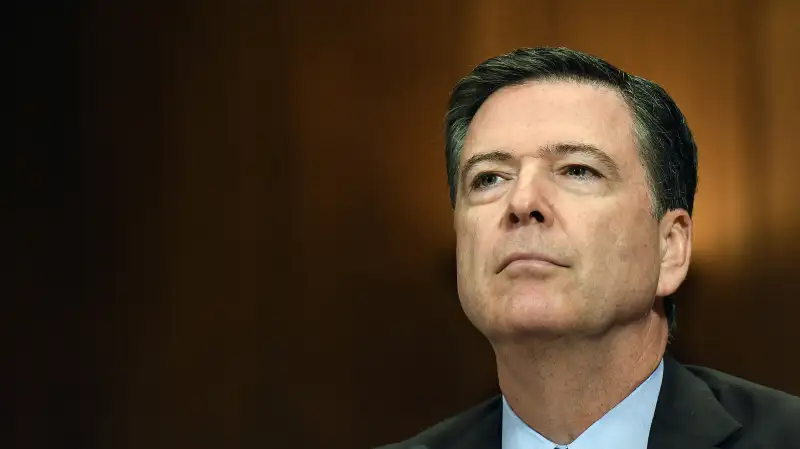 The Washington Post—Getty Images
Throughout his tenure in the federal government, former FBI Director James Comey was widely recognized as an experienced prosecutor and man of the law. He was also known as a prolific note-taker.
That's perhaps because he had to be. In his dealings with presidential administrations (and particularly with President Donald Trump), Comey's note-taking of key events and interactions proved to be vital for his role. Indeed, his careful documentation of his meetings and interactions with Trump led to the explosive news back in May 2017 that Trump had asked Comey, who was still the FBI Director, to close the investigation into his former National Security Adviser Michael Flynn.
His notes and memos, however, have received scrutiny from the president. Trump has called Comey a "leaker" for sharing his memos with a friend who gave them to the media, and recently claimed they were "self serving and FAKE".
In the months since his dismissal from the FBI, Comey used these memos and notes to write A Higher Loyalty, a book that explores his years in government and, most intriguingly, details his experience with Trump. The book was so popular ahead of its release Tuesday that Comey's publishing company prepared 850,000 copies — and it shot up to one of the top spots on Amazon's bestseller list for all of 2018.
In an interview with ABC's George Stephanopoulos that aired Sunday night, Comey said he had to "remember exactly what was said" in his conversations with Trump. "It could be evidence of a crime," he added. "It was really important that it be well documented."
While not all workplace interactions match the level importance as those between Comey and Trump, employees can learn a thing or two from Comey's note-taking habits. Jotting down minutes during an important meeting, writing a detailed account of an interaction Comey-style or keeping a detailed file of your achievements (or failures) could benefit you in the workplace, career coaches and experts told Money.
Here's their advice.
With a fresh memory, take notes after or during a meeting or interaction
To ensure the notes are accurate, it's best to take them in real-time or immediately after an encounter, experts said. Our memories tend to embellish interactions or key moments, so creating a record is most accurate when the memory is still fresh, said Alexandra Levit, a careers consultant.
"By writing it down, you have a concrete record of what was said," Levit said. "It also gives more credibility when going to HR or going to someone about the meeting."
You should jot down an accurate portrayl of what happened in a meeting between you and your boss or you and another colleague to avoid a "he-said, she-said" scenario, Levit added.
Of course, taking the notes during the meeting or as an interaction is happening could make them more accurate. If you're someone who often takes notes, experts said it wouldn't be unusual for you to whip out a notepad during a meeting.
And in the current #MeToo era, having notes from the event could be helpful, said Mikaela Kiner, a career coach and founder and CEO of uniquelyHR, a team of HR experts.
"A lot of people wait to share those concerns. It's human nature to wait. It's normal because there's a lot of risk," Kiner said. "Having real-time data of what you experienced can be extremely helpful."
Prepare to be questioned
If you're taking meticulous notes in an attempt to go to Human Resources for an issue or log instances of disruptive behavior, prepare to be questioned.
That's why accuracy is so essential in these cases, experts said. One way to ensure accuracy is to send back minutes or impressions from a recent meeting to those involved, said Phyllis Mufson, a Florida-based career coach. "Then it becomes more if you get a response from them," Mufson said. "It's more than a he-said, she-said or he-said, he-said."
Always carry a notebook
"I would never go to any meeting or any event without something to write on," said Jill Santopierto Panall, a chief consultant at 21Oak HR Consulting.
Always carrying a notebook could help in Comey-esque situations — or when inspiration strikes for a new project or goal. That being said, experts advised against using a phone to jot down notes in professional situations.
"People don't know what you're using your phone for," Levit said. "And it makes you look worse," she added.
Laptops are fine depending on the workplace environment, experts said, but writing in a notepad instead could still be less distracting.
But be cautious about recording
Have an audio recording of a conversation can certainly help prevent any kind of he-said, she-said pushback — but asking to tape a conversation in an everyday reaction is certainly not commonplace and generally frowned upon, experts said.
"That's going to make you look really weird and really suspicious," Levit said.
"In theory it's a really good idea," Levit added, "but I think the cons of that outweigh the pros."
In fact, attempting to record something without notifying all parties involved could get you into some legal trouble. Eleven states, including California, Florida and Connecticut, require each person participating in the conversation to consent to a recording.
Notes can help you identify what you need to focus on — or what you missed
In terms of your own career advancement, keeping careful notes in meetings or at the end of the day can help you identify priorities — or anything you missed. Panall said she typically takes detailed notes and later returns to them to star any important points to have "effective follow-ups with people."
These notes can also keep track of what topics you missed in a discussion or need clarification on, Mufson said. A recent client of hers referred to her notes for a project she was working on with a partner, and found there were several areas they hadn't clarified. "Writing helped them be thorough in their discussion and feel really grounded," Mufson said.
These priorities and necessary clarifications can help you compile a to-do list for the next day, Levit said. "You'll know immediately where you left off," she added.
Use notes to track your own progress to help advance your career
Keeping meticulous notes on your own accomplishments — or failures — can be vital for your career developments as well, experts said. Tracking your wins can help when it comes to asking for a raise or a promotion, since you can cite specific dates and projects that you are proud of with ease.
That's particularly important when performance reviews only come once a year, Kiner said. Those notes can "make the review process much easier," she said.
On the flip side, managers should take meticulous notes on their employee's performances and should keep track of any negative work. "It's helpful to have that record of how they've done, and when they got feedback or any support that you offered," Kiner said.