Jane Fonda Wore a $1.75 Million Necklace — Backwards — to the Emmys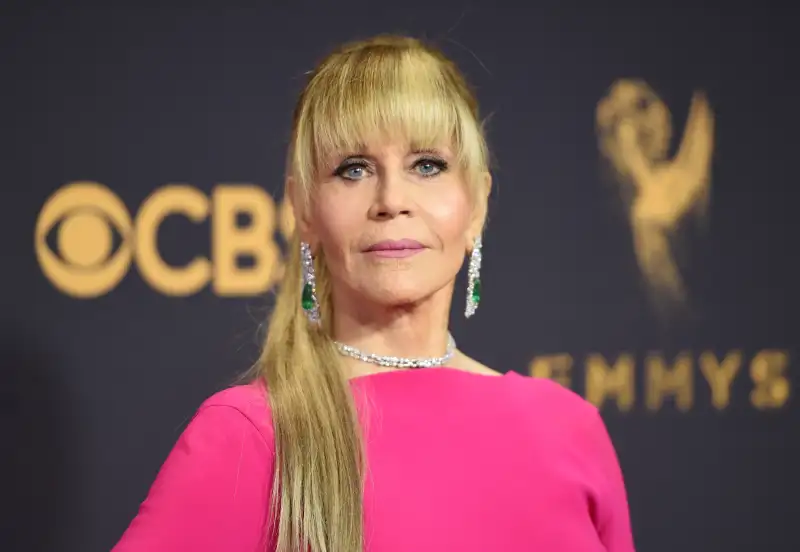 Legendary actress Jane Fonda turned heads at the 69th Annual Primetime Emmy Awards — not only for her defiant speech denouncing President Donald Trump with her 9 to 5 castmates, but also on the red carpet, where she donned a stunning gown and set of jewelry that was worth millions of dollars.
Fonda, 79, wore $2.4 million worth of emerald and diamond jewelry from Gismondi 1754. She wore a necklace, comprised of more than 152 carats of emerald and diamonds and worth $1.75 million on its own, draped down her back — a new trend that recently became popular. Her long, 40-carat diamond and emerald earrings were accentuated by her high ponytail, and the actress also wore a 10-carat emerald ring.
According to People, creating this set of jewelry took 600 hours and the handiwork of 10 artisans in Italy. "[They] arrived from Genoa today," Fonda told People. "My ancestors are from there."
The two-time Oscar winner and recipient of countless nominations and wins for the industry's top awards was nominated this year for Outstanding Lead Actress in a Comedy Series for her role on Netflix's Grace and Frankie.
Of course, Fonda likely did not pay for the expensive get-up on her own. Oftentimes at award shows, stars are dressed by designers and can be paid to wear their looks on the red carpet. Jewelers can use award shows to their advantage by accessorizing a big-name star (in this case, Fonda), making the brand more well-known. According to Bankrate.com, the process of dressing a star requires insurance preparation and trust that the celebrity won't damage or lose the expensive accessories.
While Fonda did not win for her starring role on Grace and Frankie, the actress was featured in one of the most memorable moments from the night, when she, Lily Tomlin and Dolly Parton — the dynamic trio that starred in 9 to 5 — joined forces to denounce Trump.
"In 1980, we refused to be controlled by a sexist, egotistical, lying, hypocritical bigot boss," said Fonda, referring to the boss the women get revenge on in 9 to 5. "And in 2017 we still refuse to be controlled by a sexist, egotistical, lying, hypocritical bigot boss," Tomlin finished.