The Bachelorette's Becca Kufrin Got a Massive Diamond Engagement Ring. Here's How Much Jewelry Experts Say It's Worth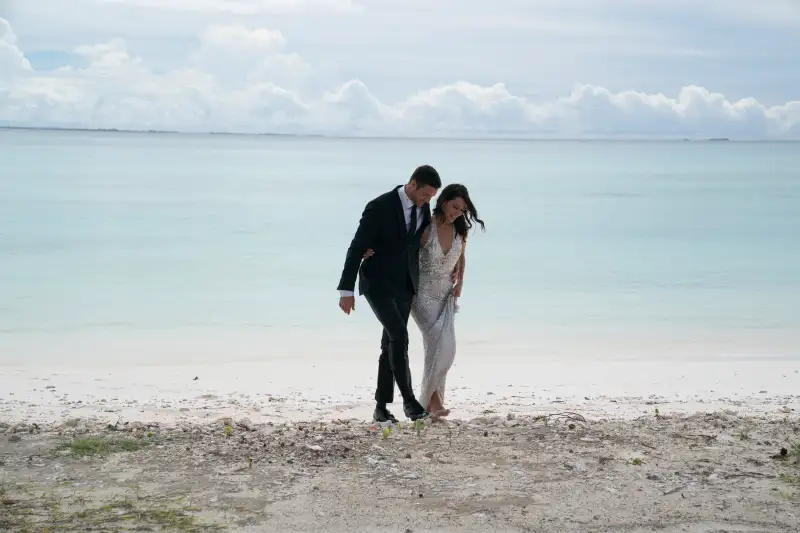 If you're hoping to save some money on your future engagement ring, perhaps a stint on ABC's Bachelor and Bachelorette franchise would help.
On the finale of the network's latest installment of The Bachelorette Monday night, this season's star, Becca Kufrin, received a gold Neil Lane engagement ring from her new fiancé, Garrett Yrigoyen. Jewlery experts estimate the ring is worth tens of thousands of dollars — even up to $67,000. (A representative for Neil Lane said the company cannot disclose the ring's price.)
The 18-karat gold ring includes a two-carat center diamond and two more diamonds surrounding it that are almost one carat each, according to the company's statement on the ring. The Neil Lane Bachelorette ring also includes accented diamonds along the band, experts who spoke with Money raved about the craftsmanship and style of the ring.
"The workmanship on this ring is fantastic," says Benjamin Khordipour, of the New York-based Estate Diamond Jewelry. "The attention to details is quite impressive."
"Nothing melds the worlds of class and creativity like a three stone oval cut ring," says Michael Fried, the CEO of Diamond Pro, a company that helps customers find the best diamonds for their money.
"And that is money well spent," he adds.
Kathryn Money of Brilliant Earth, an ethically sourced jewelry company, said the ring's oval-shaped diamonds, three-stone style, and yellow-gold like aligned with growing trends in the industry. The gold setting and three-stone ring reminds her of Meghan Markle's engagement ring.
Neil Lane, considered the official jeweler for The Bachelor franchise, serves as a destination for men in the franchise to consult with about the best engagement ring option when they are planning a proposal. Neil Lane helped both Yrigoyen and Blake Hortsmann, Kufrin's runner-up, pick out a ring. Yrigoyen's ring, Lane told People, was purposefully made to be "elegant, quite glamorous" and gold.
"It's a whole different concept — it has three oval stones, which helps celebrate both of them as a couple and the third diamond represents their future together," Lane told People.
While the details on who exactly pays for the ring on the Bachelor franchise are a bit murky, it's likely Yrigoyen didn't have to pay for it himself. According to Bachelor Nation, a new book from Los Angeles Times reporter Amy Kaufman, contestants don't get to keep the engagement ring unless they stay together for more than two years. ABC did not respond to a request for comment on how the rings are purchased (or not) on the show.