Here's How Much Colin Kaepernick Will Make in His Controversial New Ad Deal With Nike, According to Sports Experts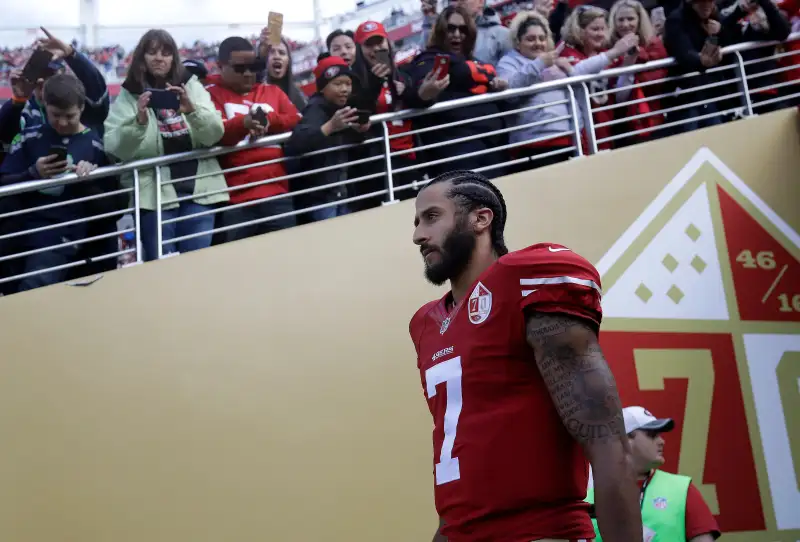 Marcio Jose Sanchez/AP/REX/Shutterstock—Marcio Jose Sanchez/AP/REX/Shutterstock
Former NFL quarterback Colin Kaepernick has faced backlash from the league since his protests against police brutality first made waves in 2016. But the activist's message has made it to a new — and similarly large — stage: Nike.
The sports retail giant unveiled a new "Just Do It" ad campaign over the weekend that features Kaepernick, along with other high profile athletes like Serena Williams and Odell Beckham Jr.
Sports agents with experience negotiating corporate contracts for football stars tell Money Kaepernick's deal could be worth millions of dollars a year — which is unique because he isn't actually playing in the NFL.
The contract was reportedly described as a "top of the line" deal for football players, according to the Wall Street Journal.
Sports agents were hesitant to predict an exact dollar figure for what the deal could be worth — as a similarly large campaign has seldom been done with an athlete like Kaepernick. But due to the sheer amount of exposure Kaepernick's sponsorship deal has already generated, it wouldn't be outrageous for it to land somewhere in the ballpark of millions of dollars per year, they said. (Nike did not respond immediately to a request for comment.)
Nike has long sponsored athletes to the tune of millions of dollars. Williams, the tennis legend who also appears in Nike's new campaign, first signed a five-year, $50 million contract with Nike in 2003. Now, Nike has named a building after her and promotes her game-changing tennis-wear donning the company's logo as she stars in national advertisements. Beckham, the New York Giants wide receiver who also appears in Nike's new campaign, secured the largest ever deal with the sports giant for a football star last year when he signed five-year contract that would bring in about $5 million a year. Williams, the tennis star and legend who also appears in the campaign, has long been sponsored by Nike. Beckham's contract perhaps sets the bar for what Kaepernick's could be worth.
"If you said that he was going to get seven figures, I wouldn't be surprised," said Joe Linta, the president of JL Sports, an agency that represents NFL athletes, who described Kaepernick as a "lightning bolt" in the sports world.
The ad itself features a black and white photo of Kaepernick with the message "Believe in something. Even if it means sacrificing everything" splashed across it. Kaepernick's appearance in the "Just Do It" campaign instantly sparked praise for the brand — and backlash from opponents who shared videos and images of them destroying their merchandise. Nike Inc.'s stock slipped about 3 percent Tuesday in midday trading, but the deal with Kaepernick will likely "work in Nike's favor," Brian Nagel, a senior analyst at Oppenheimer, told Bloomberg Tuesday. And the company saw more than $43 million in media exposure, according to Apex Marketing Group, as Bloomberg reported.
Nike first sponsored Kaepernick back when he was still a quarterback with the San Francisco 49ers. The company appears to have revamped its deal with Kaepernick as he has leaned into his activism and collected a number of accolades for his work. When he started protesting police brutality by kneeling during the National Anthem ahead of games in 2016, his 49ers jersey quickly became one of the NFL's best-selling jerseys.
To be clear, Nike has a partnership with the NFL that will run through 2028, with the sports brand providing teams with game-day uniforms and apparel. Kaepernick has engaged in a legal battle with the NFL, claiming team owners have colluded to keep him out of the league since 2017, when he became a free agent. The activist's grievance will go to trial now that an arbitrator denied the NFL's request to dismiss it.
"I guess the argument (from the NFL) is that he's bad for business," says Alexa Stabler, who runs Stabler Sports agency and is the daughter of NFL star and Hall of Famer Ken Stabler. "But Nike seems to disagree if they're going to bill this as a top of the line deal — and presumably that means a lot of money."