Jos. A. Bank Swears This Is the Last 'Buy 1, Get 3' Sale Ever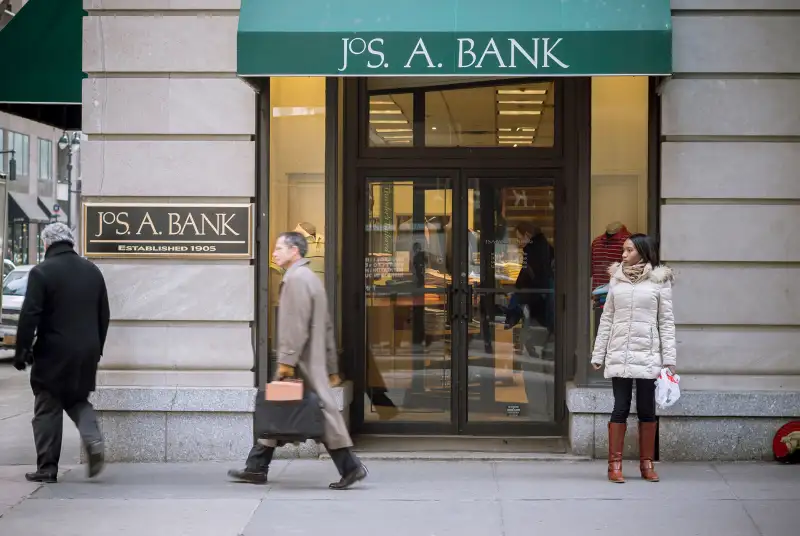 On Thursday, men's apparel specialist Jos. A. Bank launched what it is calling the "Last Time Ever" for its infamous "Buy 1 Get 3 Free" sales. The current sale stretches through Sunday and includes a separate "buy 1 get 2 free" deal on dress shirts, pants, and sweaters, plus 70% discounts on outerwear, as well as the big "buy 1 get 3 free" promotion on (almost all) suits and blazers.
The deals sound almost too good to be genuine—and therein lies some of the problem. We live in a world in which original or list prices are often completely meaningless, and virtually no one pays full price. Over the years, Jos. A. Bank has been one of the worst offenders in terms of listing items at extraordinarily inflated prices just so that the inevitable discounts will seem impressive and tempt shoppers to bite. And, over the years, shoppers have become more immune to the tactic, viewing retailers like Jos. A. Bank, J.C. Penney, and Kohl's like the fabled Boy Who Cried Wolf. Nowadays, when retailers cry "Sale!" it doesn't mean much—because sales are nonstop, and when one ends it's all but guaranteed another will take its place.
For a long time in the bargain-hungry post-recession era, the eye-popping sales at Jos. A. Bank did the trick, luring in shoppers who simply couldn't pass up the seemingly amazing deals and wound up filling their closets with more clothes than they wanted. Sometime around 2012 and 2013, consumers tired of the sales gimmick. A class-action lawsuit was filed against the retailer, alleging that Jos. A. Bank engaged in deceptive marketing and advertising because items were "perpetually on sale and the sale price is actually the price at which the merchandise is regularly offered."
The store was even mocked on "Saturday Night Live" in a parody commercial in which a mother shares her secret for cleaning up around the house: She uses super cheap Jos. A. Bank suits to sop up spills, pet stains, and messes made by her family. "With their innovative 'buy one get three free' pricing, a suit from Jos. A. Bank is effectively cheaper than paper towels," she says in mock earnestness. "I can feel good about throwing them away when I'm done."
Same-store sales tanked, and Jos. A. Bank was purchased by Men's Wearhouse in early 2014. Recently, the new owners promised they would get rid of "unnatural" discounts like "buy 1, get 3" free, but apparently not before one last hurrah, in the form of the current sale.
"When 'Saturday Night Live' parodies your pricing promotions, you know you have a problem," Men's Wearhouse CEO Doug Ewert said to the Washington Post in a story about Jos. A. Bank's last-ever "buy 1, get 3" sale. "That stung."
It's not clear what kinds of promotions will replace "buy 1, get 3" free, but even after the change Jos. A. Bank customers should not expect to suddenly be asked to pay full price. Ewert said that stores may advertise deals like one suit for $299 and two for $500. At prices like that, we'll have to go back to using plain old paper towels for cleanup.